(Perth, WA / June 9, 2022) — Lucy Banks, one of Australia's most popular OnlyFans stars and influencers, is addressing the messy brouhaha surrounding Married at First Sight co-stars Olivia Frazer and Domenica Calarco.
For those not keeping up with the ongoing feud that's been splashed about the tabloids the past couple of weeks between two of the reality show's most controversial stars from Season 9, "Olivia shared with her castmates a nude photo of Domenica, with the clear intention of causing her harm and embarrassment," says Banks.
She further explains that Frazer made the considerable effort to humiliate Calarco by outing her as an OnlyFans model, and then joined the platform in May to benefit from it herself. "It is really disappointing to see someone who trashed our industry, illegally shared images and relentlessly bullied an OnlyFans creator, then has the cheek to try to profit from our platform. We do NOT claim her as a fellow creator.
"As adult industry representatives, we have all faced backlash and judgement from people like Olivia; that isn't how we treat each other in this world. People like Olivia are why this industry is so stigmatised. It's embarrassing that she's made such a big deal about demonising OnlyFans creators, and then joined the industry herself to make a quick buck and try to stay relevant.
"It's really cool to see stars from MAFS and other reality TV shows join OnlyFans and capitalise on their fame. It's so smart and I love to see it… but not someone who outed a fellow creator on national television. It's not nice that Olivia has made such a name for herself being such a bully towards OnlyFans creators, and now she wants a piece of the pie. Personally, I hope there's a court case and Domenica is awarded every single cent that Olivia earns from OnlyFans."
For more information about Lucy Banks, find and follow her at:
ABOUT LUCY BANKS:
Lucy Banks, a rising independent content creator based in Perth, Australia, never saw herself as an online entertainer catering to the deepest desires of strangers, but in 2019, after years of a day-in, day-out existence in an unfulfilling marriage and middling job in the banking industry, she decided to ditch both and take the unusual step of signing up as a model on OnlyFans.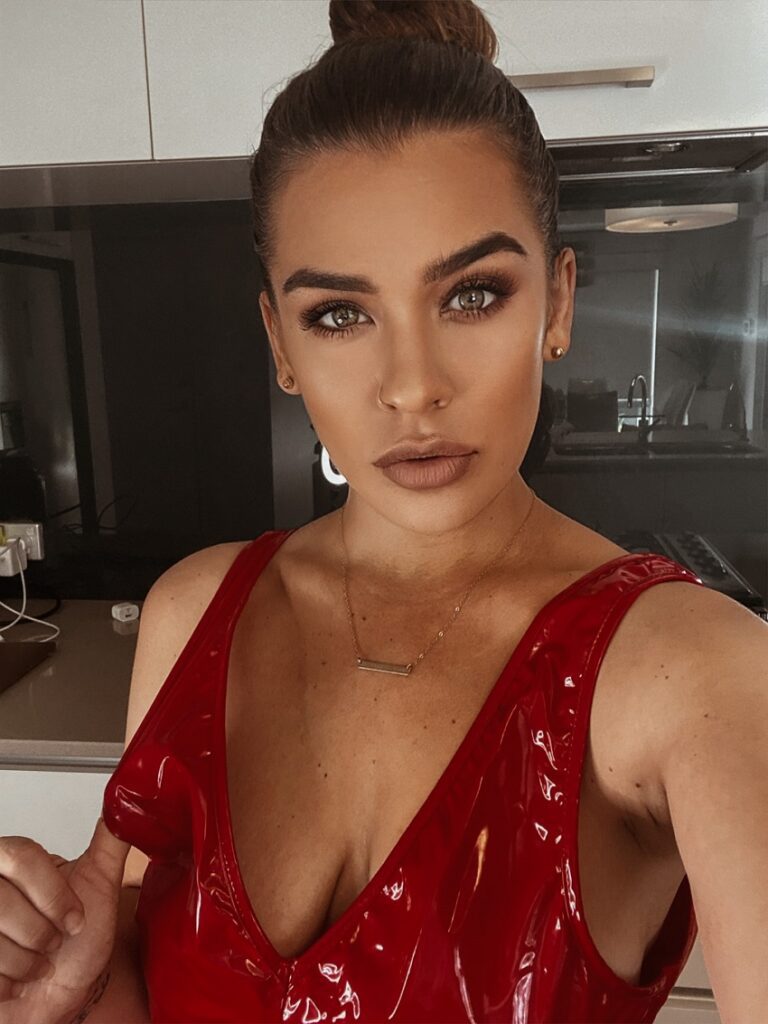 Less than three years later, the brunette beauty with an infectious smile and adventurous spirit has achieved staggering success on the adult social platform; she currently boasts more than 3,700 subscribers and earnings of up to $2,500 per day, thanks to her tireless work ethic and motivation to provide a more comfortable life for her and her two young children.
"The pandemic ushered in a virtual world that more of us are living in every day, whether out of necessity, entertainment, or the thrill of meeting new people and creating an exciting online experience. For me, it's about freedom: having the time to be there for my family and being able to buy a home, necessities and fun stuff for my kids without worrying about how much money is in the bank. There are pros and cons to every career, but at this point in my life, this is what's most important to me… and I'm loving every minute of it!"
# # #
Press and media contact: