(Las Vegas, NV) Legendary award-winning adult star and filmmaker Brittany Andrews is jetting to the East Coast and appearing at EXXXOTICA New Jersey this weekend. Her loyal fans and show attendees can meet her at the Sapphire booth and see her feature at NYC's Sapphire 39 for EXXXOTICA's official after party.
This Friday, October 21st, through Sunday, October 23rd, one of the biggest fan-driven adult shows is happening, and Brittany Andrews will be making her 2022 EXXXOTICA debut with the New Jersey show. The Sappphire booth is one of the most visited booths at the show, and that's where Brittany is appearing. Fans and attendees can meet her Friday 5pm to 8pm, Saturday 5pm to 8pm, and Sunday 2pm to 4pm. There will also be house girls dancing the booth and free swag.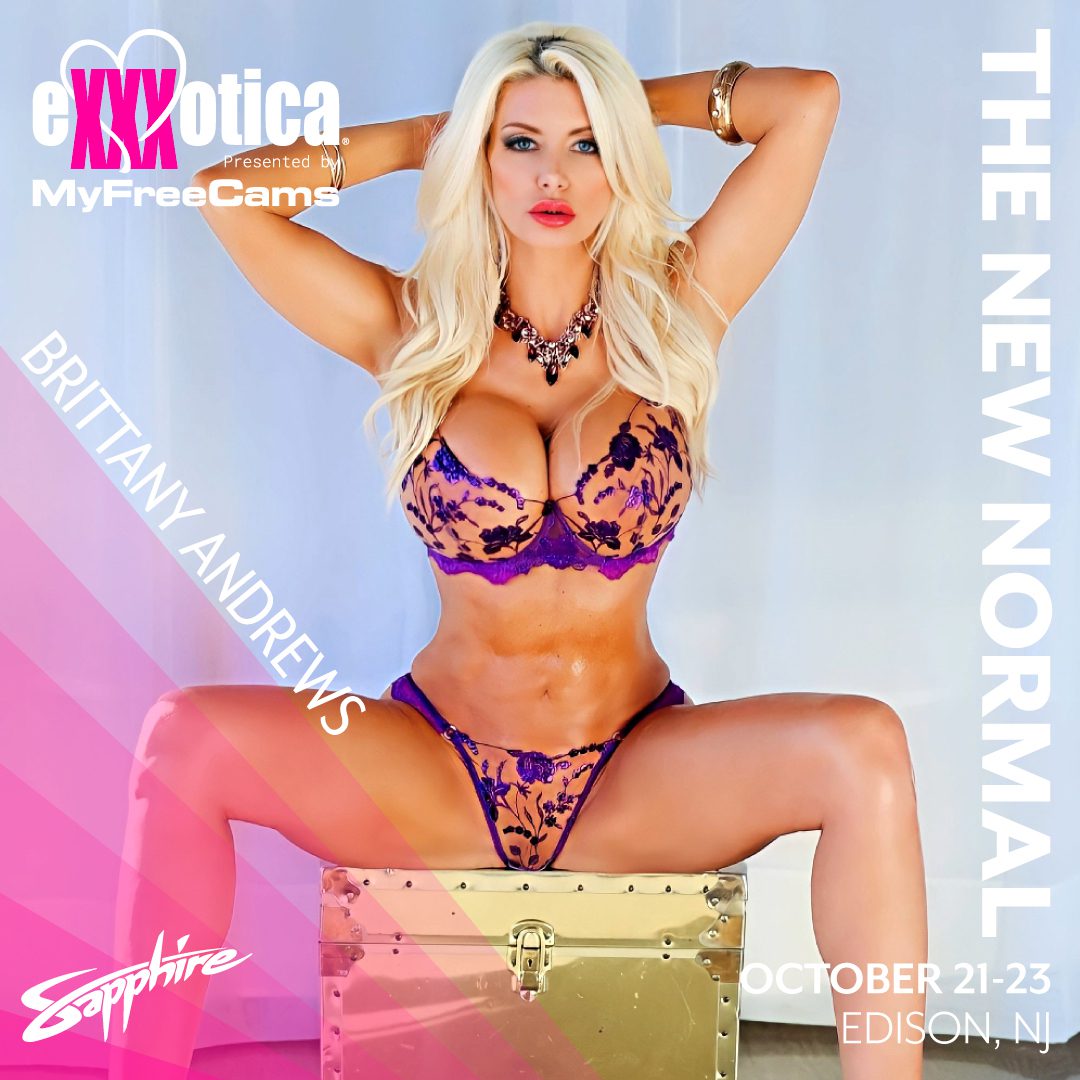 EXXXOTICA NJ is taking place at New Jersey Convention & Exposition Center is located at 97 Sunfield Avenue in Edison, NJ. Show hours are Friday 5pm to 11pm, Saturday 1pm to 10pm, and Sunday 1pm to 6pm. For more information about the show and to buy advance tickets, go to EXXXOTICA NJ is taking place at New Jersey Convention & Exposition Center is located at 97 Sunfield Avenue in Edison, NJ. Show hours are Friday 5pm to 11pm, Saturday 1pm to 10pm, and Sunday 1pm to 6pm. For more information about the show and to buy advance tickets, go to exxxoticaexpo.com/location/edison-nj.
"This will be an incredible weekend, and my fans will have multiple chances to meet me at EXXXOTICA and the official after party. The Jersey show is always fun, and I get to see my longtime industry friends and fans, making it even more exciting. So if you're in the Edison or NYC areas, come to one or both events," says Brittany Andrews.
On Friday night, fans can also see Brittany feature at Sapphire 39 in the Big Apple. Joining Brittany at the official EXXXOTICA after party will be Alexis Texas and Lexi Belle. She's doing a meet and greets where fans can get a selfie with her, buy her exclusive merch and/or get one of her VIP lap dances. And, of course, she'll be hitting the stage for an incredible live show. It's free admission for 3-Day and VIP EXXXOTICA ticket holders. Get more info about the must-attend event at nysapphire.com/NY-Sapphire-39-eXXXotica-After-Party-Friday.html.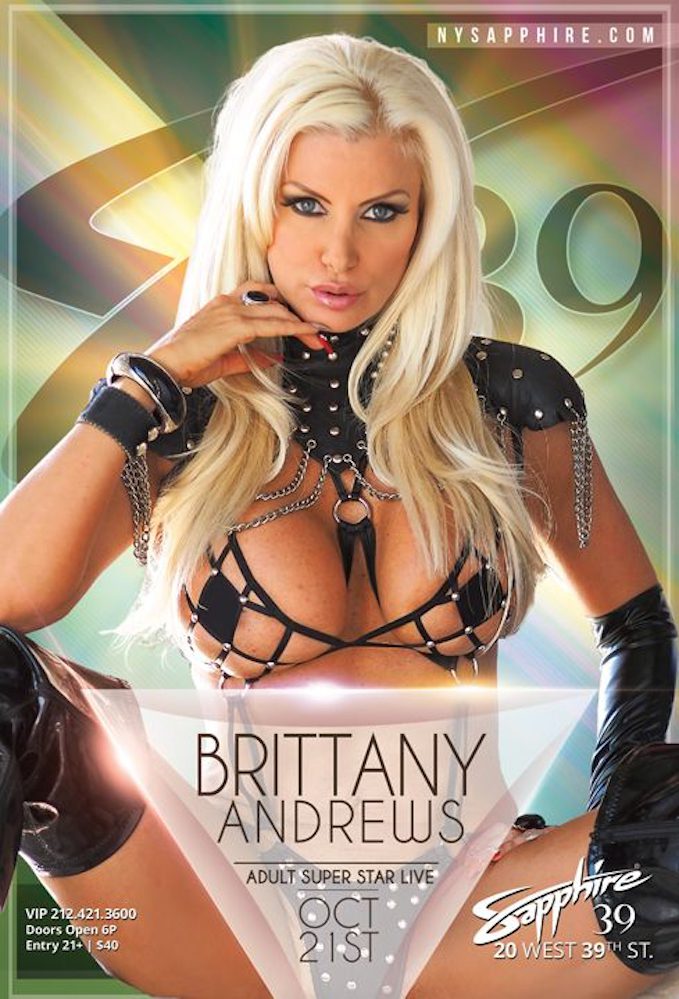 Brittany is available through Nexxxt Level Talent. Get her on your set by calling Andre 818.383.8147 or Jonathan at 818.326.7001 or emailing [email protected]. View her new agency photos at nexxxtleveltalentagency.com/model/brittany-andrews.
To interview Brittany Andrews during EXXXOTICA for your site, publication, or show, contact Erika Icon of The Rub PR at [email protected].
ABOUT BRITTANY ANDREWS
To say Brittany Andrews has done it all would be an understatement—she's an award-winning adult industry icon and two-time Hall of Famer, the world-famous, jet-setting DJ BritStar who's entertained all over the world, Multi-Award-Winning Independent Film Producer and Director, and highly entertaining comedienne.
Brittany got her start in the adult realm as an exotic dancer. The big-titted, blonde-haired, blue-eyed stunner had the classic adult star look—she began her career in adult films after meeting Jenna Jameson during a photoshoot for Hustler magazine in Jamaica. With over 600 scenes during both her stints in adult, she's worked for all the top-shelf studios, won Favorite Domme from AVN in 2022, and been nominated for Best Actress, Best Supporting Actress, Best Fetish Director, Crossover Star of the Year, Hottest MILF, Fetish Performer of the Year, and nominated for her scene work. In 1997, she launched BritCo Pictures in Los Angeles. She owned and operated it for over 10 years, and released many highly sought-after series, including Brittany's Exquisite Feet line and her best-selling and controversial series, Brittany's Bitch Boyz.
Brittany has guested on The Howard Stern Show 11 times, and two of her appearances made the list of his Top 25 shows. She's appeared in countless publications worldwide, including the Wall Street Journal, New York Post, Page 6, Variety, Time Out NY, Penthouse, Cosmopolitan, Rolling Stone, Muscle & Fitness, and fetish mags Kink Queens and Darkside. Brittany has also graced over 50 adult magazine covers and appeared in over 300 layouts. Entertainment Tonight and Cosmo named her as one of the Top 10 Porn Stars, and Playboy magazine featured her in the Top 10 Adult Films Stars of All Time collector's issue.
Brittany hosted over 10 of the Playboy Channel's best productions such as Nightcalls, Nightcalls 411, Hot Rocks, Inside Adult, Adult Stars Flying Solo, Playboy's Hard Drive, and Sexcourt. She also held the coveted title of The Sexpert for over 10 years on a variety of shows.
After shutting down BritCo, she moved to NYC and started her production company in 2003. Discipline FilmWorks produced reality shows like My Real Porn Life (Winner of Best Reality Short at New York Independent Film Festival) and a slew of films that won multiple awards. Brittany also scored a Best Actress award from the New York International Film Festival.
Brittany continues to be a mover and a shaker and takes the international club scene by storm as DJ BritStar with her turntables, traveling the globe, and spinning alongside John Digweed, Rob Base, James Zabiela, AfroJack, and countless others. Link to all of Brittany Andrews' social media, premium social media, and more at allmylinks.com/DJBRITSTAR.