Caroline Perron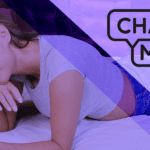 CHICAGO, September 14th, 2023 – Chatmate is a newcomer to the adult chat market, offering a premium live cam experience centered on meaningful conversations with like-minded people. The platform is mainly intended for people new to live cam and seeking a low-key approach to this adult entertainment medium. 
Chatmate focuses on the interactivity between users and charismatic, engaging people who enjoy chatting with their audience in an easy-going, open-minded setting. The initial experience is meant to be closer to a mainstream dating app than a traditional adult cam site. The user can thus ease into a pleasant, friendly conversation before going further if they wish to do so.
"Around 45% of dating apps users come out of the experience disappointed or frustrated, despite spending 5 to 10 hours per week swiping and chatting. Dating apps can also be a harrowing experience for many people who are more introverted or do not exactly fit in societal standards. On Chatmate, they can find someone they like almost instantly, have a conversation with them, and share a pleasurable intimate moment together," explains Alexandra Clouette, brand manager. "With this new platform, we aim to inform and educate consumers about adult live cam and how it can be an interesting way to fulfill their needs for intimacy."
The adult chat platform offers its premium members a host of features to interact directly with the cam girls:
A live chat room where they can converse with the model and other users

Gold credits they can spend to activate the private chat or send a special request 

A Cam2Cam mode to show their webcam
The new platform soft-launched last week and is already available for users to create a free premium account. It will give full access to Chatmate's features with no additional charge unless someone chooses to use a paying option—Chatting and viewing cams are always free. For more information or to create an account: chatmate.com/
-30-
What is Chatmate?
Chatmate is a cam platform for adults looking to discuss and interact with a wide range of open-minded people. It allows its users to meet new people, have meaningful conversations and share intimate moments in a fun, safe, interactive and respectful environment. Get cozy with like-minded people! For more information: chatmate.com/
Contact information
Caroline Perron