(Los Angeles, CA) Pint-sized Demi Hawks is Nubile Films' September Fantasy of the Month. This is her second scene for Nubile Films, and she really shines.
Demi Hawks might look wholesome with her fresh freckled face, but she's a freak between the sheets you don't want to take home to your mom. The scene opens with Demi walking into the bedroom with a mission in sheer blue lingerie and high heels, running her hands up and down her body. Her fantasy is seducing her ex-boyfriend's father, Ryan McLane. As Ryan takes in his sexy surprise, he tells Demi that his son was an idiot to break up with her. Demi crawls into bed with Ryan, puts a tie around his eyes as a blindfold, and runs a white feather down his body as Ryan explores her body, spanks her ass, and gets rock hard. Demi slips off Ryan's briefs and takes a trip to the candy shop, running her tongue up and down his shaft, stroking him, and sucking on the head. When she's ready for her turn, Demi removes Ryan's blindfold and scoots up, so Ryan can lick her slippery pussy. Sliding back down, she climbs on his dick and lets him guide her before getting on her knees for doggy, back for missionary, and spooning before Ryan finishes on her stomach.
"This was the ultimate revenge on a boyfriend who dumped me, and his father was way hotter and better in bed," says Demi Hawks.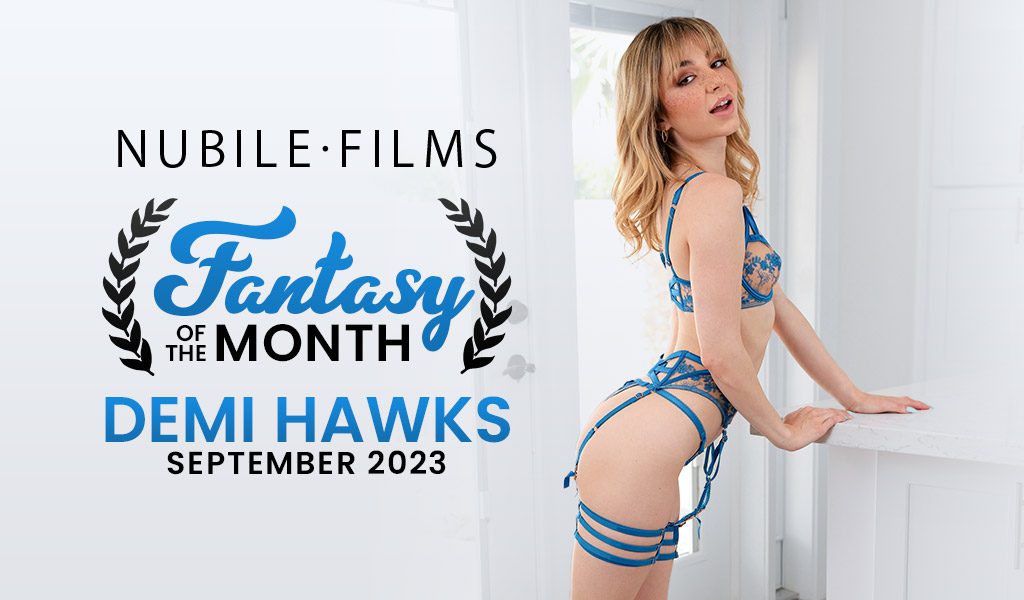 "Demi's stunning, and our members can't get enough of her. Her last scene was one of our most popular this year, and I'm sure her Fantasy scene will do even better," says Belinda, Nubiles Affiliate Manager.
Go to Nubile Films to watch the trailer and member-exclusive of "September 2023 Fantasy Of The Month – S4:E12" at members.nubilefilms.com/video/watch/176480/september-2023-fantasy-of-the-month-s4e12.
For Nubiles media requests, contact Erika Icon of The Rub PR at [email protected].
ABOUT NUBILES
Nubiles nubiles-porn.com and Nubile Films nubilefilms.com are two of the most respected studios in the industry. With countless awards nominations and multiple AVN Awards wins, their high-quality HD scenes with the top and rising stars have kept their members happy and their brand expanding. Follow them on IG at @nubilefilms. Subscribe to their official Pornhub accounts at pornhub.com/channels/nubiles and pornhub.com/channels/nubilefilms for updates, trailers, and more.