An aerial view of Coulibri Ridge, a 14-suite property making its debut in Dominica this year. Photo Credit: Coulibri Ridge
Coulibri Ridge, in Dominica, will make its grand opening on Oct. 22 after 20 years of planning, and delays brought forth by a hurricane and a pandemic.
Sustainability will be the word at the 14-suite, 285-acre luxury resort. It claims self-sufficiency by using solar energy, filtering rainwater and growing much of its own produce. The resort's exterior is made from hand-chiseled stone sourced from the property, and common areas and suites incorporate recycled teakwood.
It also will offer two infinity pools, a gym, yoga pavilion, spa facilities for private treatments, complimentary Wifi, two boardrooms and two dining rooms. The grounds also contain tropical gardens, an orchard and 18th-century estate ruins.
Coulibri's suites include 600-square-foot studios, 950-square-foot lofts, and 1,000-square-foot penthouses, three of which have private infinity pools. All have at least one terrace.
Rates start at $700 per night, based on double occupancy. The resort has a four-night minimum stay for the purpose of planning out resources such as power and water per unit.
Coulibri is the brainchild of Quebec-born software entrepreneur Daniel Langlois, whose interests in sustainable practices and ecofriendly construction led him to the construction of the resort. Langlois and his partner Dominique Marchand first visited Dominica in 1997, and the following year began designing and planning the renovation of a guest house and two guest cottages, with the goal of building self-sustaining, ecofriendly accommodations.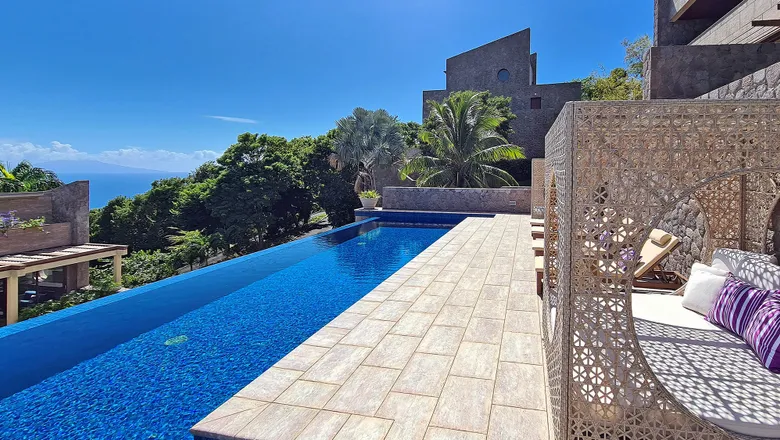 An infinity pool at Coulibri Ridge in Dominica. Photo Credit: Coulibri Ridge
The project eventually grew in scope and was close to opening five years ago, but Hurricane Maria, while inflicting minimal damage on the property, severely impacted neighboring Soufriere.
The resort, perched on a mountain ridge in southern Dominica, is offering a grand opening package where guests stay for seven nights but pay for four. The deal will run from Nov. 1 to Dec. 14. Coulibri offers travel agents a 10% commission.