(Las Vegas, NV) Evolved Fights Lez's Annual Fall Brawl has had an incredible number of views for the first two matches of the 2022 Fall Brawl of Daisy Ducati vs. Agatha Delicious and Bella Rossi vs. Avery Jane. Match #3 has been unleashed and introduces two more talented wrestlers into the mix.
The title of the Greatest Sex Fighter of All Time is still up for grabs, and two rookies with one win under their belts are battling it out in Match #3. Jupiter Jetson (aka The Juice) and Vanessa Vega (aka Taking Care of Business) are squaring off on the mats. Both ladies are well-matched in size and skill but will rely on who's more perverted for the win. Anyone could advance to the Semi-Finals, so watch the action-packed match at 
evolvedfightslez.com/updates/Jupiter-Jetson-vs-Vanessa-Vega.html
.
With the weekend ahead, make sure to spend some quality time on Evolved Fights Lez 
evolvedfightslez.com
 and catch up on the previous matches of Daisy Ducati vs. Agatha Delicious and Bella Rossi vs. Avery Jane. And also, make sure to check out the bi-weekly Orgasm Challenges for bonus points.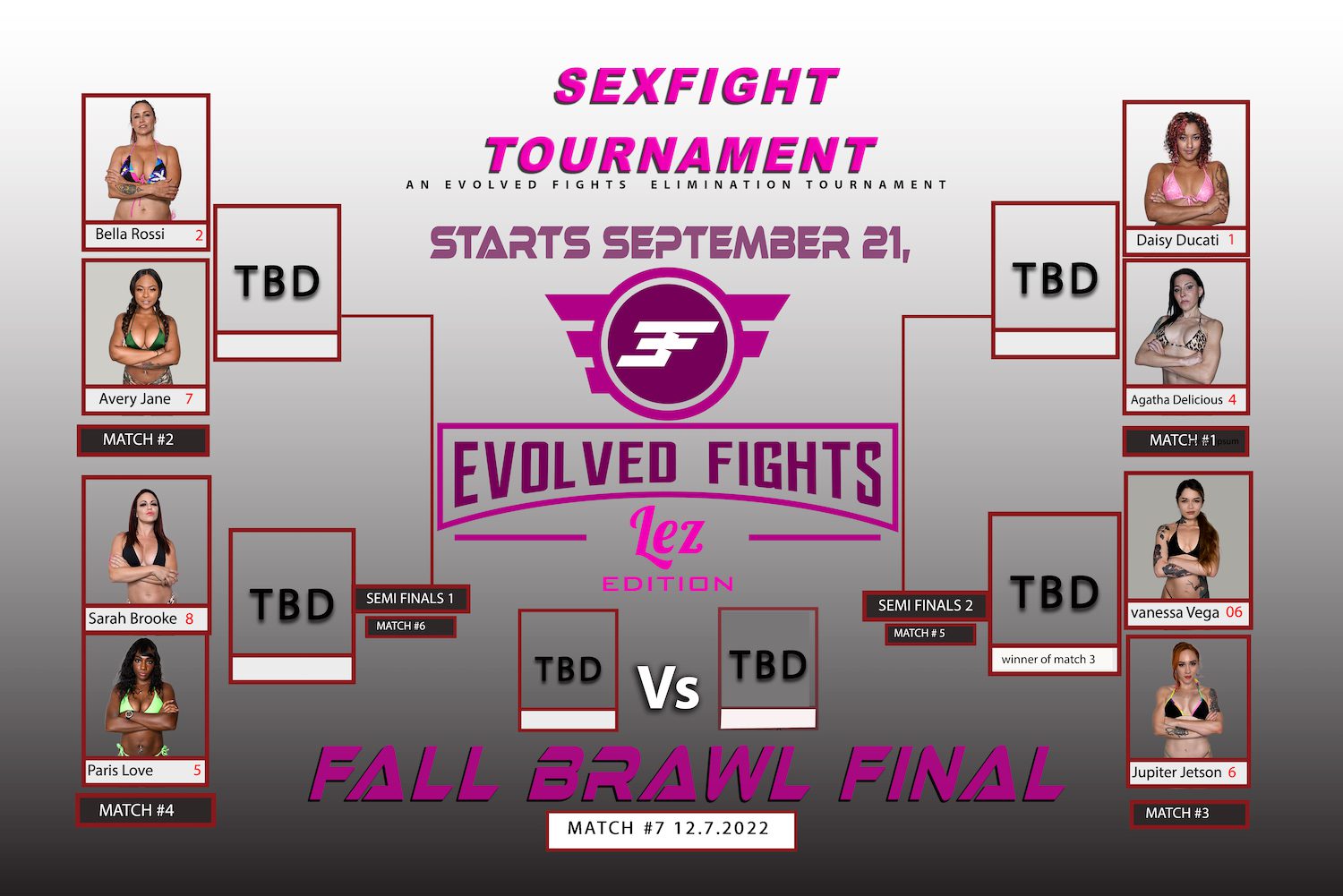 "There have been many interesting upsets this year in the Fall Brawl. After this week, there's just one more match before the Semi-Finals kick-off. Usually, I can call who I think will win the Greatest Sex Fighter of All Time title, but this year it's been hard with so many talented ladies pulling out all the stops in their matches," says Ariel X.
The tournament ends on December 7th. The matches are updated biweekly, and alternate weeks will feature an Orgasm Challenge update.
Not a member of Evolved Fights Lez? NOW is the time to join and see some of the greatest wrestling matchups. Go to 
evolvedfightslez.com
, click the "Join Now" button, pick your plan, and get ready to wrestle.
To interview Ariel X or any of the wrestlers appearing on her sites for your site, publication, or show, contact Erika Icon of The Rub PR at 
[email protected]
.
ABOUT EVOLVED FIGHTS
Having directed and performed in the wrestling genre for a decade, Ariel X started the unscripted, competitive, and mixed wrestling site Evolved Fights in 2018, and in 2019 launched the sister site Evolved Lez. The original site drew its name from her journey discovering the joys of fetish wrestling, and training and discipline. When she named the site, she hoped every sexual athlete who steps onto her mats gets the same character evolution that she has had. And viewers who watch the fights will never be the same and also evolve. Evolved Fights is all about playful, consensual power exchange that's unscripted—both male and female professional adult talent can dominate their sex player at the end of the match, but they must earn it by winning. The scenes feature amazing talent, top names, loser/prize rounds, and incredible bouts. See what you've been missing and join 
evolvedfights.com
 and 
evolvedfightslez.com
. Both sites scored 2021 Fleshbot nominations for Best Paysite Gay and Best Paysite ALT. And also join the newest site, Submissive X 
submissivex.com
, which combines muscles and sensual lesbian bondage with Ariel X starring in all the scenes with some of the biggest names in adult and your favorite stars from Evolved Fights and Evolved Lez. Follow them on social media on Twitter @EvolvedFights and @evolvedLez and on Instagram @evolvedfightsmodels and @evolvedfightslez.