seemeKinky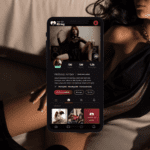 Working with family members might be unconventional for some, but for one father and daughter duo, unconventional is the norm. Together, they have founded seemeKinky, an upcoming UK based fan-site aiming to showcase all that kink and fetish has to offer. 
Being able to openly discuss the ins and outs of the adult industry between a father and daughter would be an uncomfortable experience for some, but surprisingly, they found the journey both "educational and refreshing in so many ways". 
The pair are keen to build a platform where creators can showcase their talents, monetise their fanbase and be a welcomed member of an inclusive and diverse community. With kink and fetishes still remaining taboo, they hope to empower users alike to embrace their sexual fantasies, in a fun and safe environment. 
They identified early on, other adult platforms lacked internal search features, leaving creators' success very much at their own door. seemeKinky boasts hundreds of kink and fetish themed filters which creators can attach to both their profile and content. Using this tagging feature, fans are given a greater choice, meaning creators are much more visible. 
The duo is dedicated to celebrating all things kink, fetish and everything in between, where fans and creators alike feel welcomed and valued. 
To register your interest in joining seemeKinky visit https://seemekinky.com  
For all questions and inquiries, please email [email protected]