(Hollywood, CA) You are speechless, hypnotized, and can't look away from notorious award-winning Findom Queen Violet Doll's ass. Yes, August is going to be an asstastic month for her admirers, subs, and all-around losers.
August has now been dubbed the Month of Ass Worship…well, at least in Violet Doll's world. Over the past few months, she's exploited your temptation with her Month of Ripoffs and seduced and drained you with her Month of Tit Worship. Both wildly popular series left men around the globe begging for more. So, it makes perfect sense that August is all about the ass, and her loyal ass addicts get a turn and a month to themselves.
August aka the Month of Ass Worship will be 31 days of Violet's big round juicy butt, mesmerizing you into submission, bringing you to your knees, and deepening your addiction. Every day, new clips will be posted, and Violet commands her ass addicts to not only be eagerly waiting but to break out their wallets to buy all 31 clips.
"With Month of Ripoffs and Month of Tit Worship being so successful, it was hard to come up with something. But then it came to Me, Month of Ass Worship. Ass addiction is serious business, and I know My admirers, subs, and all-around losers are going to lose their minds over these clips. It will definitely give them a reason to wake up every morning. Insert evil laugh here," says Violet Doll.
The Month of Ass Worship clips are available exclusively in Violet's LoyalFans store violetclips.com. Every morning, new clips will be posted along with a 20-second or less trailer for those of you who need an extra temptation to break out your wallet.
To interview Violet Doll for your site, publication, or show, contact Erika Icon of The Rub PR at [email protected].
ABOUT VIOLET DOLL
Notorious award-winning Findom Queen Violet Doll is one of the top-selling Indie content producers. Her pin-up looks of pouty lips, long, beautiful blonde hair, huge tits, tiny waist, and amazing ass bring men and women to their knees and make them want to empty their wallets at the same time. Her premium social media is known for is Female Domination, hypno-fetish, creative visuals, elaborate costumes, and SFX makeup. Violet is business-minded and knowledgeable and is a top pick for panels and commentary pieces in industry publications and beyond.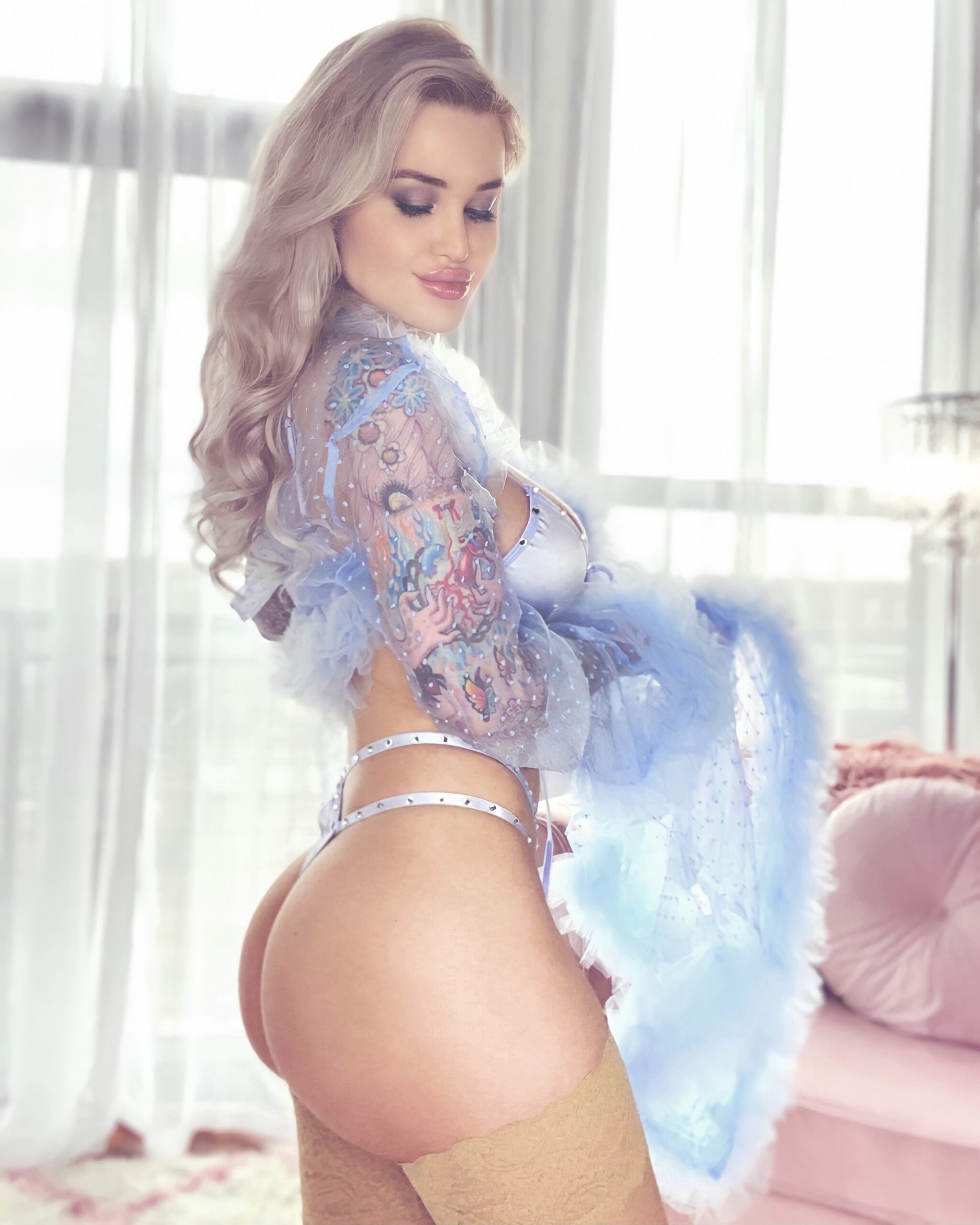 Violet started her career as a successful cam model and then made the leap to clip artist, where she built her empire. She's a crypto enthusiast and an ambassador and core team member of the cryptocurrency of Findom Tribute Token tributetoken.io.
Violet has been nominated as a clip artist and cam model for multiple AVN, XBIZ, and XBIZ Cam Awards for Fave Indie Clip Star, Favorite Domme, Web Babe of the Year, Clip Artist of the Year, and Best Clip Artist Female. In 2020 and 2021, she won back-to-back AVN Awards for Favorite Domme and Star of the Year. The living doll has graced the pages and covers of AVN, XBIZ, ASN Lifestyle, and Sexual Health magazines. She's also been interviewed for the Daily Beast for her thoughts on Roe v Wade being overturned.
Keep up with everything in Violet's universe by following Her on Twitter and TikTok @violetdoll, Instagram @violetdoll_ and @monochromaticdoll, Snapchat @violetdoll, and Reddit reddit.com/u/Violet-Doll. Subscribe to Her official website violetdoll.com to be tormented and/or ruined as well as tribute Her. Buy Her clips à la carte on Clips4Sale clips4sale.com/studio/52729 and LoyalFans violetclips.com. Learn your place and chat with her on NiteFlirt niteflirt.com/VioletDollx and text her on SextPanther sextpanther.com/Violet-Doll.