Ralph Greco, Jr.
The new horror movie, "Pig Killer," will have its special premiere screening Saturday, October 21st, from 4 pm – 7:00 pm at Las Vegas' Erotic Heritage Museum. The screening will be moderated by museum director Dr. Victoria Hartmann and iconic adult star Ginger Lynn Allen, who stars in the film, will host the event.
"We are very excited to host the Las Vegas screening of 'Pig Killer featuring the infamous adult scream queen Ginger Lynn ('The Devil's Rejects') on October 21st, 2023 in our main theater," Dr. Hartmann says. "The Museum has throughout its history allowed itself to delve into the subversive, controversial and unseen realms of reality. At a time when American culture is examining the nature of the darkest murderous minds among us (such as Netflix's successful Monster: The Jeffrey Dahmer Story) director Chad Ferrin fearlessly looks into the psychological depths of one of Canada's most prolific serial killers. Be prepared to be disgusted, terrified, and hopelessly riveted by what you see on the screen."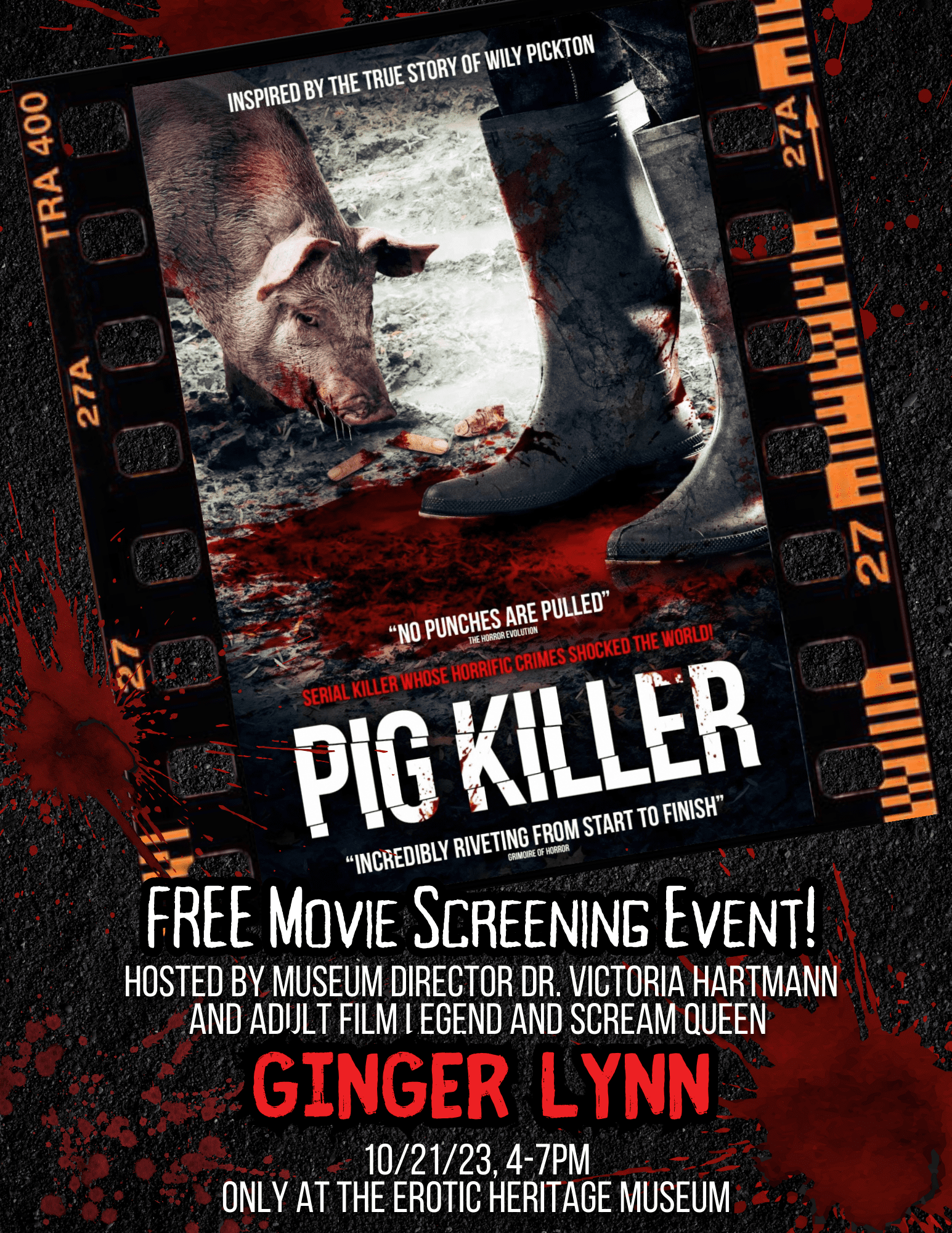 "Pig Killer" is based on the true story of Robert 'Willy' Pickton, the pig farmer/prolific lady killer. Pickton, his pig Balthazar, and a menagerie of cohorts terrorized Vancouver's Downtown Eastside for almost two decades until he was arrested in 2002, leading to the uncovering of the most bizarre series of murders Canada has ever seen. The 122-minute film stars Jake Busey, Ginger Lynn, Bai Ling, Lew Temple, and Kate Patel.
The film was produced By Crappy World/Girls and Corpses/Laurelwood Pictures, written and directed by Chad Ferrin, and produced by Robert Rhine, Chad Ferrin and Robert Miano. Rhine and Miano also perform in the film. The film's score is by Gerard McMann (The Lost Boys). Other cast members who may be in attendance include: Michael Pare, James Russo, Cyril O'Reilly, Robert Rhine, Robert Miano, Gerard McMahon, Susan Priver, Kurt Bonzell, Cassandra Gava, Silvia Spross, Scott Vogel, Jon Budinoff, Elina Madison and others.
Pig Killer will be released in select theaters and streaming this November 2023 by Breaking Glass Pictures.
Tickets are free on a first come first serve basis. For more information email the museum @ [email protected] or visit https://eroticmuseumvegas.com/.
No one under 18 will be admitted.