Update: September 30, 2022 at 8:59 a.m. ET
After regaining strength over the Atlantic Ocean, Hurricane Ian was expected to make landfall in South Carolina near Charleston as a Category 1 storm with maximum sustained wind speeds of 75 mph on Friday afternoon.
The National Hurricane Center said Ian will bring potentially life-threatening flooding, storm surges and winds to Georgia, South Carolina and North Carolina, which are all currently under a hurricane warning.
Airlines canceled over 1,700 U.S. flights for Friday as Hurricane Ian's impact was being felt in Florida, Georgia and the Carolinas, bringing the total of cancellations related to the storm to more than 6,000 flights.
Airports dealing with the largest impact of the storm include facilities in Orlando, Charlotte, Charleston, Jacksonville, Atlanta and more, according to FlightAware.com.
As for the cruise industry, PortMiami and Port Everglades in Fort Lauderdale have reopened, giving the several cruise ships stuck at sea during the storm a place to dock. Officials said the ports would be able to accommodate scheduled cruise departures, but Port Tampa Bay, JAXPort in Jacksonville and Port Canaveral remain closed, forcing cruise lines to cancel voyages scheduled for Thursday and Friday.
Theme parks were also impacted by Ian, with the Walt Disney World Resort reopening its theme parks "in a phased approach," starting Friday. Disney parks will have staggered openings in the morning for hotel guests, followed by openings to all guests two hours later.
Ian also dumped around 14 inches of rain and winds up to 60 mph in Orlando, leaving areas of Universal Studios Florida under water, including the Incredible Hulk roller coaster. Park official said they expect to begin a phased reopening for portions of the destination for hotel guests only beginning Friday.
Update: September 29, 2022 at 8:25 a.m. ET
The National Weather Service said Hurricane Ian was one of the strongest hurricanes ever to strike the United States when it made landfall in Florida on Wednesday as a Category 4 storm.
The storm reached maximum sustained winds of 150 miles per hour and brought heavy rain, flash flooding and life-threatening storm surge. Ian is expected to bring record-setting rainfall to Central Florida in the coming days, causing potentially catastrophic flooding.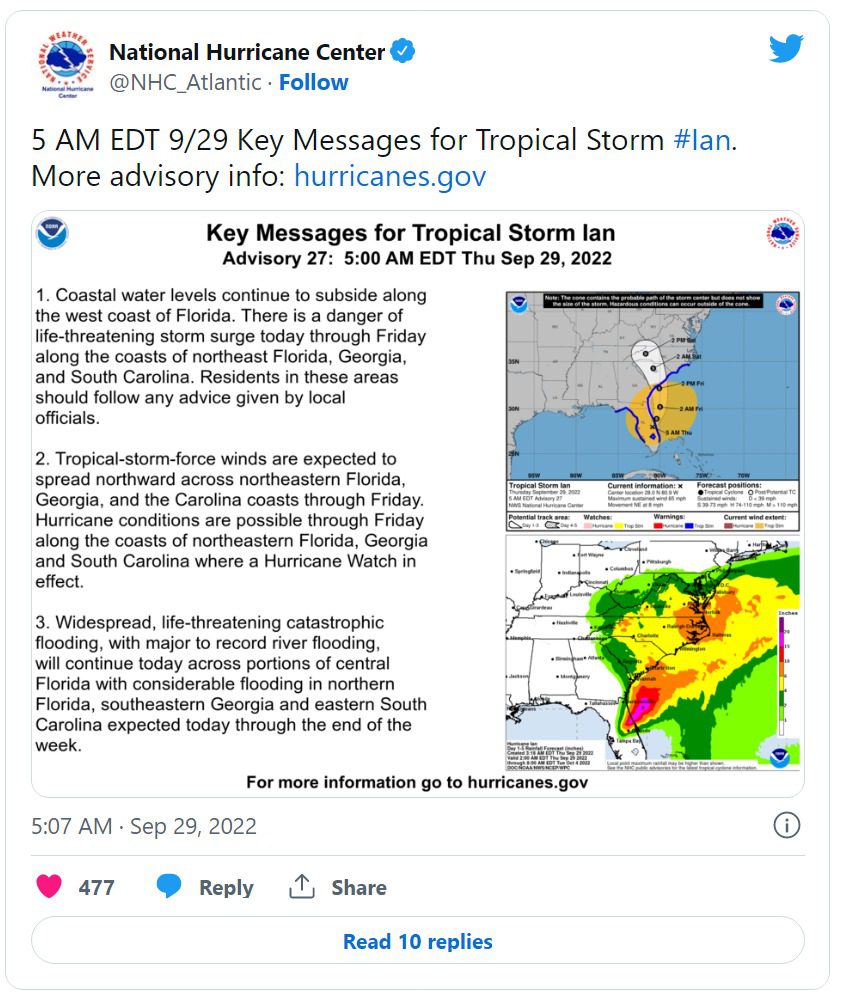 Tropical storm force winds are expected in Florida, Georgia and the Carolina coasts through Friday and hurricane conditions are possible. The storm is expected to bring life-threatening flooding to Florida, southern Georgia and eastern South Carolina.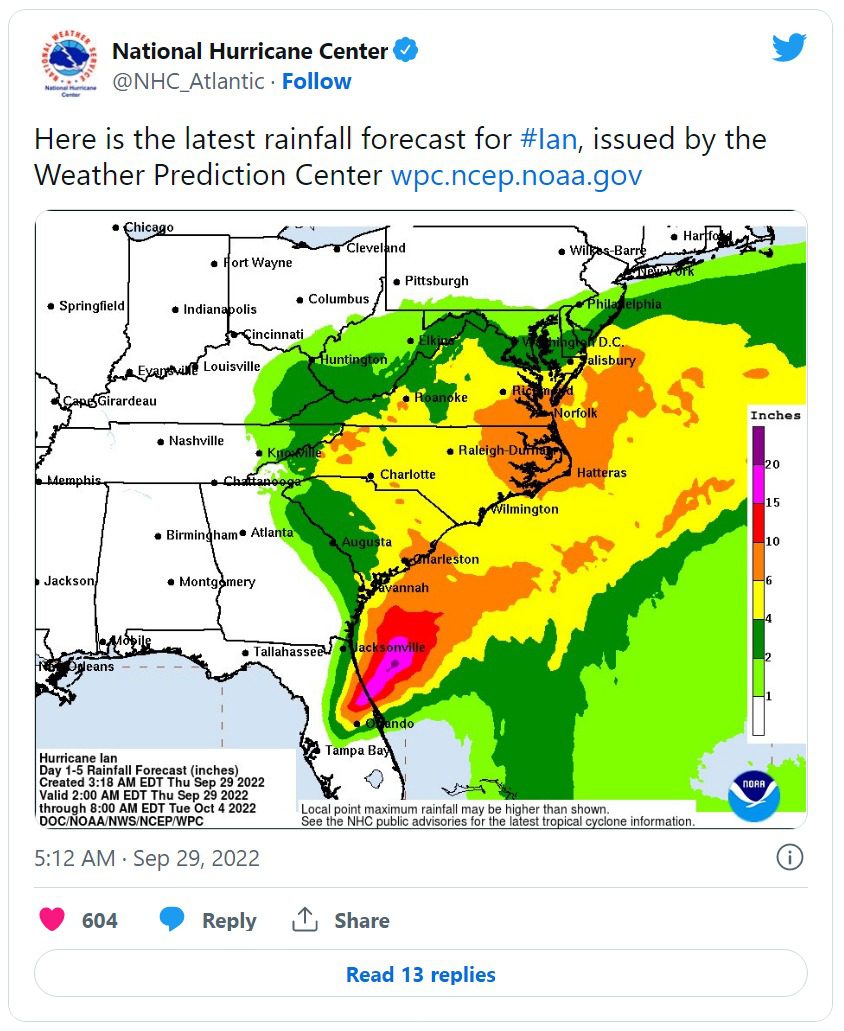 Cruise lines are also being forced to extend voyages and stay at sea as three major Florida ports are now closed, including Tampa, Port Canaveral and Jacksonville. Carnival, Royal Caribbean, Norwegian and MSC ships have been impacted by the closures, according to CBS News.
Airlines canceled almost 2,000 U.S. flights for Thursday after Hurricane Ian hit Florida's Gulf Coast, bringing the total of cancellations related to the storm to more than 5,000 flights through Friday.
The major theme parks in Florida remain closed Thursday, but officials are considering reopening on Friday. Reports suggest the Swan and Dolphin Resort at Disney World experienced heavy flooding, according to Fox Orlando.
Update: September 28, 2022 at Noon ET
Cruise lines have canceled many sailings due to Hurricane Ian. Now some are actually extending itineraries.
With three major Florida ports now closed — Tampa, Port Canaveral and Jacksonville — there are simply no ports to call on for some cruises already at sea.
According to The Points Guy, several cruises have been extended and will stay safely far enough away at sea before returning to ports. Itineraries still sailing beyond their posted return date include the Carnival Elation, the Royal Caribbean Mariner of the Seas, Norwegian Cruise Line's Getaway, and the MSC Cruises' MSC Divina.
Update: September 28, 2022 at 10 a.m. ET
As expected, flight delays and cancellations into and out of Florida are stacking up due to Hurricane Ian.
As of 10 a.m. this morning, Orlando International Airport, Miami International, Tampa International, and Fort Lauderdale/Hollywood occupy the top four spots on the FlightAware website that tracks delays and cancellations. There have been a combined 740+ delays at the four airports today, and more coming since Tampa and Orlando have now ceased airline operations.
Update: September 28, 2022 at 9:25 a.m. ET
Southwest Florida International Airport in Fort Myers ceased operations on Tuesday night at 9 p.m. and will be closed today. Officials said they have tentative plans to reopen on Thursday, but much will depend on the damage done by Ian as well as an historic storm surge that could reach 16 feet.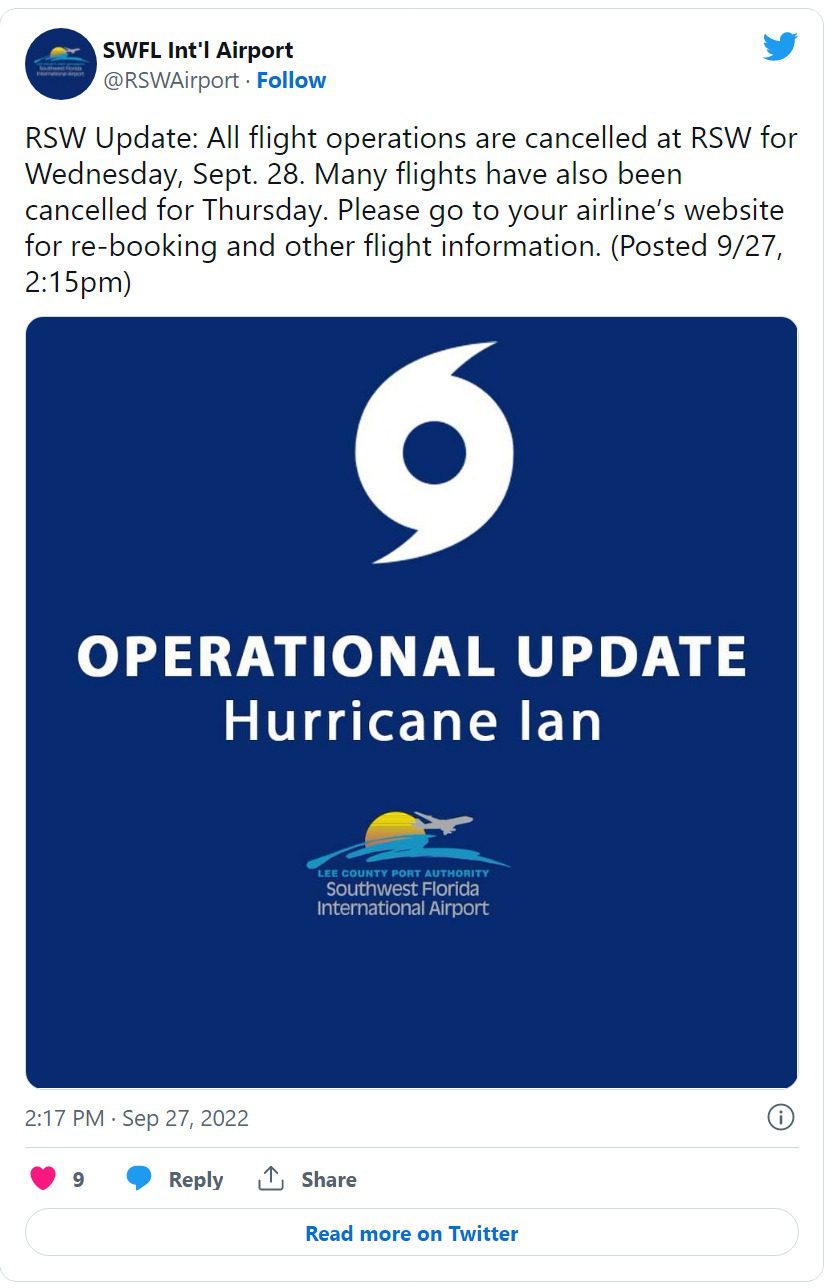 Ian is being forecasted to reach a Category 5 level — winds of 156 miles per hour or greater — from Naples, to Fort Myers, Punta Gorda, Port Charlotte, and Sarasota.
From the Panhandle in northwest Florida to Miami in the southeast part of the state, airports, airlines and theme parks in the Sunshine State have begun their operational plans with Hurricane Ian bearing down.
The hurricane, a Category 3 as of Tuesday afternoon with a chance of intensifying to a Category 4 when it is forecasted to hit the west-central part of Florida from the Fort Myers area on up to Tampa, is also so wide it is expected to blanket all of Florida and impact every mode of travel.
Here's how airports around the state and airlines that operate in Florida are reacting to the big storm, as well as cruise lines and theme parks, according to Spectrum News 13 as well as CNN.com.
Airports
Let's start with airports along the Gulf of Mexico and move north, and then cross over the state to the central part and then to the east. All information is as of noon ET, Tuesday, September 27.
-All inbound and outbound flights into Key West International Airport have been canceled for Tuesday, September 27.
-Southwest International Airport in Fort Myers is having departure delays of 15 minutes or longer. The facility will likely close later today into Wednesday as the Fort Myers/Naples area is forecasted to be one of the first places that Ian makes landfall. RSW officials were expected to hold a conference call with airline representatives and the Federal Aviation Administration to discuss steps to take for later this afternoon and on Wednesday.
-Sarasota Bradenton International Airport only lists two flights canceled for today but is expected to have delays and cancellations as the hurricane approaches later today and tomorrow.
-Tampa International Airport could be most affected, as one official in the city called the arrival of the storm a "once in a lifetime event" for the Tampa Bay area. Airport officials announced this morning they are suspending all operations at TPA this afternoon and will assess the situation further in the coming days.
-St. Pete Clearwater International Airport is closing its terminal building today at 1 p.m. due to mandatory evacuation procedures in Pinellas County.
-At Orlando International Airport, managers say they will likely trim back flights beginning Wednesday depending on the severity of Ian.
-There have been no significant delays or cancellations at airports in the northern part of Florida or on the east coast yet, including Jacksonville, Daytona Beach, Melbourne/Orlando, Fort Lauderdale, and Miami.
Airlines
Combined, the major airports in Florida handle flights from just about every carrier – regional, domestic, and international.
So far, at least a half-dozen – American, Delta, JetBlue, Southwest, Spirit, and United – have all announced they are waiving their change fees as well as the cost for whatever the difference is in fares for changing to a new flight.
As always, it's best to check with your individual carrier on flights and other booking and reservation questions.
Cruise Lines
See above. Thanks to Ian right now, and Hurricane Fiona last week, cruise lines have had to change, cancel, and revise sailings and itineraries.
Like flying, check with your cruise line if you are sailing out of Florida this week.
Click here for the latest on how Florida's theme parks are responding to Hurricane Ian.