Hurtigruten is refurbishing the Trollfjord to sail its upgraded coastal cruises of Norway. Photo Credit: Hurtigruten
Hurtigruten is introducing two new Norwegian coastal cruising experiences in 2023: the Svalbard Express and the North Cape Express.
Hurtigruten called the itineraries an upgrade of its traditional Coastal Express. Guests can expect half-day or full-day port visits; a food center with cooking classes and demonstrations; wine, beer, champagne and whiskey tastings; and onboard entertainment. Picnic and culinary excursions will be available.
Hurtigruten Norway CEO Hedda Felin said the new itineraries will "offer an experience similar to the likes of the Orient Express, combining a premium onboard experience with beautiful scenery, exceptional excursions and some of the best food on any sea."
Like the Coastal Express has done since 1893, the itineraries will transport cargo between ports. The Svalbard Express will ship freight to the Svalbard archipelago, home of the northernmost settlements in the world.
The Svalbard Express will debut on June 3, 2023, and the North Cape Express the following Sept. 26.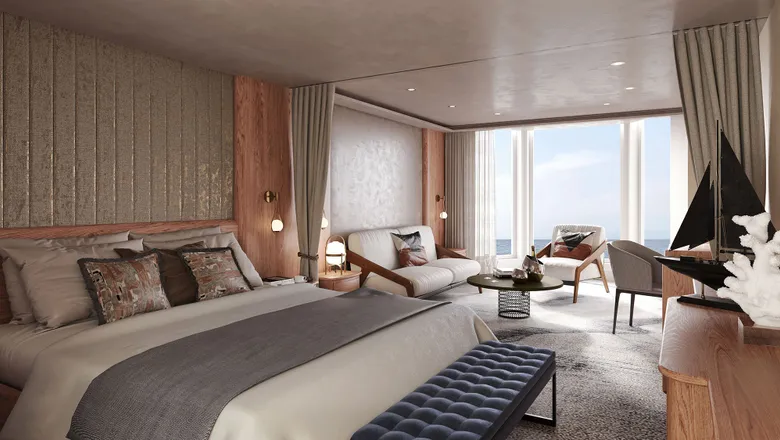 The Trollfjord's accommodations will be upgraded and refurbished, including suites. Photo Credit: Hurtigruten
The Svalbard Express will mark the return of one of Norway's sailing routes that operated between 1968 and 1982.
The new itinerary will include the Lofoten Islands, Vesteralen and the North Cape before heading north to Longyearbyen, the world's most northernmost town.
The roundtrip cruise is a 14-day journey. A seven-day, one-way cruise is offered, too. The one-way journey includes two nights at a hotel in Longyearbyen and two excursions: a wilderness evening at Camp Barentz and a catamaran cruise on the hybrid-electric MS Bard.
The 13-day North Cape Express takes guests to Oslo and Norway's southernmost and northernmost points. It will include scenic cruising through Hardangerfjord.
Standard cabins for the North Cape Express and Svalbard Express start at $3,170 and $4,961 per person, respectively. Suites start at $10,419 and $17,443 per person.
Both itineraries will sail on the refurbished 822-passenger Trollfjord.
The Trollfjord's cabins will be upgraded and feature modern Scandinavian design. The restaurants will be updated, including the à la carte restaurant, which will more than double in size.