It's more common than you think for men to get overstimulated and blow their load well before they're done pleasing their partners. But premature ejaculation (PE) is nothing to be ashamed of! 
Unfortunately, because of all the stigma tied to how long a man can last sexually, premature ejaculation (PE) isn't openly talked about… which can lead to feelings of embarrassment (for him), a lack of satisfaction (for his partner(s)), and frustration all around.
And those feelings can be compounded when it comes to playing with multiple partners in the swinging lifestyle. Things can get hot and heavy fast with all the anticipation, stimulation, and a veritable buffet of pleasure!
With the added pressures and excitement of wanting to please more than one play partner at a time — sometimes even with an audience — it's no surprise that some men reach their climax earlier than they (and their partners) would like.
But what if I told you that there's actually an easy way for most men to control their PE?!
You can prolong the time it takes for you to climax with Delay Wipes, the latest climax control product from Promescent®, the world-renowned makers of Delay Spray, which is already used by over 500,000 men to boost their staying power (and their sexual confidence)!
So, whether you're with your partner for date night, finally meeting the hotwife you've been sexting for months, or heading to a sexy group play party, Delay Wipes can help you last longer so you can give your partners — and yourself — the sexual fulfillment you all crave.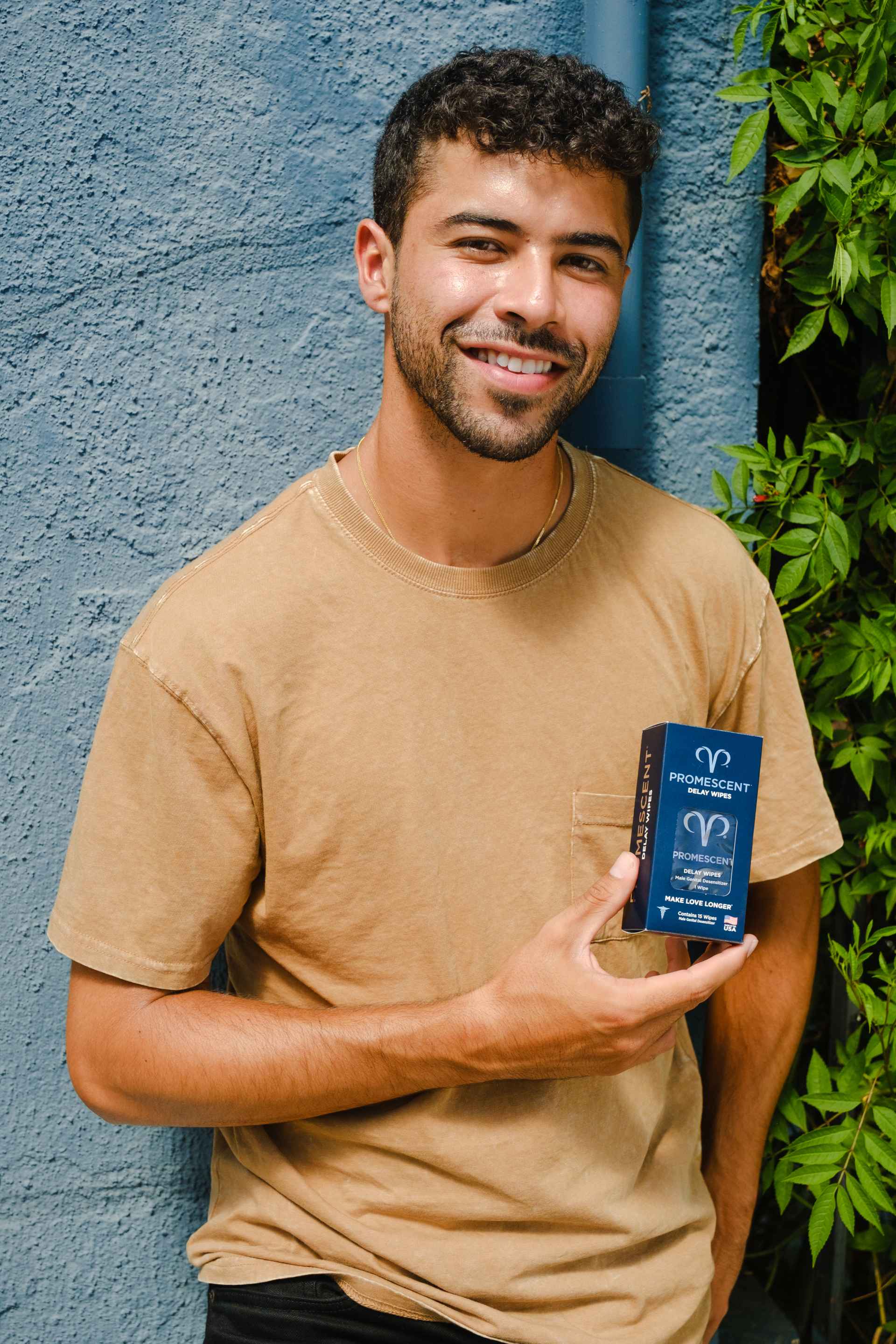 What are Delay Wipes?
Promescent® Delay Wipes use the same TargetZone Technology™ that has led to the overwhelming success and adoption of their Delay Spray, which is a doctor-approved method for many men to control PE (and also proven in clinical studies).
Their patented formula comes in a super convenient, mess-free, and easy-to-use wipe format you can take with you anywhere and apply discreetly, so that you'll be ready for amazing, long-lasting sex with your partners — in as little as five minutes!

The wipe is paraben-free and uses a 7% benzocaine formula to desensitize men's most sensitive areas (the head and frenulum), which allows you to confidently focus on pleasuring your partners without the worry of going over the edge too fast. Plus, the specially designed formula won't transfer to your partners, so they won't experience any desensitization of their own when you use either the Delay Spray or Wipes!
Compared to other competitors in the market, Promescent® Delay Wipes are 175% stronger, which will lead to superior efficacy and enhanced duration so you can really enjoy your sexual play experiences to their fullest.
With the super discreet envelope that's not much bigger than a condom wrapper, Delay Wipes are an absolute must-have for stashing in your pocket (and in your play kit) for dates, lifestyle parties, clubs, and other swingers' events.
Since there's no liquid, they're also perfect for flights (Mile High Club, anyone?)! Pack some Delay Wipes on your next lifestyle event or vacation, and you'll be prepared to take on anyone you want, anywhere, and anytime.
How and When Can I Use These Wipes?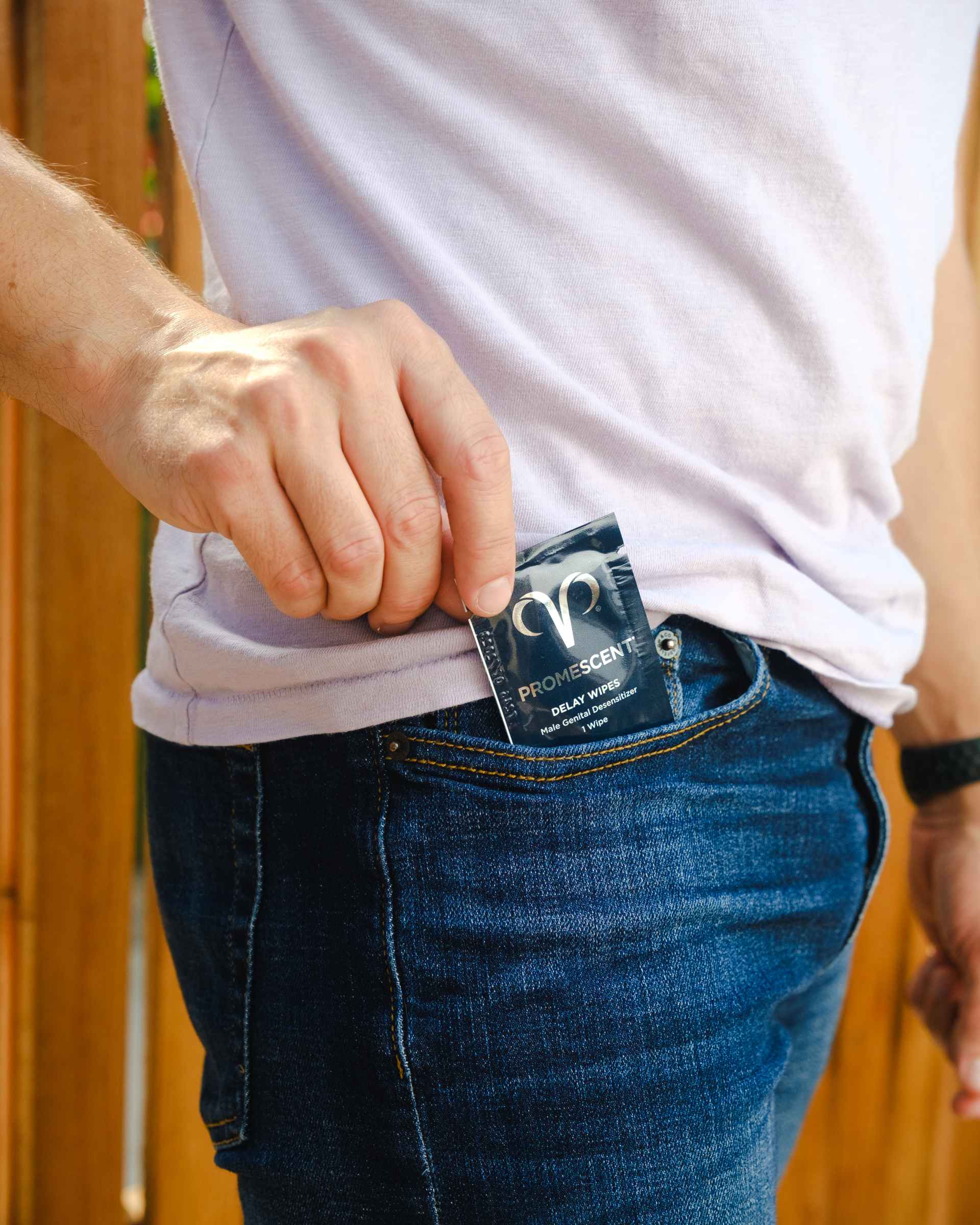 Say you're at the swingers' club and you and your girlfriend are making out with the hottest couple in the place. The four of you are SO ready to find a bed and take things to the next level.
Oooh, exciting! Maybe even a bit too exciting, meaning you'll need some help to slow things down so you can extend your lasting power, right?
Delay Wipes to the rescue!
Here's how you can put a Delay Wipe to work in this steamy scenario:
When you break away from the dance floor and go freshen up and change out of your clothes, take a moment to rub down your hard-on with a Delay Wipe:
Remove the wipe from the individual wrapper.
Apply the wipe to your penis, targeting the underside of the shaft near the head (frenulum) and head (glans). Quickly rinse your fingers / hands after using the wipe.
Allow 5–10 minutes for the formula to absorb and get to work. There's no need to wipe down the treated area after the recommended wait time.
Jump on the pleasure train!
Once you've used the wipe, go find your sexy new play partners! Show them what your hands and mouth can do. By the time you have them bucking in delight, the Delay Wipes will have done their job… and will help you build your reputation as a sexual dynamo!
Wipe — or Spray — Your Way to Better, Longer-Lasting Sex
I love that Promescent® offers two methods to control men's climax and prolong sexual experiences: their Delay Wipes and Climax Control Delay Spray are here to help.
Whichever route you prefer, both products contain the same safe, effective desensitizing formula that's so good, it's recommended to their patients by sexual health professionals. Plus, all products are shipped to you discreetly in plain packaging to protect your privacy.


Keep a bottle of spray by your bed and some Delay wipes in your play kit, and your lovers will come (and come!) back for more, and more, and more…
About Promescent®
Promescent® by Absorption Pharmaceuticals is a world-renowned wellness company emphasizing the role of sexual health in overall well-being. Beginning with a clinically-tested and doctor-recommended fast-absorption lidocaine male delay spray, Promescent® has grown their line of wellness products aimed at enhancing intimacy, sexual health, performance, and confidence. Backed by years of advanced research and development by the best minds in the urological community, Promescent® delivers effective, clinically proven product solutions to help men, women, and couples improve their sex lives. Promescent® products are available on their website and via select national retailers.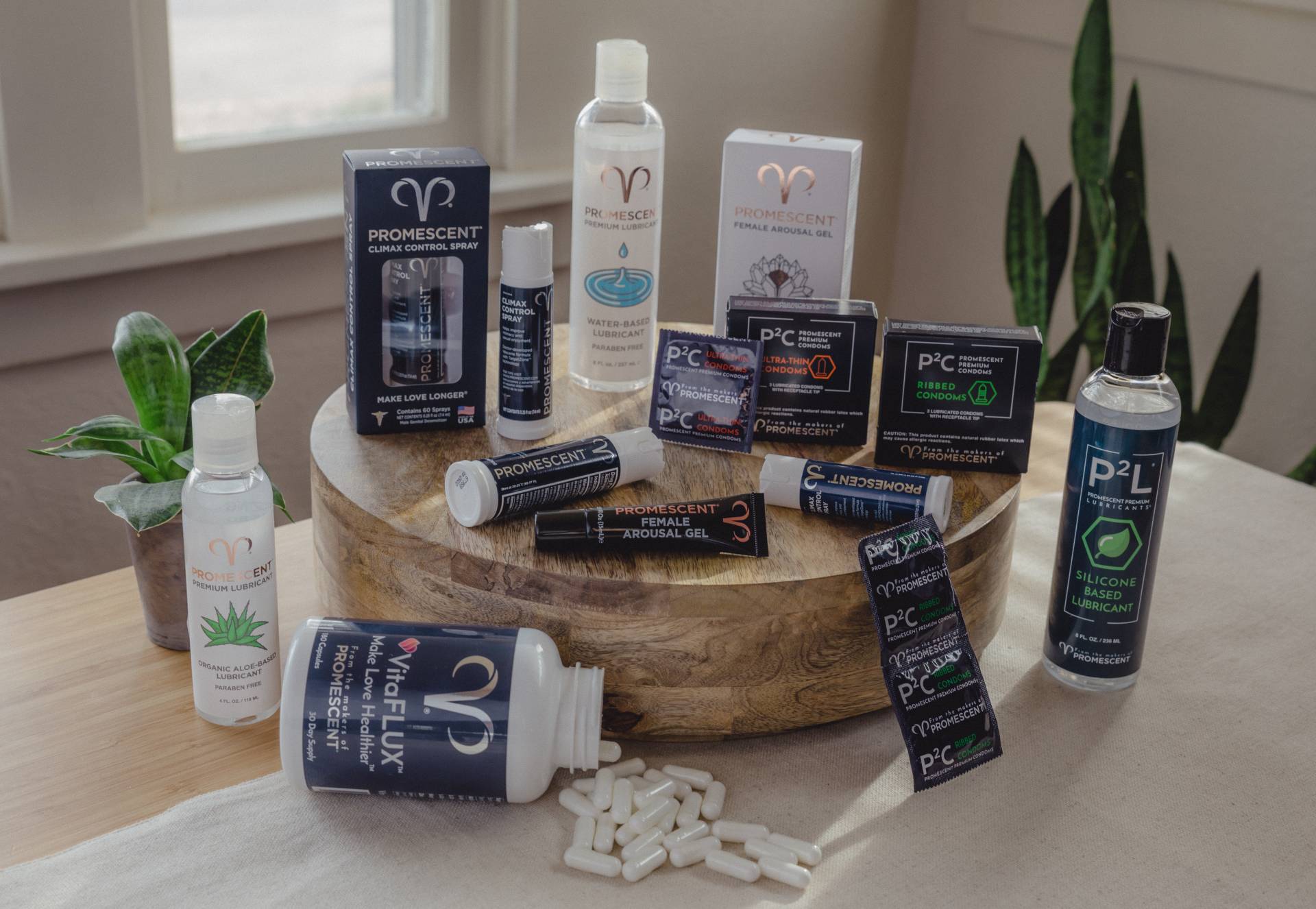 Are You Ready for Mind-Blowing, Longer-Lasting Sex?! I Know I Am!