(Las Vegas, NV / March 23, 2023) — Veteran adult & horror filmmaker Ivan is extending an official invitation to friends and local industry folk to come out and celebrate his annual Birthday Toy Drive at Las Vegas' Nerd Bar on Monday, April 3.
The evening's festivities, open to guests 21 & over with the request of a new toy donation at the door to benefit the Las Vegas Children's Hospital, will be recorded for use as online content for Ivan's YouTube channel 
2Russians1America.com
"I am super excited to celebrate another year on this planet in the best way possible… with people I care about, and with donations to the Children's Hospital," said Ivan of the event, which he has been hosting for more than 15 years.
"To me, this is the best time of year, because we have a chance to give back with surprise toy donations on a non-holiday season. Children need love, attention and our support year-round, not just during the holidays."
Come ride the 10-foot mechanical penis at the Nerd Video Game Bar (
TheNerd.com
). Models who RSVP – 323.397.5856 or 
[email protected]
 – will earn themselves a custom shirt from Ivan!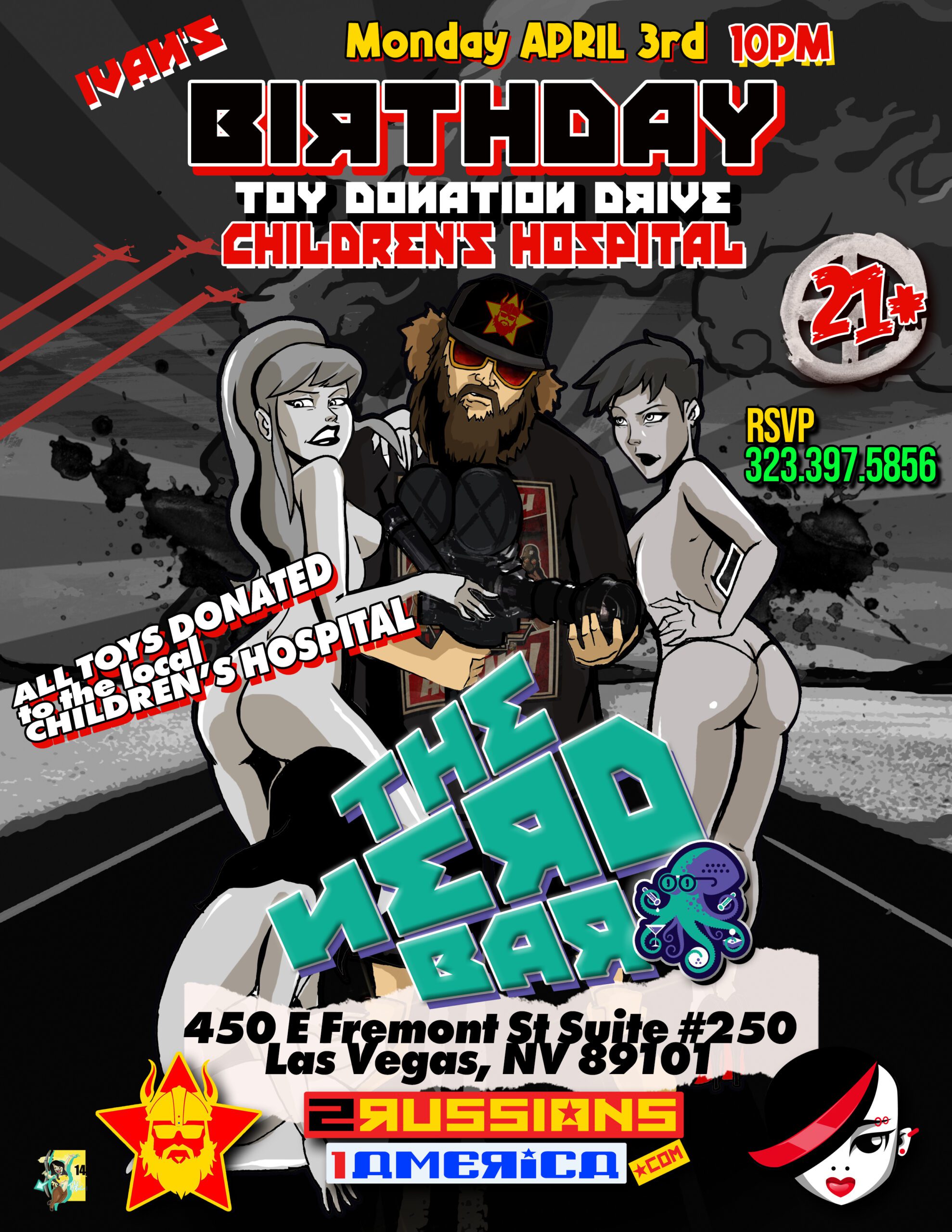 Find and follow Ivan at:
Ivan, a respected and prolific adult industry producer/director and mainstream horror filmmaker of more than 20 years, is living his best life as the inspired force behind entertainment studios such as Alt Erotic, where he currently serves as CEO and Creative Director, as well as former companies such as Extreme Associates, Evolution Erotica, Anabolic, Desire Films, Pornstar Empire, and others.
Born in Russia, Ivan moved to the U.S. as a child and earned a degree in Cinematography before embarking on an entertainment career in mainstream film and TV. He came into the adult biz in 2002, making his mark with such movies as 2004's Texas Asshole Massacre and 2005's Dawn of the Head, earning him a number of awards, nominations and a Hall of Fame induction that celebrate his talents.
While reveling in his success as a filmmaker, media personality, entrepreneur and podcast host, the past few years have also seen him become involved with the XPW (Xtreme Pro Wrestling) organization in Southern California, and take on a surprise diabetes diagnosis that affected his ability to walk and work.
Between the extensive healing process, adopting a healthier lifestyle and developing new creative projects, "What I learned during this experience is how important it is to listen to your body. Many of us have this 'I got this!' mentality, but truthfully, we don't. It's a serious reminder to stop and do a wellness check on ourselves physically, mentally, business-wise and how we treat others. We hustle and bustle and just run with no breaks, but we need those breaks… they are crucial." Visit IamIvan.com or follow on Twitter @IamIvanXXX. 
# # #
Press and media contact: