(Los Angeles, CA Leana Lovings has been crowned with the coveted title of December Fantasy of the Month for Nubile Films, and her fans get treated to her living out a hot sexual fantasy in an exclusive, must-see scene available today.
Leana Loving's December Fantasy of the Month opens with her boyfriend, Codey Steele, lying on the bed watching her get dolled up in sheer lingerie. And although it's definitely a turn-on for him, Leana excites herself and touches herself from her titties to her kitty. Codey tells her how stunning she looks, and Leana informs him she looks even better close up. Sexily strutting over to the bed to give Codey a killer view, Leana gets on the bed, crawls up Codey's body until she's straddling him, and takes his hands and puts them on her ass. Leana ups it many more notches with dirty talk, popping out her all-natural tits and putting Codey's hands on them. Leana continues to pursue Codey and slides lower for a champion BJ.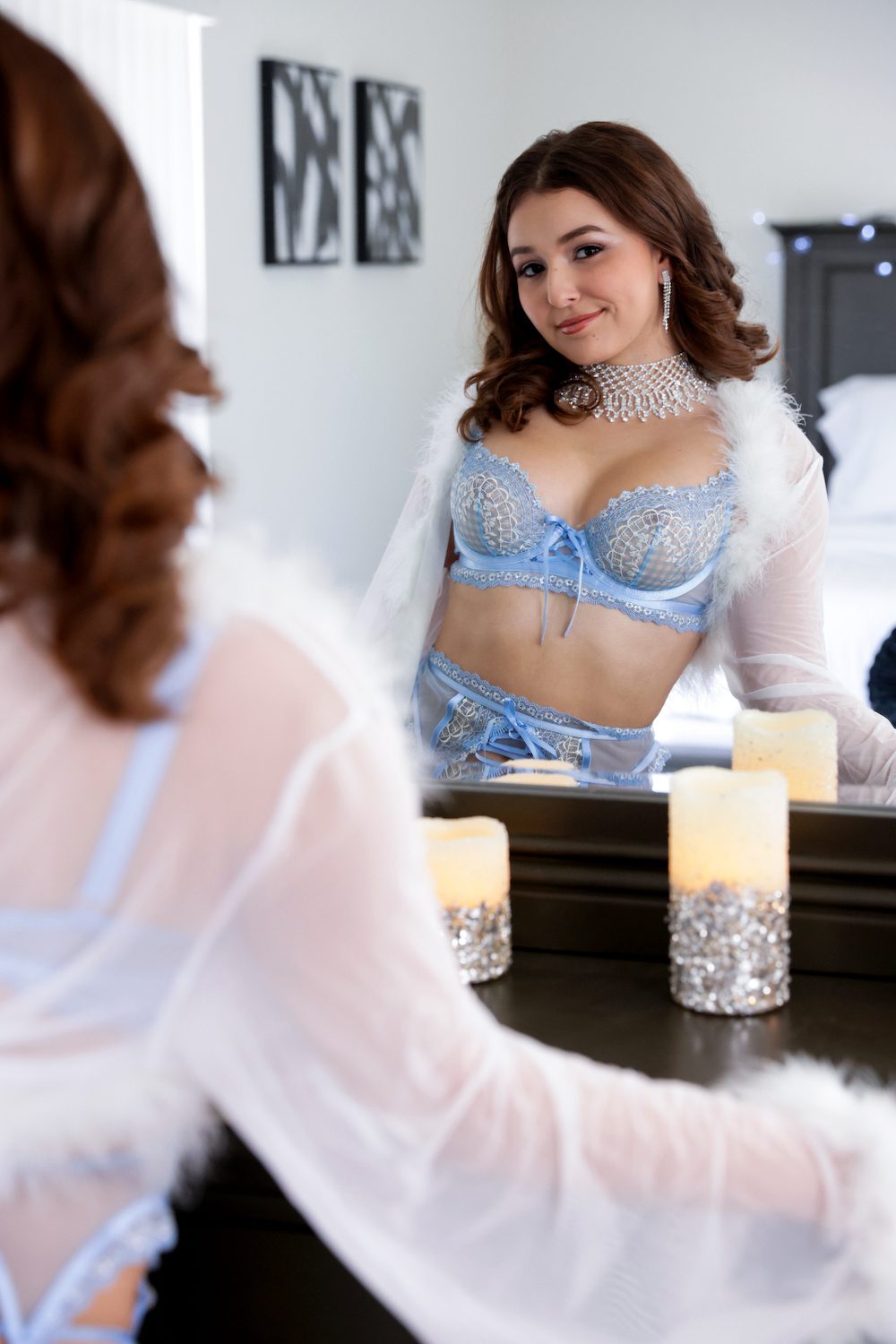 Finally, Codey takes the reigns, makes his move, pushes her on her back, and gives her a tongue lashing of orgasmic heights. Next, Codey rolls Leana on her side for some spoon sex, which Leana thoroughly enjoys. Not one to just lie back, Leana climbs on top of Codey for some cowgirl action before getting on her hands and knees to let Codey take her in doggy. Once Codey can't take it anymore, he drops a huge load on her cute little ass.
"I was so overjoyed to be the August Flavor of the Month but being the December Fantasy of the Month is incredible!" says Leana Lovings. "Codey is one of my favorite talents to work with, and he always knows how to get me hot and bothered. I hope the Nubiles members enjoy my special scene."
"Leana is one of our site's most popular girls and a member favorite. This is one of her best scenes to date, and she definitely deserves the Flavor of the Month title," says Belinda, Nubiles Affiliate Manager.
Head over to Nubile Films to watch the trailer and member-exclusive for "December 2022 Fantasy Of The Month – S43:E18"  and Leana's previous Nubiles Films' scene "JOI Roommate – S42:E16" at nubilefilms.com/model/profile/16497/leana-lovings.
For Nubiles media requests, contact Erika Icon of The Rub PR at erika@therubpr.com.
ABOUT NUBILES
Nubiles nubiles-porn.com and Nubile Films nubilefilms.com are two of the most respected studios in the industry. With countless awards nominations and multiple AVN Awards wins, their high-quality HD scenes with the top stars and rising stars have kept their members happy and their brand expanding. Follow them on IG at @nubilefilms. Subscribe to their official Pornhub accounts at pornhub.com/channels/nubiles and pornhub.com/channels/nubilefilms for updates, trailers, and more.