https://www.leatherarchives.org
On Sunday, June 12, 2022 at 2pm, Leather Archives & Museum will unveil its newest exhibit, Leather: Photography by Mike Ruiz. This collection of personal and intimate portraits of individuals and partners portrays the wide diversity of the leather and fetish communities, the beauty and sensuality of gear and the personal connection people feel with their leather. Celebrity and fashion photographer Mike Ruiz will be here to open this new exhibit and talk about his work.
Mike's long list of celebrity clients include Billy Porter, Priyanka Chopra, Lewis Hamilton, Cardi B, Ruby Rose, Kim Kardashian, Katy Perry, Prince, Taraji P. Henson, Penn Badgley, Lakeith Stanfield, Jim Parsons, Joe Manganiello, Justin Theroux, Kelly Clarkson, Queen Latifah, Betty White and the list goes on and on. He's also gone on to direct several music videos for artists such as Kelly Rowland, Vanessa Williams, Erika Jayne and RuPaul and made his feature film directorial debut with the uproarious comedy "StarrBooty" starring RuPaul.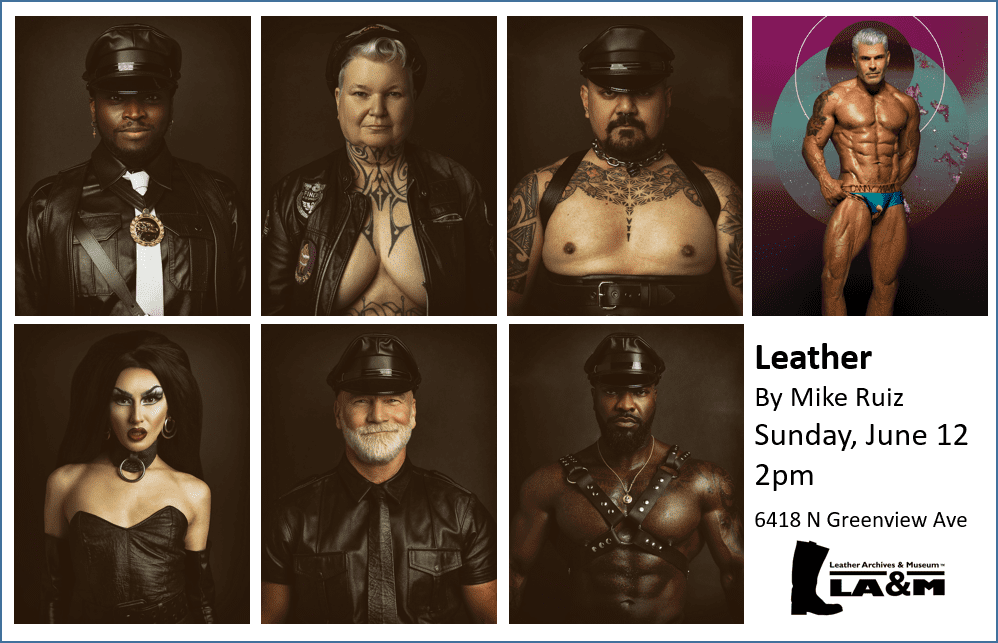 Mike has also appeared frequently on America's and Canada's Next Top Model, Rupaul's Drag Race, along with dozens of other television appearances as an expert in his field. He was recently named creative director and principal photographer for L'Officiel Fashion Book Australia, L'Officiel Fashion Book Monte Carlo and Photobook Magazine
Mike is most proud of his community service having supported such organizations as The Ali Forney Center, GMHC, The Trevor Project, Housing Works, It Gets Better Campaign, Live Out Loud, Project Angel Food, and GLAAD. He is also on the honorary board of the "Let There Be Hope" research foundation. In April of 2020, Mike graced the cover of OUT Magazine for his contributions to the LGBTQ community and the arts.
Mike started his leatherman project in an effort to demystify a community that is tantalizing yet often formidable, finding a path to self-discovery through photography. "I knew that photographing leathermen and chronicling their experiences would help me identify the powerful draw that I felt toward them. I hope that this effort will shine a light on the humanity of leathermen and that it will
become a time capsule that will keep the leather community's rich history alive for future generations."
LAM Executive Director Gary Wasdin shares "Leather and kink can be intimidating to some, often by design. Mike's photography highlights an intimate, personal connection between the person and their gear that ultimately highlights their passion and vulnerability."
Leather: Photography by Mike Ruiz is on exhibit at Leather Archives & Museum beginning Sunday, June 12th at 2pm. Admission is free and will be the only opportunity to meet and talk with the artist.