(Los Angeles, CA / August 8, 2022) — After a six-and-a-half year hiatus, the pounding force of LeWood/Evil Angel's infamous sodomy series is BACK with the release of The LeWood Anal Hazing Crew 8.
The film's directing duo (and Anal Hazing Crew hosts) Francesca Lé and Mark Wood re-open the (back) doors to four all-new recruits – Brenna McKenna, Kendra Cole, Madison Summers and Penelope Woods – for a wild ride of unrelenting rectal initiations they won't soon forget!
"After a long break from shooting this series, we are excited to announce that we've brought back our Anal Hazing Crew for an eighth installment," said Lé. "Mark and I took some time to explore different projects for Evil Angel and other content platforms such as SmutFactor.com, but now that we're back, it feels like old times – in a really good way – and we hope that fans enjoy Number Eight!"
McKenna also enthused, "The moment we planned this scene, I was soooo excited! I've been told the best things about working with Francesca and Mark, and it was all true… the scene was so freaking fun, one of those moments that make u really love your job! But to make it on this price of art by this iconic couple was a literal dream come true… it's perfect for me to be on and I'm so proud of it!"
Cole added, "It was a fun ride having Francesca dom me for her man like a dirty little play toy just for them!"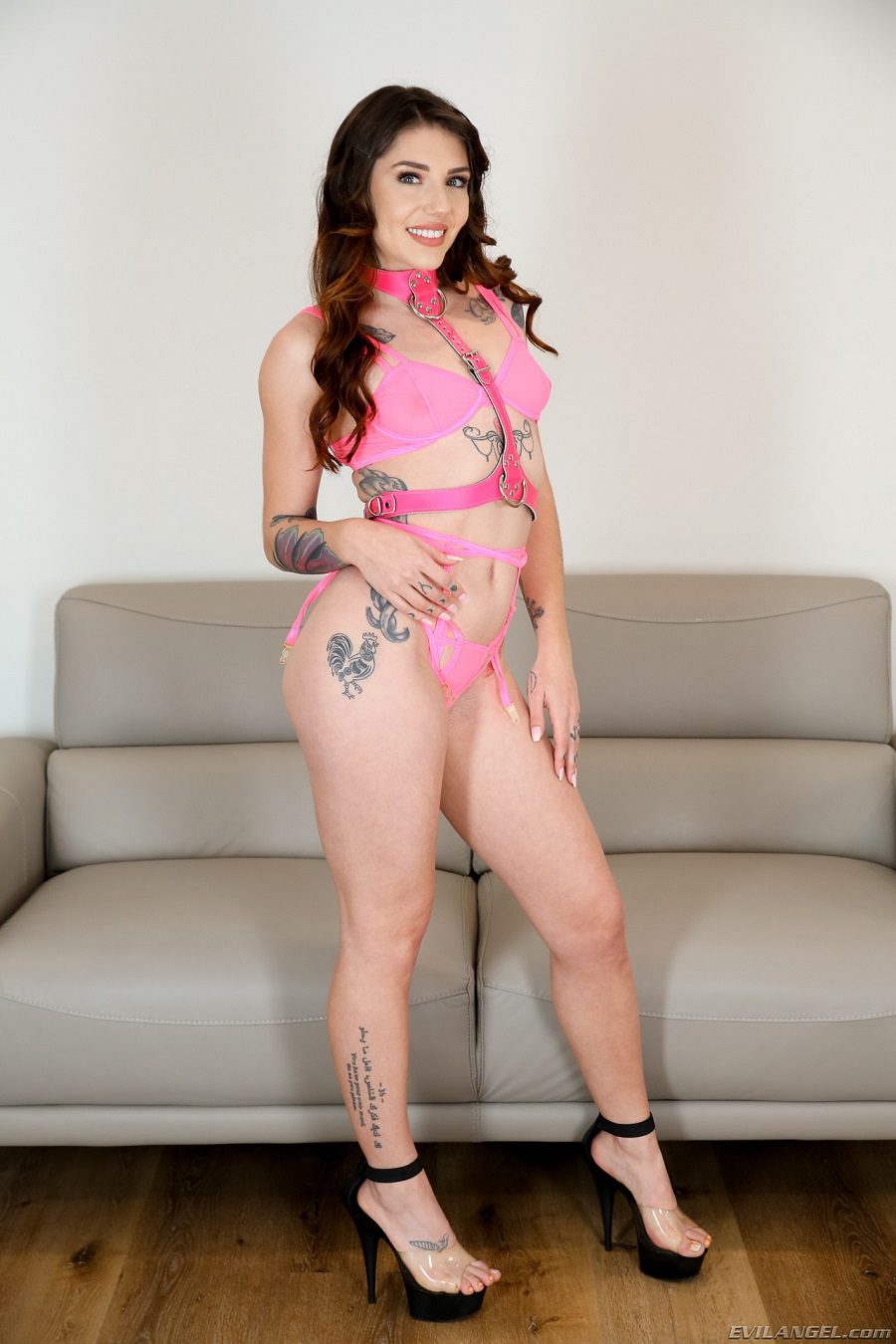 ABOUT LEWOOD:
LeWood Productions, the joint adult film production venture founded in 2002 by real-life couple and married Hall of Fame performers Francesca Lé and Mark Wood, was the inspired impetus that brought Lé back to performing and taking the reins alongside Wood as a director, writer and producer. Originally distributed through JM Productions and later by EXP/Juicy Entertainment, LeWood moved its distribution to Evil Angel in 2012 and have since produced nearly 400 titles that brilliantly highlight the duo's creative talents as erotic storytellers.
ABOUT MARK WOOD:
Mark Wood, the multi-talented performer, director and studio boss behind adult production brands 
LeWood
 and 
Smut Factor
 with his professional partner (and wife) Francesca Lé, owes his storied and successful career to not only years of hard work, but also finding himself in just the right place at just the right time.
Arriving in Los Angeles to earn his MBA in graduate school, Wood indulged his in creative side by playing in a rock band around Hollywood while looking for ways to make money. In 1998, he answered an ad for internet modeling and shot his first porn scene for independent studio Mike Hott Video, which led to roles in scenes for Pleasure Productions, Heatwave, Coast to Coast, Rain Productions and Tight Ends.
Two years later, Wood expanded his talents to include directing for Devil's Film, Visual Images and Legend Video, while also continuing to work as a performer. In 2001, he met his future wife Lé while shooting for Extreme Associates (they married in Las Vegas three months later), which led to the pair launching LeWood Productions in 2002 through JM Productions, then EXP/Juicy.
In 2010 Wood was inducted into AVN's Hall of Fame (as well as XRCO's 2014 Hall of Fame) and in 2012 LeWood inked a deal with Evil Angel to distribute their films, where they remain today. The duo has since shot well more than 300 LeWood titles and counting, and in 2022 they formed a new studio, Smut Factor, in partnership with Adult Empire Cash. In May 4, 2022, Lé and Wood will celebrate their 21st wedding anniversary.
ABOUT FRANCESCA LÉ:
Francesca Lé is an anomaly in the superficial, come-and-go business of adult entertainment. After more than 30 years in front of and behind the camera, the Los Angeles born & bred superstar is still very much at the top of her game.
The model, actress, producer, entrepreneur and co-owner (with her husband of 21 years, Mark Wood) of adult film production brands 
LeWood
 and 
Smut Factor
is still as spirited, creative and drop-dead gorgeous as she was when she made her onscreen debut in 1990, and she continues to pay it forward by showcasing new talent as a reassuring mentor and producer of quality films that highlight and support the ever-changing face – and faces – of the industry.
Restless and curious by nature, Lé, who retired in 1994 after burning out on a non-stop schedule, took the opportunity to indulge in other aspects of the business by working as a dancer, sales executive and fetish producer. Upon meeting Wood in 2000, who shared similar interests and ambitions as a director and filmmaker, they pooled their talents and launched LeWood in 2002 as a means of more fully exploring their creativity and freedom together.
In 2022, the pair's creative exploration continues with Smut Factor. The new studio and website, 'an erotic look into the lifestyle of Francesca Lé and Mark Wood', is taking them in different artistic directions than with LeWood, mixing different styles and ideas within a broader range that feels more personal. For Lé, an AVN, XRCO and Urban X Hall of Famer with a wealth of experience and skills that now afford her the ability to enjoy the fruits of her labor, she's having the time of her life. "If I'm not having fun, then I don't want to do it!"
# # #
Press and media contact: