Seems like new platforms are popping up every day hoping to be the next "It Girl." Last week I wrote about the app BeReal, which seeks to clean up the fake photos that inundate social media, this week it's Social Ikon a new influencer platform that is courting the adult industry.
Social Ikon gives creators and social media influencers the ability to monetize their content through subscription and/or premium (one-time-purchase) packages. Marketing for Adult Creative – the company behind Social Ikon – claims the site will be "the next OnlyFans" and one of its top competitors.
Some perks of joining up with Social Ikon include a same-day payout, a country blocking feature so you can remain anonymous in your homeland if you wish, lifetime referral payouts – you receive 5% of anyone's earnings for life if you send them to Social Ikon, profile tagging, and high quality image uploads. Their goal is "to make signing up, purchasing and selling adult content as simple as possible; whilst attracting active social media influencers with its design." So, if you're fed up with OnlyFans and want to try something new, Social Ikon is worth checking out.
Further, they want your business badly.
Recently they held a competition which awarded winners a 2-day photoshoot in Majorca with a professional photographer, flights, a 3 night stay in a luxury villa, hair and makeup from an in-house artist and a guaranteed feature in a top publication including Playboy and FHM. All you had to do was sign up and post a photo. Easy! Unfortunately, it's too late to hop on board the competition as the prize has already been awarded but odds are betting, they'll have more juicy contests.
They're super hungry to capture a slice of the OnlyFans audience.
Charlie Cross, Director of Operations for the site, assured users that a lot of thought and energy has gone into making Social Ikon what they call "a seamless experience."
"Approaching a project like this puts your whole team to the test. The designer must have an immaculate eye for detail, the developers must consider a huge range of 'use cases and the server administrators must be able to setup a server architecture that is robust, scalable and secure," shares Cross. "Once this has been done you cannot underestimate the challenge of testing a platform like this – each feature was rigorously probed and reviewed until we were certain that this application was ready to go to market."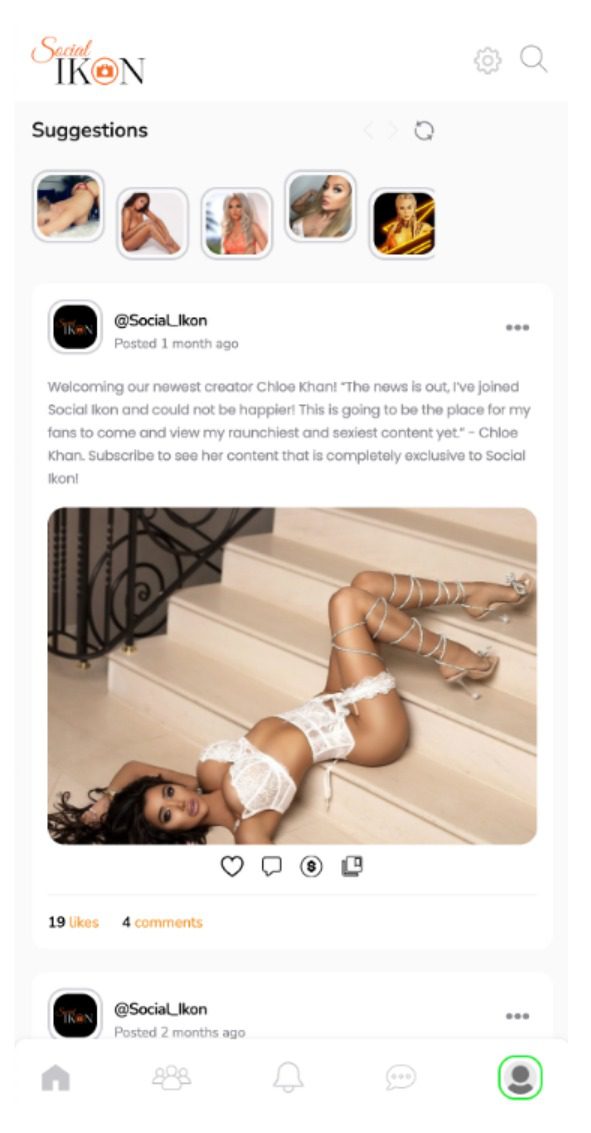 In addition, Adult Creative also claims to have celebrities that are releasing content never before seen on any other site with a red-carpet launch that saw Sophie Kasaei, Kris Boyson and Abbie Holborn. They also can't stop talking about their latest social influencer to join – Chloe Khan. There's something to be said about attracting name talent to your platform, it means you've got something professional looking and easy to use. So, if being on the ground floor, and hanging out with the popular kids ticks some boxes you might just want to give Social Ikon a whirl.
Find and follow Social Ikon at socialikon.com and on their Instagram @Social_Ikon and Twitter @Social_Ikon. Adult Creative can be found at adultcreative.co.uk.
—
Alyssa Collins hails from Minnesota, where snowy days were the perfect excuse to stay warm inside and write. Over the years, she turned that joy into a career and has authored numerous articles for various publications (under pen names). Email Alyssa via [email protected].