(LAS VEGAS, Nev. / Mar 17, 2022) — Adult film star, model and feature dancer Onyx Muse was pleasantly surprised to spot herself featured in the opening monologue segment of Wednesday night's Jimmy Kimmel Live!
As the host commented on the news of the day, noting the three-year anniversary of the first COVID lockdown and President Biden's visit to Las Vegas, he warned that the President has some fresh competition for 2024 — a candidate who has already picked up some impressive endorsements:
"Joe Exotic, the now-incarcerated Tiger King, has launched a presidential campaign, even though he is serving a 21-year prison sentence," Kimmel said.  "He made the announcement on his 
website
; he wrote, 'Put aside that I am gay, that I am in prison for now, that I used drugs in past, that I had more than one boyfriend at once and that Carole hates my guts. This all has not a thing to do with me being able to be your voice . . . . I am used to fighting my whole life just to get by. I am broke, they have taken everything I ever worked for away, and it's time we take this country back.'  Hey, makes sense to me."
Kimmel continued, "The Tiger King, believe it or not, has some pretty solid endorsements from a number of luminaries, including Seth Posey, his own fiancé; Matthew Heller from 
hornblasters.com
; Cannabis influencer CookiesSuperFan; Classy Convicts, a prison pen pal website; half a dozen bikini models and porn stars; and a snake trapper, Python Mike Kimmel, who is sadly no relation to me.  But, I'll yell you what, it's a good list.  I think that was the list for the Vanity Fair Oscar Party on Sunday night."
Also featured in the snapshot of Exotic's campaign endorsements are influencers Claudia Fijal (Twitter: @ClaudiaFijal), Neyleen Ashley (Twitter: @neyleenashleyy), Sara Blake Cheek (Twitter: @saracheeky1), Kindly Myers (Twitter: @KindlyMyers), Larissa Carolina Lima, Kruella, and adult performer Tana Lea (Twitter: @officialtanalea).
Muse explained the origin of the endorsement: "Last September, I appeared on 
an episode
 of DJ Whoo Kid's SiriusXM show on Eminem's 
Shade 45 channel
, and Joe Exotic was one of DJ Whoo Kid's followers. Subsequently Joe's people began following my various social media accounts," Muse said.
"After connecting that way, I received some Joe Exotic merch, and they recently reached out to see if I would endorse The Tiger King's presidential run and send some photos for his website," Muse continued.  "I agreed and I sent them a few of my pics, then yesterday, one of my fans let me know let me know that my photo was featured on Jimmy Kimmel Live!  I wasn't expecting that!"
Muse, who resides in Las Vegas, is currently preparing for a special one-night feature dance engagement at the upscale 
Sapphire 39 gentlemen's club
  in New York City, on Saturday night, March 25.  For more information, follow the club on Twitter: @NYSapphire39.
Fans are invited to follow Onyx Muse on Twitter: @OnyxMuseXXX, Instagram: @domomonster7, and Centerfold.
About Onyx Muse:
Petite Texan Onyx Muse moved to Los Angeles in 2014 to join the local rave scene and build a business as a booking rep for Hollywood nightclub go-go dancers. A natural performer herself, as well as a striking beauty, Muse found additional success as a go-go dancer and later, a stripper, making multi-day visits to Las Vegas, New York, and other lucrative hubs for exotic dancers.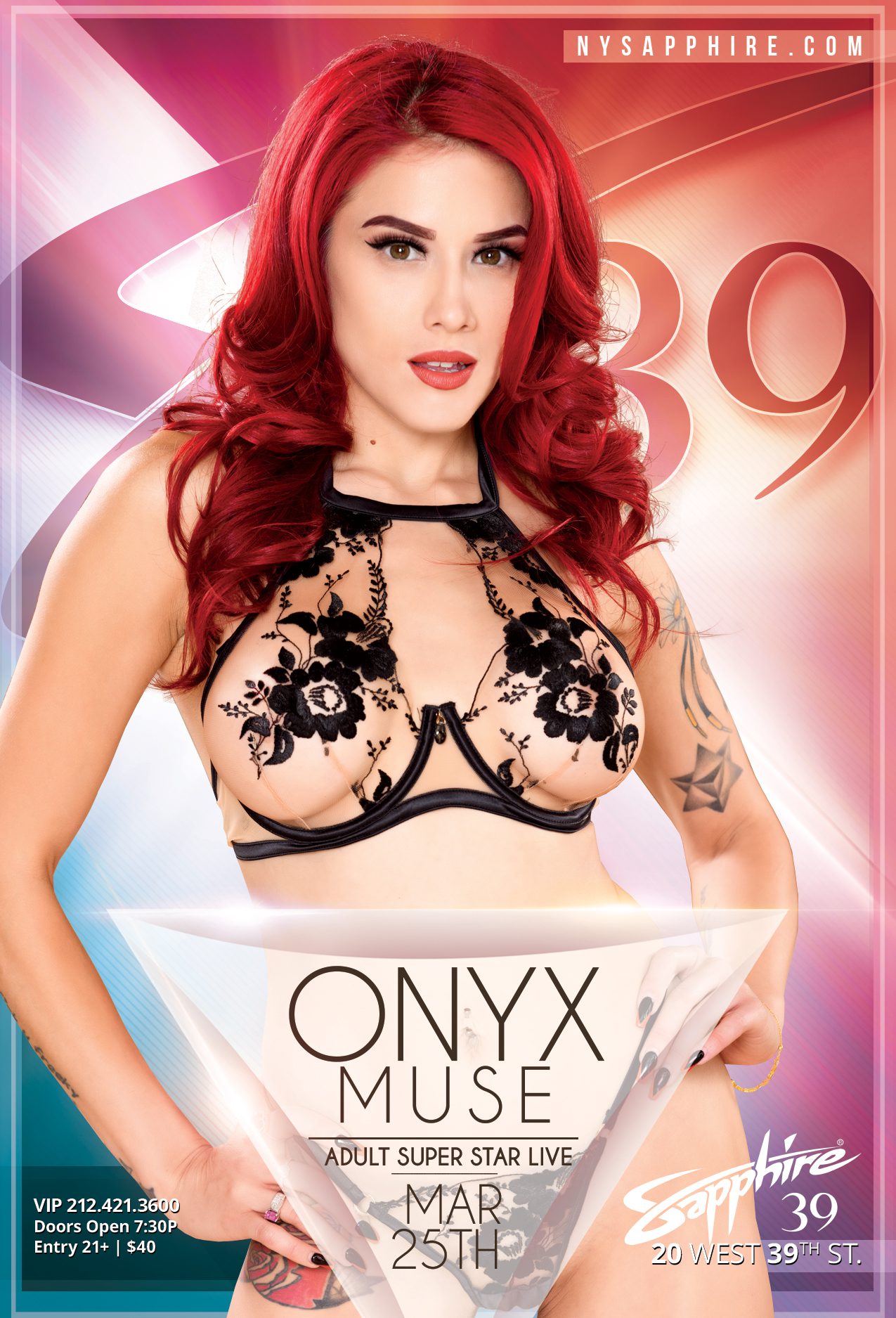 When the adult film industry came calling, her glamour girl looks led to roles in productions for Digital Playground, Naughty America, New Sensations, MRG Entertainment, Cherry Pimps, and others.  In 2015 she made her feature dance debut at San Francisco's Crazy Horse, and eventually joined the roster of stars at 
The Lee Network
, the world's premier agency for feature dancers.
Today, Muse is also a successful entrepreneur, cannabis advocate and co-host of 
Green Room Radio
.
She resides in Las Vegas.
Contact:
Michael Whiteacre
HoneyHouse PR
775-742-8425
#  #  #