Sydney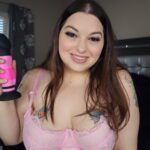 Las Vegas – BBW Pornstar and toy reviewer Sydney Screams has partnered with online retailer Peepshow Toys as an influencer for the brand. 
As an avid toy collector, Screams has become known as the go-to performer for toy recommendations. After seeing the success of product reviews posted on PornHub & XVideos, Screams launched a YouTube channel to post safe-for-work reviews of their favorite toys. Screams reviews products for small independent toy makers up to large brands, including vibrators, dildos, lube, and lingerie. 
"The first thing I saw when looking into Peepshow Toys was that all of their products are body safe. Partnering with a retailer whose ideals align so closely with mine just felt right," Screams said. "As a performer, people look to our industry for education, whether we like it or not. I only use body safe toys both on camera and off, and I want my viewers to know how accessible quality, safe products are."
"I love Peepshow Toys commitment to safety, accessibility, inclusivity, and education, and I am excited to use my platform to help further their message and grow their business. They welcomed me to their exclusive group of influencers with open arms, and we've only just started working together," Screams continued. 
A representative from the retailer commented, "Peepshow Toys is thrilled to partner with Sydney Screams, an icon in the adult industry! Together, we're excited to spread the word about body-safe, non-toxic pleasure products inclusive to all. We are confident our partnership will support everyone seeking more fun and self-discovery."
As an influencer, Screams will review products, create content, direct traffic, and expand brand awareness for the retailer. 
The retailer's portfolio of brands include SquarePegToys, Oxballs, BMS Factory, nJoy, Tantus, Blush, Viben, Sliquid, and Intimate Earth. 
Learn more about Peepshow Toys here. Follow their Twitter and Instagram.