Isn't it a shame when a new invention is so ingenious it becomes ingenious to criminals?
Enter Apple AirTags.
If you're one of those people who constantly misplaces their keys and other important things you can't live without, the release of Apple AirTags last year was a dream come true. The handy little device sends out a secure Bluetooth signal to iCloud and will pinpoint exactly where your lost item is hiding. You'll just open your iPhone, head over to your "Find Me" app and if it's within 30 feet it'll track it with a "Ping!" Even better, you can also use what's called "Precision Finding" which will give you the exact distance and direction of the object, so you'll never spend another hour playing hide 'n seek again.
At $29 that AirTag is well worth the money you think. Well guess what? Your stalker thinks so too.
Recently, Irish actress/writer Hanna Rose May took to Twitter to warn others about creeps who are using Apple AirTags to follow the object of their "affection."  May had been attending a late after-hours event at Disneyland when she got a "Find Me" notification on her iPhone. She "didn't think anything of it" but decided to open the safety alert. To her horror she discovered that someone had been tracking her for two hours.
She was then able to disable the item from her app.

May had no idea how the AirTag got on her person but was thankful she'd been with a group the whole time because whoever was stalking her could've cornered her alone. She was also relieved she was able to stop the tracking before she got in her car and drove home as they would've discovered where she lived.
Though Apple says that AirTags are not to be used for tracking people, obviously they're aware it's happening, which is why they've included the safety alert feature in the "Find Me" app. And they've covered their bases with Android users as well with the "Tracker Detect" app. However, as May points out, you can't just access the notification from your home screen, you must open the apps to check it. She praised Apple for the safety feature but said she wished that they had sent the warning sooner.
If you think this is a sheltered event, May stated that she'd had numerous DMs from people who had the same problem and even shared a screenshot of a woman who responded to her Instagram story saying she too recently had a tracker placed on her.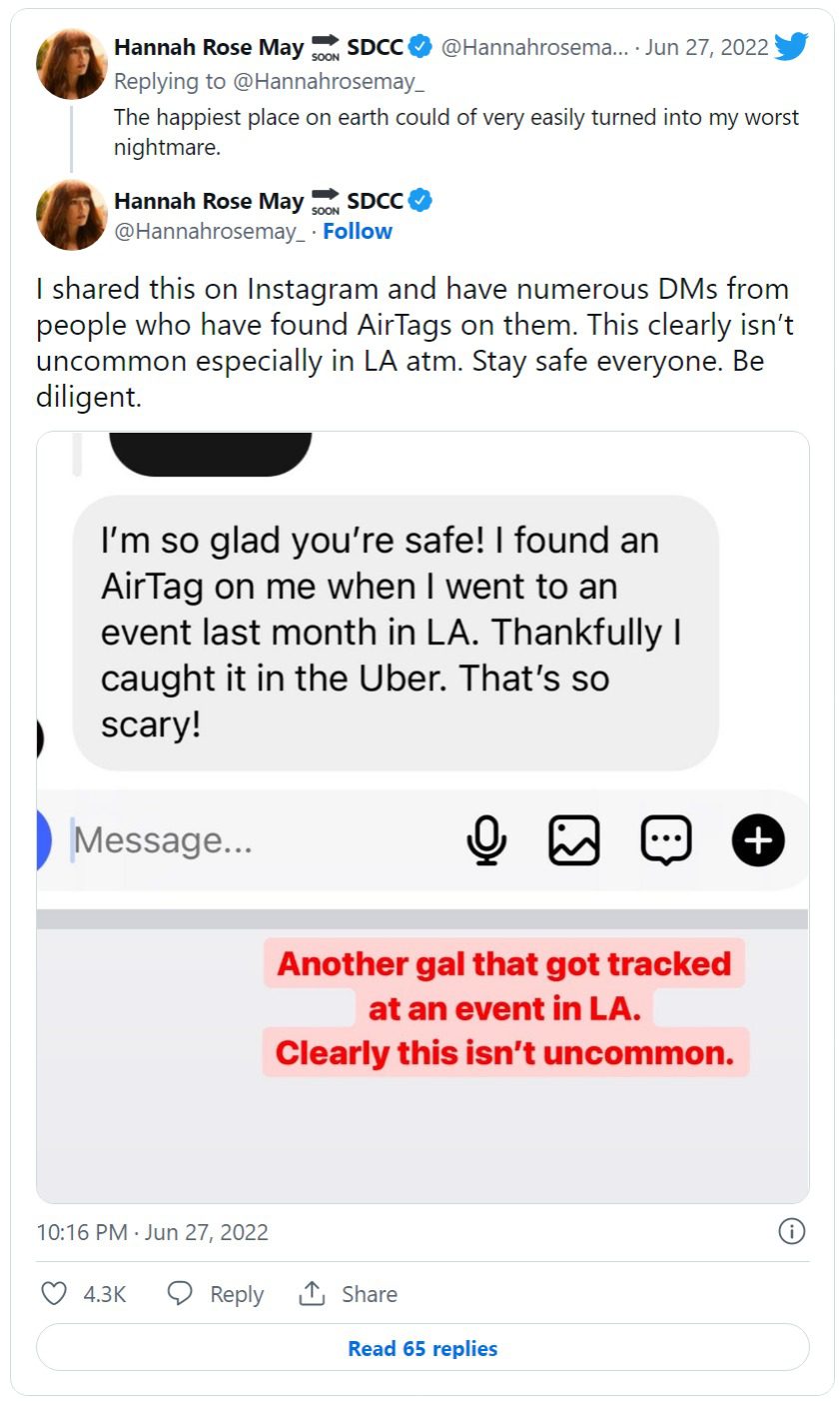 Bottomline, AirTags are a very real risk especially for performers who have fans that want to be more than fans.
May ended by stating, "I wasn't expecting this to blow up but I'm glad more people know what to look for. As technology continues to evolve, I'm worried this kind of situation is going to become a reoccurring problem. It's important we all stay vigilant on how tech can be misused."
—
Alyssa Collins hails from Minnesota, where snowy days were the perfect excuse to stay warm inside and write. Over the years, she turned that joy into a career and has authored numerous articles for various publications (under pen names). Email Alyssa via [email protected].
Photo credit: iStock.com/hapabapa