(Los Angeles, CA) SugarBounce, the universe for all NSFW entertainment needs of the next generation, has relaunched their affiliate program and a brand-new structure. Plus, they have designed distinct destinations/landing pages for models, affiliates, and users to get on the platform.
SugarBounce is making some huge moves with a brand-new affiliate program with a completely revamped payout structure. They're also offering one of the highest paying affiliate programs in adult, which includes cash for life for referred users. The innovative payout structure has a whole new approach to affiliate marketing. Revenue shares are based on user purchased credits and range from 30 to 40%, as well $50 for each model sign-up. Affiliates also have their own dashboard with a wide range of helpful marketing tools including APIs, GIFs, banners, chat widgets, and much more. And coming soon to the affiliate dashboard will be next generation graphics. Affiliates can find out more and get started at sugarbounce.com/landing/affiliate.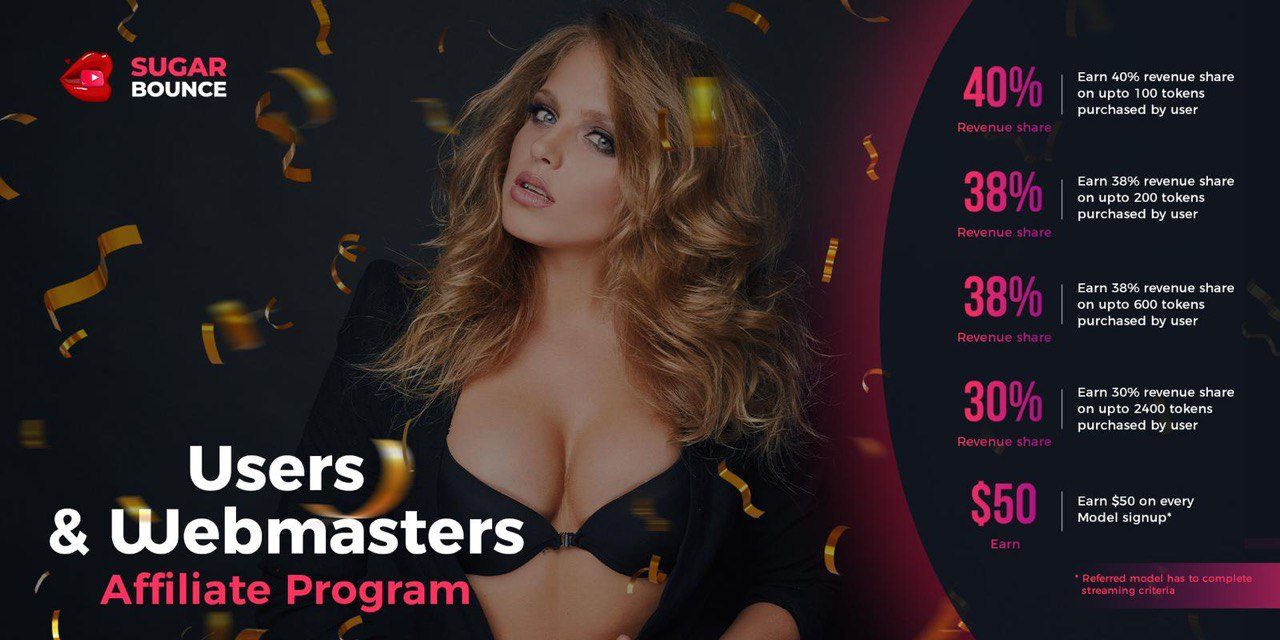 SugarBounce has also redesigned the pages for models and users. Like affiliates, they have their own landing pages to make signing up even easier. All three will have their own landing and sign-up pages and distinct dashboards that the home page, sugarbounce.com, can launch. Models can click on "Become a Model," and Users can smash the "Join Now for Free" button. And models also have a new payout structure along with daily, weekly, and monthly contests.
"We're listening to our models, users, and affiliates, and that's why we made all new destination/landing pages for all three and new payment structures for affiliates and models. By offering some of the highest payouts to affiliates and models in the industry, everyone will want to be part of the SB revolution," says Founder/CEO Navin Ray.
Find out more about SugarBounce, their multiple platforms, and how they plan to take over NSFW entertainment by visiting their site at sugarbounce.com.
To interview Navin Ray or other influential members of the SugarBounce team, contact Erika Icon of The Rub PR and submit your media request at [email protected].
ABOUT SUGARBOUNCE
SugarBounce is revolutionizing adult entertainment for content creators and consumers worldwide. More than just an adult entertainment platform, SugarBounce is the universe of all NSFW entertainment needs of the next generation, fully decentralized and on the chain.
They will be taking over the adult space with six different platforms, starting with Sugar Streams, all-access live cam entertainment with a wide variety of content from virtual strip clubs to live shows from around the world available 24/7. Over three quarters in 2022, SugarBounce will roll out five more platforms that include star-powered subscription-based content distribution and video blogging service, the first-ever decentralized adult content sharing for content creators, a unique crowdfunding platform for the porn industry, NFTs for content creators and collectors, and their own anonymous payment processing engine powered by their native token $TIP.
SugarBounce will also tackle some of the adult industry's biggest problems, including banks, payment processors, and traditional financial institutions charging increased and high-risk registration fees and chargebacks. With SugarBounce, there are no middlemen, censorship, and lack of anonymity for creators and viewers.
SugarBounce was honored with their first industry nomination for Emerging Web Brand of the Year from the XBIZ Europa Awards in 2022.
Be ready to join the game-changing system built on Binance Smart Chain and Polygon. Make sure to get early access to their products by signing up for their mailing list—go to sugarbounce.com and scroll to the bottom of the page to enter your email. While you're there, find out more about their products, backers, team, and much more. Follow SugarBounce on their socials, including their website sugarbounce.com, Twitter @SugarBounceNSFW, Instagram @sugarbounce, Medium sugarbouncecrypto.medium.com, Telegram t.me/SugarBounceNSFW, and Telegram Announcements t.me/SugarBounceAnnouncements.