Cacti abound but when it comes to quality cannabis dispensaries, Arizona is anything but a desert.
Mention Arizona to someone and their thoughts will likely turn to heat. That makes sense, given the Copper State's vast desert landscapes and famed reputation as the home of the Grand Canyon. But high temperatures are no longer the only heat to be found in spots like Phoenix, Mesa, and Tempe. To learn more, all it takes is a visit to one of Arizona's top dispensaries.
To say the road to get to this moment was rough would be an understatement. Though Arizonians first began to cast ballots on legislation to approve medical cannabis back in 1996, the first iteration they approved — Proposition 200 — failed to survive legal scrutiny.
Ultimately, it would take until 2010, when Proposition 203 managed to squeak through with 50.1% of the vote. From there, a lawsuit in federal court further delayed the opening of the state's first medical dispensaries, which finally took place in December 2012.
Highest rated recreational dispensaries in Arizona
In 2020, Arizona voters likewise approved the Smart and Safe Act, legalizing the possession and cultivation of cannabis for adults. By January 2021, recreational sales had begun. At present, there are approximately 125 dispensaries operating across the state but expect that number to grow in the months ahead.
To help you find the ideal shop for your medical or recreational needs, we turned to Leafly user reviews to aggregate a list of top dispensaries. Here's what our users chose as the best pot shops in Arizona!
4126 Indian School Rd., Phoenix — Recreational
⭐ ⭐ ⭐ ⭐ 4.7 star rating out of 9744 dispensary reviews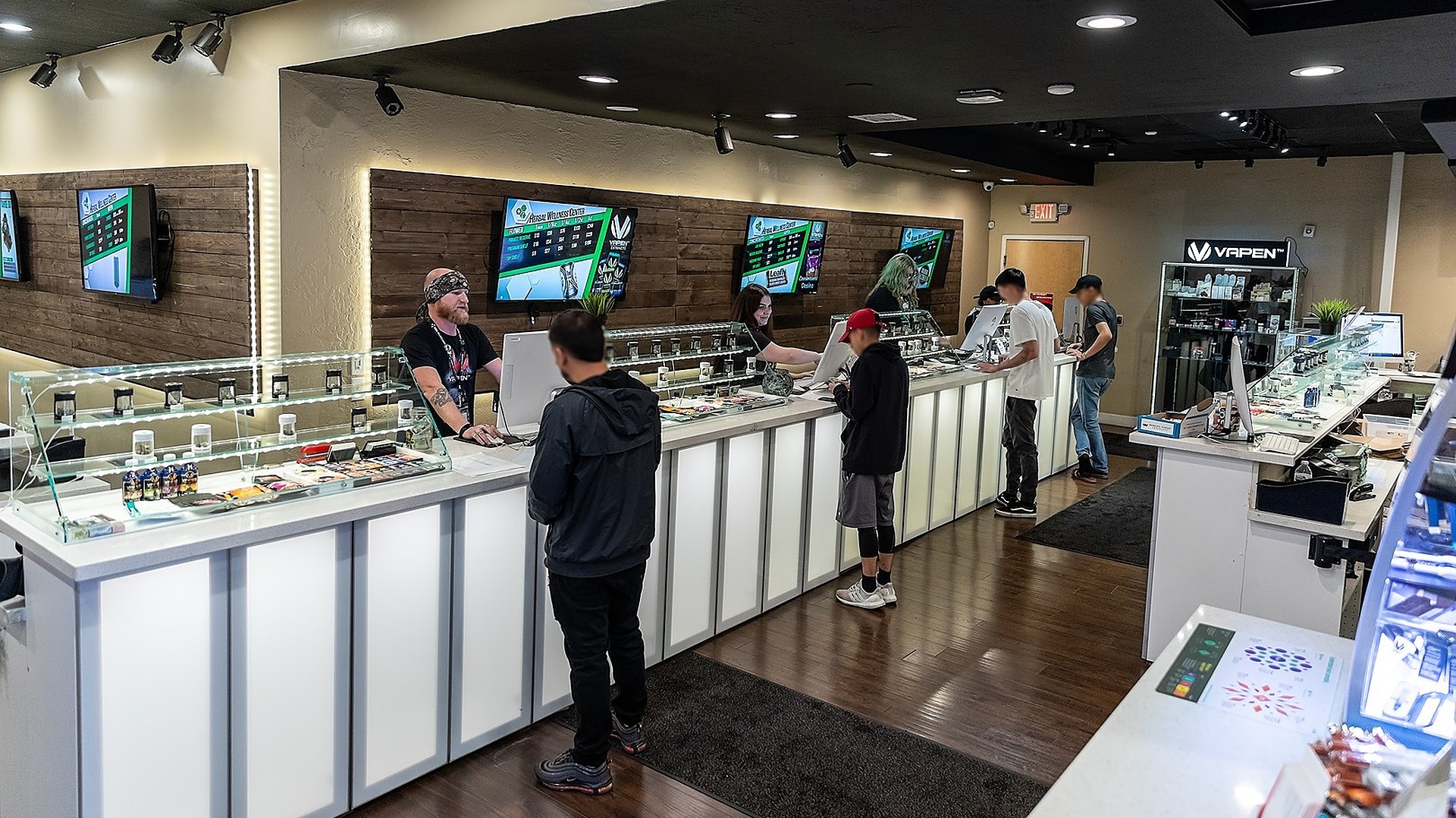 If you're rolling through Phoenix and in need of top-quality flower, the oasis you seek is Herbal Wellness Center. Now blessed with bragging rights as Leafly users' pick for best recreational dispensary in Arizona, this Valley staple is anchored by a seriously splendid strain selection.
Grown locally in Phoenix at HWC's own 30,000 square foot, state-of-the-art cultivation center, the results are flower that have made their shop at must-hit for locals and visitors alike. Upon arriving, a tastefully decorated lobby area with plasma televisions and a medible vending machine set the tone for what Leafly users describe as an overall high-caliber experience.
"Great place, great environment, and great smoke!" wrote one user in a recent five-star review. Added another: "The selection is huge. They have something for any price point."
1985 W. Apache Trail, Apache Junction — Recreational
⭐ ⭐ ⭐ ⭐ 4.6 star rating out of 1744 dispensary reviews
Nirvana Center marries a big vision with a personal touch. Currently operating ten dispensaries across Arizona, Michigan, and Maryland, they also have plans to open new shops in seven additional states.
But despite this large footprint, the family-owned and operated Nirvana Center makes good on their promise to deliver an experience of "tranquility and wellness" at each of their locations. Their Apache Junction outpost is no exception, offering deals like $99 ounces and 20% off on cartridges and pods every Friday.
Quality customer service is also on the menu, with one Leafly user sharing that they are a regular patron who had never had a bad experience at Nirvana Center. "Always a pleasure," they added, rating the shop five stars.
"Love the deals they always offer," shared another satisfied Leafly user. "Thanks, Nirvana, for saving me [moolah] and giving me wonderful products!"
1842 W. Broadway, Mesa — Recreational
⭐ ⭐ ⭐ ⭐ 4.5 star rating out of 2083 dispensary reviews
Once a destination for Mesa's medical patients, the Good Dispensary now proudly offers adult-use sales as well. But this welcome new expansion hasn't put a damper on the store's long-standing commitment to patient care and great deals.
Leafly users are big fans of that latter point, with one praising the "great prices and super friendly staff" while another gave props to the "good prices and great customer service." Keeping Mesa consumers' wallets in mind, the Good offers different deals (Toasted Tuesday, Thirsty Thursday) for each day of the week.
"I always love going to the Good," begins yet another five-star review. "They always have great prices and quality products and service!"
221 E. 6th St., Tucson — Recreational
⭐ ⭐ ⭐ ⭐ 4.7 star rating out of 1545 dispensary reviews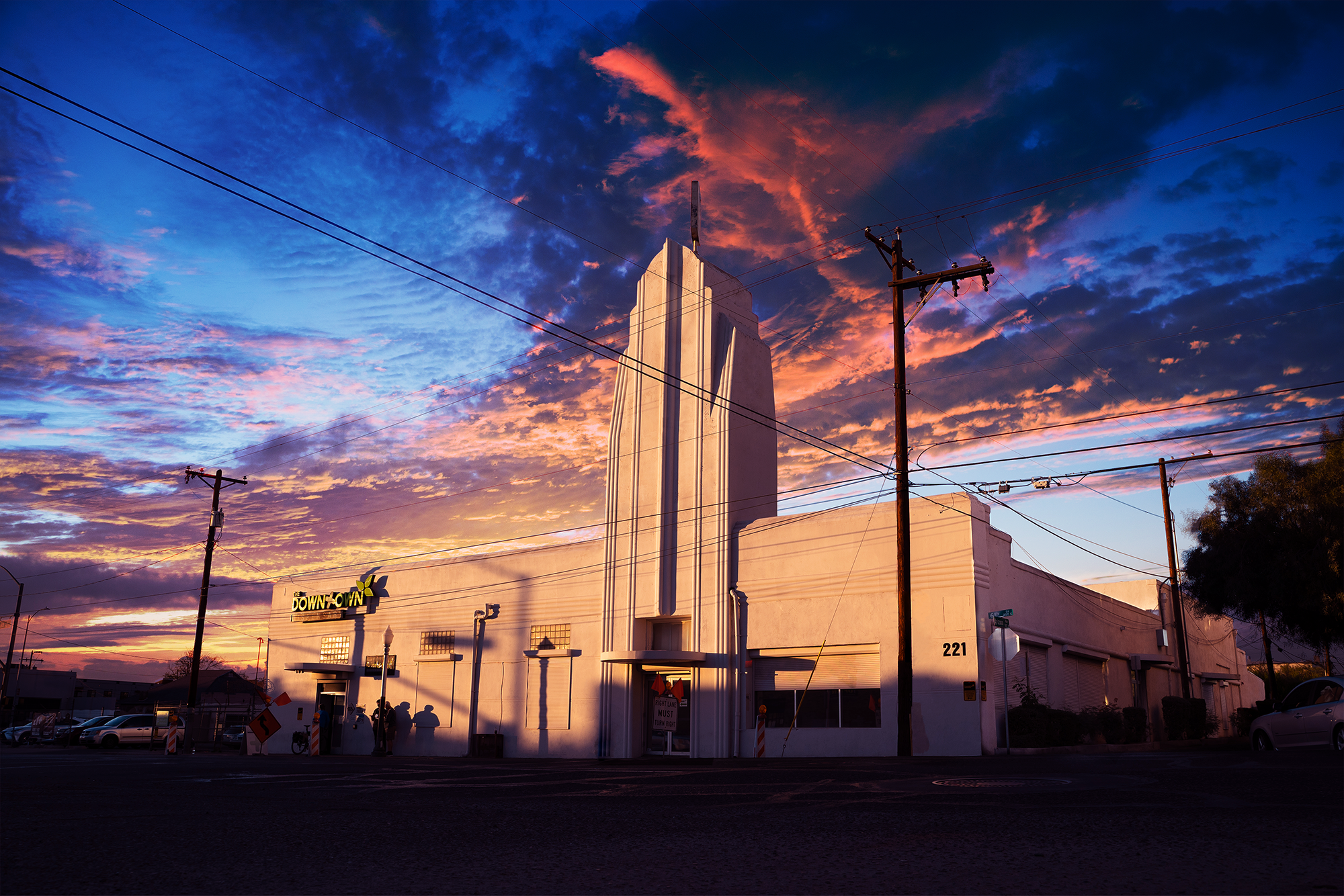 To find the Downtown Dispensary, simply head to the heart of Tuscon's happening arts district. Convenient, right? Well that's the point as the Downtown Dispensary is all about making their customers' shopping experience as easy as possible.
In addition to the stellar location and on-site parking, Downtown Dispensary also makes ordering a breeze thanks to ten in-store ordering kiosks available for use by both medical and recreational customers. Taking residence in Tuscon's historic Stonecypher Building — built all the way back in 1916 — Leafly users today sound positively pumped about this Tuscon linchpin.
"I love everything about this dispensary," gushed a Leafly user in a five-star review."It's easy to order from Leafly and go pick it up. Orders are quickly prepared. They have all the products that I want, and the staff are friendly and knowledgeable. This place is my jam."
5210 South Priest Dr., Tempe — Recreational
⭐ ⭐ ⭐ ⭐ 4.7 star rating out of 450 dispensary reviews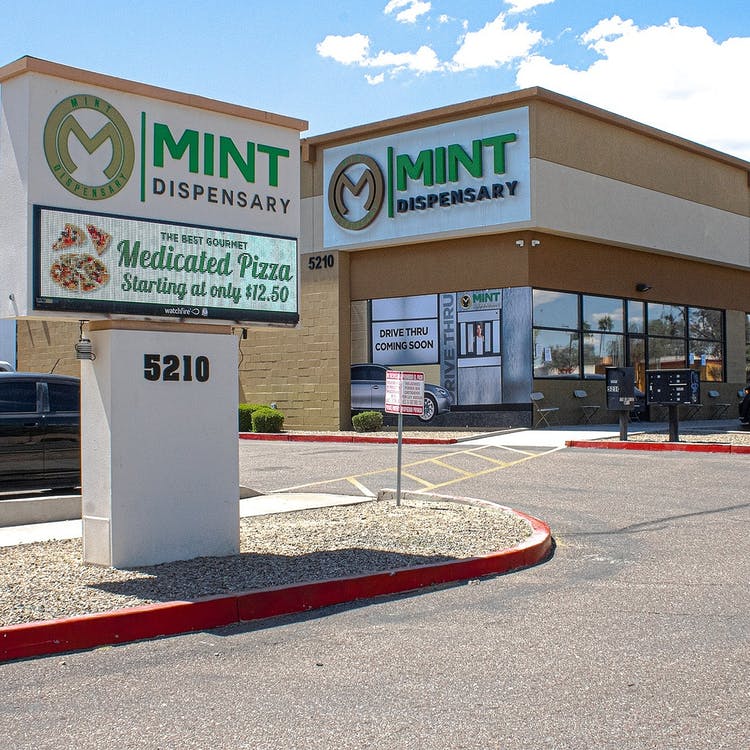 Easily accessible from the I-10 and 60 freeways, Tempe's Mint Dispensary strives to offer the most extensive array of medicinal and recreational products under one roof in Arizona. Setting Mint apart for their competitors is also the fact that you can score fresh meals and assorted food items from within their dispensary.
In a rush? No problem — Mint Cannabis Tempe has a drive-thru too! Perhaps that's why it's no surprise that Leafly users are big fans of a shop that one reviewer called "the greatest in the Valley."
"Not only are the budtenders extremely knowledgeable about their products," noted a separate Leafly user, "but everyone is so nice and friendly! I always leave with a smile on my face."
12338 East Riggs Rd., Chandler — Recreational
⭐ ⭐ ⭐ ⭐ 4.6 star rating out of 767 dispensary reviews
Self-described as a company "born in the Arizona sun," Sticky Saguaro is a family-owned and operated business with deep roots in Chandler. Inspired by family and friends suffering from conditions ranging from Crohn's disease to cancer to serious migraines, Sticky Saguaro was founded with a medicinally-driven focus that continues to this day.
Now offering both medical and recreational sales, one Leafly user hailed Sticky Saguaro as "a needed addition to the community" in a spirited five-star review of the shop. The good vibes extend to new customers too, as evidenced by this effusive feedback from a first-time visitor.
"I just had the most amazing experience ever at Sticky Saguaro in Chandler, AZ," they wrote. "Thanks again! Service was amazing. Keep up the great work."
Highest rated medical dispensaries in Arizona
Rules and regulations currently require dispensaries to be separately licensed for medical and recreational sales. Though many shops are now proudly dual-licensed, some shops remain available only to valid medical patients. Don't forget to double-check these details before catching a ride for a long-awaited shopping spree!
With that advice in mind, here are the Arizona medical dispensaries that Leafly users love best.
1250 S. Plaza Way, Flagstaff — Medical
⭐ ⭐ ⭐ ⭐ 4.8 star rating out of 1062 dispensary reviews
High Mountain Health prides itself as Flagstaff's finest cannabis dispensary. Popular with Northern Arizona University students for its proximity to campus, the big draw with HMH is their deli-style flower and weekly specials. Even better, this former med-only operation is now licensed for recreational sales too!
Offering a menu infused with lots of locally grown strains. HMH has be keeping students and locals alike happy since 2013. With an emphasis on sustainable practices, reviews from Leafly users suggest there is a lot to love about this Flagstaff mainstay.
"The crew are spectacular in every way" reads one plaudit-filled, five-star review from a Leafly user. "They take care of me each time, even helping me with items I'd like to have from certain vendors. I refuse to go anywhere else."
1613 N. 40th St., Phoenix — Medical
⭐ ⭐ ⭐ ⭐ 4.7 star rating out of 6661 dispensary reviews
TrueMed in Phoenix is an institution.
Offering sales for qualified medical patients only, this Sky Harbor Airport-adjacent dispensary is built to impress. Featuring, as one Leafly user ranked it, "some of the best wax and flower in Arizona," TrueMed has a sterling national reputation earned from a commitment to treating every customer with the care and attention they deserve.
"Best in town," stated a separate Leafly user is another five-star review. "Service is great, and the bud is excellent."
"I've been going here for years," shared a third, who then proclaimed TrueMed to be the "best dispensary" in Arizona.  Hard to argue with acclaim like that!
9240 W. Northern Ave., Glendale — Medical
⭐ ⭐ ⭐ ⭐ 4.8 star rating out of 4618 dispensary reviews
Glendale's Ponderosa Dispensary is a West Valley gem flush with tasty, in-house flower strains and a deli-style presentation featuring glass jars with distinct copper lids. Hitch your post to the Pondy and gain access to their full line of CopperTop flower — exclusively grown by their cultivation division, Sonoran Roots.
Perhaps that's why one Leafly user shared that Ponderosa Dispnesary is "pretty much the only place I buy flower from. Consistent quality, service, and pricing that, honestly, no other dispensary can touch."
In another five-star review, a different user highlighted that the flower at Ponderosa Dispensary "straight smacks." 'Nuff said.
10040 N. Metro Pkwy, Phoenix — Medical
⭐ ⭐ ⭐ ⭐ 4.7 star rating out of 5610 dispensary reviews
As one of Arizona's premier state-licensed medical cannabis dispensaries, JARS Cannabis of Phoenix upholds the same level of quality customers will find at the any of the brand's numerous locations. At present, that includes almost twenty stores in Michigan alone as well as an emerging presence in Arizona.
Enter JARS Cannabis of Phoenix, which earned kudos from Leafly users for employing a winning strategy that pairs excellent customer service with consistently sweet deals.
"JARS and their staff are by far the best around," confirmed one review, adding that the shop is "definitely the place to go for quality and service."
"Fast lines, friendly and knowledgeable staff," added another user who gave JARS five stars. "Good deals on flower!"
6844 E. Parkway Notre, Mesa — Medical
⭐ ⭐ ⭐ ⭐ 4.7 star rating out of 1306 dispensary reviews
Head over to TruBliss Organics in Mesa and they will have have you channeling their namesake mindset in no time. That's because qualified medical customers making their inaugural visit get to choose from one of a wide list of free cannabis products. But the savings don't stop with your first visit!
To the contrary, regular customers can look forward to enjoying consistent savings thanks to everyday deals like 20% off when you spend at least $200. Concerned about variety? Don't be, as TrueBliss currently offers over 100 different products and up to 30 strains from which to choose.
One Leafly user called it "[the] best flower in the state" in their five-star review of the store.
"Love this place," added another user. "I'm agoraphobic, and even on the days when I can't face Safeway, I'm cool here due to the friendly (and diverse) vibes."
9949 E. Apache Trail, Mesa — Medical
⭐ ⭐ ⭐ ⭐ 4.7 star rating out of 1802 dispensary reviews
Good news! Mesa's Health for Life is now licensed for both medical and recreational sales. But Health for Life's dedication to the health and well-being of patients isn't going anywhere. Long a cornerstone of this East Mesa shop, their commitment to doing good continues through an active charity of the month donation campaign as well frequent deals aimed at putting smiles as wide as the Grand Canyon on the face of every customer.
"My favorite dispensary in the East Valley," proclaimed a Leafly user in a five-star review.
"This place is amazing," wrote another user. "They have great product and excellent service."
Selection Criteria for Leafly List
To calculate the highest-rated dispensaries in Arizona, our Leafly List team uses a methodology based on quantitative and qualitative review data of dispensaries listed on Leafly, as well as other quality indicators, like reorder rates and deals availability (in markets where discounts are legal). Our teams are dedicated to showcasing a wide variety of highly-rated medical and recreational dispensaries.
Remember, if you don't see your favorite dispensary on the list, make sure you follow, rate, and review your favorite cannabis locations to let the world know where you find your favorite cannabis.