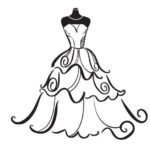 I was reached out to on another one of my social media pages and asked to write a scene with a priest and a bride. I have never wrote about a priest or written a scene for a dynamic but, he liked it and I know I enjoyed writing it. Here it is*
As I stood in the small room of this church I turned and twisted my body in the full length mirror looking at myself in the dress. My wedding dress. There hasn't been a time that I haven't thought of this day. Just staring at myself until there was a soft knock on the door that brought me back to this small room.
"Father, Please come in"
He stood there just looking at me, not like when I saw in the pew on Sunday's but, more intense. So much so I felt myself start too blush from his gaze. 
You look so beautiful, are you ready for tomorrow?
"I've been ready for so long but, um. I do have a bit of a deep secret. Maybe even a confession"
Once I had finished my sentence, his gaze grew stronger as if he was hanging on each of my words. I felt my mouth grow dry as I gathered up the courage to possible continue.
Please we can go into the confessional if that would make you feel more comfortable. 
"Oh no, do we have to? Can I just speak freely here?" 
He nodded yes and before I started I took a drink of water to clear my throat. I felt nervous but, comfortable with him at the same time. He was my Priest after all. 
"I am not nervous about the ceremony, the vows or even the reception. To be honest I'm absolutely nervous about my wedding night"
That is completely understandable my dear. I am sure you want it to be just as perfect as the wedding day and I have no doubt it will be.
"I don't know about that"
What do you mean you don't know about that?
"We have never been together. And, to be honest I um, never have been with anybody. I've kissed a couple times that's about it"
What?
"I'm sure you understand. Being a priest at all"
Well, to be honest I haven't always been a priest. You have never done anything?
He just stood there and stared at me and not with the same stare before. It was kind of like a pity stare. I wasn't really sure how to take this reaction. I mean I couldn't be the only person that never has? 
"No, and I am so worried that when the wedding night comes my groom will be so disappointed in me"
I couldn't look at him again so I kind of bowed my head just a bit, and soon I felt his hand on my shoulder. It was warm to the expose skin for my wedding dress. It was so nice to be able to finally get that off my chest and confide in somebody that I truly trusted. 
I think I can help you if you would like me to. 
"Oh yes please Father! I am willing to listen and learn"
I am so pleased to hear that. 
Before I even could realize what was happening I felt the zipper of the back of my wedding dress start to become down as he was standing behind me now. He helped me out of each sleeve, and soon the dress was laying on top of my feet. He extended a hand out to me so I can step out of it. I watched him gently pick it up and lay it over. I stood before him and just my bra and panties. 
Oh God! Help me…
Now he was in front of me, and I felt his hand on my hip slowly moving closer and closer to my private area. His fingers going back-and-forth in between my panty line in my skin. My breathing became shallow and before I knew it I heard him telling me to breathe because I was holding my breath. 
Just relax, do you trust me?
"Yes Father"
Before I could other another word I found his finger on me, inside of me. Slowly he was moving his hand back-and-forth, back-and-forth, and back-and-forth. My body was having such a reaction before I even knew what was really happening I was matching his movements. Wasn't exactly sure what was happening, the buildup inside my body was growing greater and greater the faster his fingers moved. My legs were beginning to shake and I couldn't hold myself up any longer, I put both of my hands on his shoulders as he continue doing whatever it is he was doing. 
Take off your panties and sit down in the chair.
"Yes Father"
I did as he asked and sat down as I still tried to catch my breath. He bent down before. I watched his hand reach up my thighs and spread up my legs. Just like before with his hands on my now it was his mouth and I thought I was going to faint. I wasn't sure what to do, I put my legs on shoulders and he moved me closer to the edge of the chair. I was trying to figure the sounds I was hearing when it hit me, it as me. I was moaning, soon I felt my whole body start to exploded with electricity. He lifted his head up, looking right at me. 
Don't hold anything back.
He went back to kissing me there and I leaned my head back and let go. The small room we were in filled with my moans and my on blasphemous self saying, Oh God! 
I felt him rubbing my legs until I was able to breath somewhat at a normal pace. What just happened? What more was going to happen?
How do you feel?
"Wonderful. Are we going to stop now?"
Do you want me to?
"No Father"
Good girl.
He held his out to me and helped me up. I soon found myself bent over the small dressing table and I heard his zipper start to come down. A wave of nervousness came over me and he must have noticed.
Just relax, I am here to show you, teach you. 
"Yes Father"