(LOS ANGELES, Calif. / Aug 5, 2022) — AVN Awards 2022 Best New Starlet Blake Blossom gives one of her most revealing interviews to date as she joins host Matt Slayer on the latest episode of the popular "And Now We Drink" podcast.
"And Now We Drink" is like "the conversation at the end of the bar" featuring your favorite comedians, musicians, writers, actors and adult performers.
On Episode 263, as Blossom assumes the guest chair, it becomes immediately clear that the confident 22-year old star will be treating the event as a "tell all" affair. She covers topics such as her thoughts on dating celebrities, and offers an insight as to how many have slid into her DMs. Scandalous stories abound as Blake talks about dudes lying about having slept with her!  From there, the phenomenally popular performer tells Slayer about some wild camming experiences, and talks about a few of the "dream" scenes she wants to shoot — one including a "fat Santa".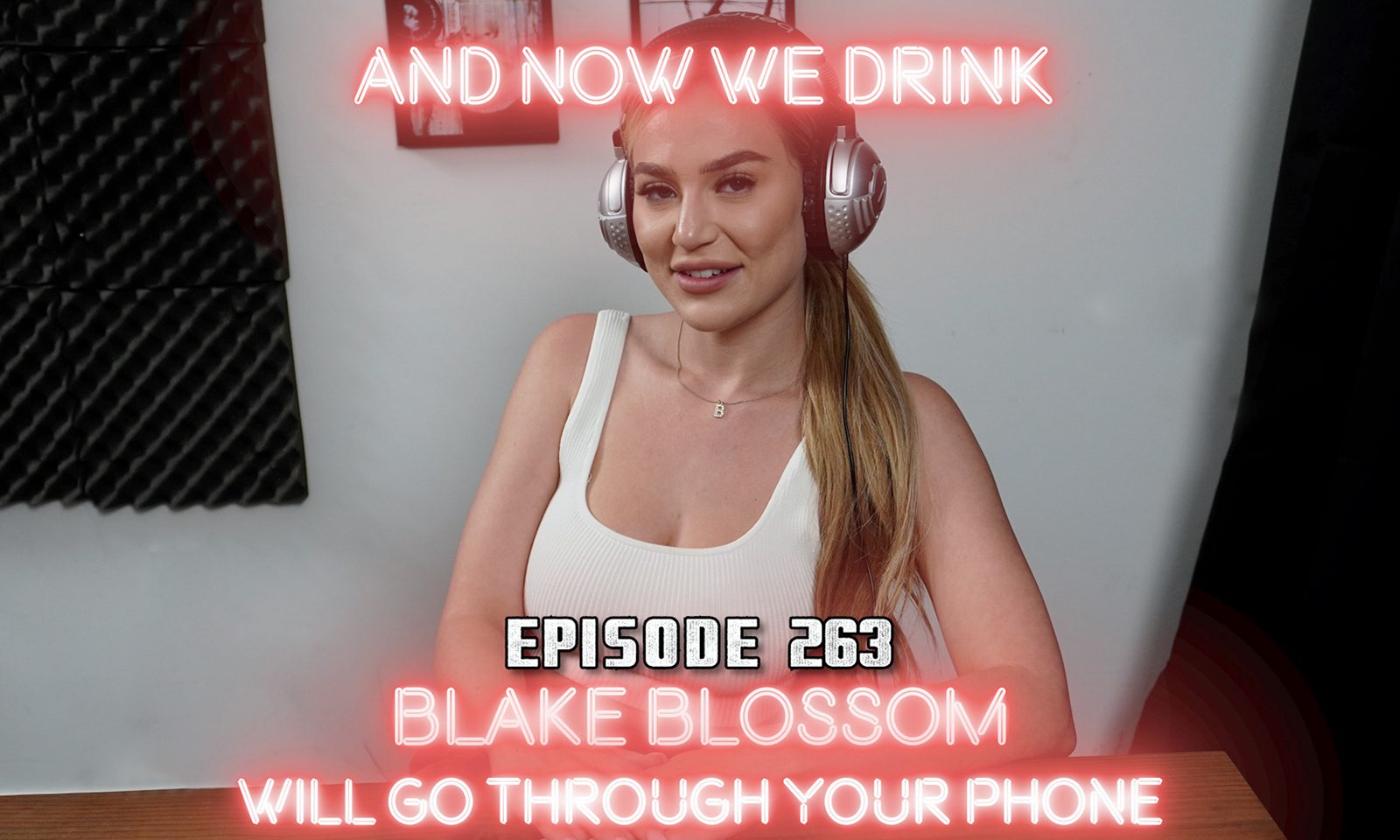 Things strike a more serious note as Blossom discusses her struggles with body dysmorphia, and is very open about the procedures she's had. She also candidly talks about her positions on "sugar daddies," feature dancing, and escorting. Blake and Matt also give a short anatomy lesson and talk about IRL relationships, while Blake discusses STDs and industry considerations. Most importantly, you are warned that Blake will go through your phone!
"Usually when I do podcasts, I prefer to keep a lot of subjects private but I decided to share a little more than normal," said Blossom. "I'm very happy I can have another opportunity to connect with my fans on a deeper level. I feel like I've developed so much as a person since becoming Blake Blossom, so I wanted to share some personal anecdotes to open up even more. Hopefully you enjoy all my silly stories and can relate in any way!
"Thank you so much for having me on 'And Now We Drink,' and I can't wait to come back and tell more interesting tales about my life!"
Show host Slayer remarked, "Blake should have her own podcast. She's an absolute natural on the mic. Super open about a lot of experiences that other performers would be afraid to talk about.  Besides being a really silly episode we definitely touched on some real topics and the 2 and 1/2 hour runtime flew by."
Nearly as long as "Bridge on the River Kwai" but containing many more laughs, Episode 263 of "And Now We Drink" can be found at the program's official website: 
www.andnowwedrink.com/episodes
, or on these fine services:
The video version of the podcast is available via Slayer's 
Patreon
.
Read about the latest news from the "And Now We Drink" show on Twitter: 
@AndNowWeDrink
Find Blake Blossom on Twitter: 
@blkblssm
 and Instagram @blake_blossom.b.
Contact:
Michael Whiteacre
HoneyHouse PR
775-742-8425
#   #   #