(Las Vegas, NV) Legendary award-winning adult star and filmmaker Brittany Andrews has had a very busy September, and October is looking to be an even busier month. She's currently the Treat DAO of the Month, and her fans can now find her content on the Playboy Plus platform.
The latest issue of Treat DAO Magazine is out, and Brittany is on the cover wearing military fatigues. She's been crowned the Treat DAO of the Month. She has smoking hot photos on Pages 3, 11, 18, 21, 28, and 34. Brittany's multi-page feature starts on Page 35. The following13 pages have even more sexy photos of her and an exclusive interview that covers a wide range of topics, including her mentors, work ethic, highlights of her 30-year career, sobriety, and much more. Check it out at 
issuu.com/treatdao/docs/totm_september?fr=sM2NhZDQ2MTQ0MjQ
. She also has TOTM NFTs available at 
treatdao.com/creator/BrittanyAndrews
. And Brittany is also prominently featured on their social media.
Another place that Brittany's fans can find her is Playboy's Centerfold fan platform. As one of Playboy Magazine's Top 10 Adult Stars of All Time, it only makes sense that she would join the platform. Subscribers get to unlock her content for more than 50% off. And you can follow her for free. Unlike Brittany's other platforms, Centerfolds Fan Platform is tamer and features her naked and doing solos. It's a great way to spend some quality time with her. Find out more at 
centerfold.com/missbrittanyandrewsxoxo
.
"I'm excited to be the Treat DAO of the Month! They're doing great things, and I'm happy to be a creator on their platform and part of their board of advisors," says Brittany Andrews. "And I decided it was as time to join Playboy Plus. I like to give my fans options for the platforms I'm on, which all have different content.
All media inquiries about Brittany Andrews should be directed to Erika Icon of The Rub PR at 
[email protected]
.
ABOUT BRITTANY ANDREWS
To say Brittany Andrews has done it all would be an understatement—she's an award-winning adult industry icon and two-time Hall of Famer, the world-famous, jet-setting DJ BritStar who's entertained all over the world, Multi-Award-Winning Independent Film Producer and Director, and highly entertaining comedienne.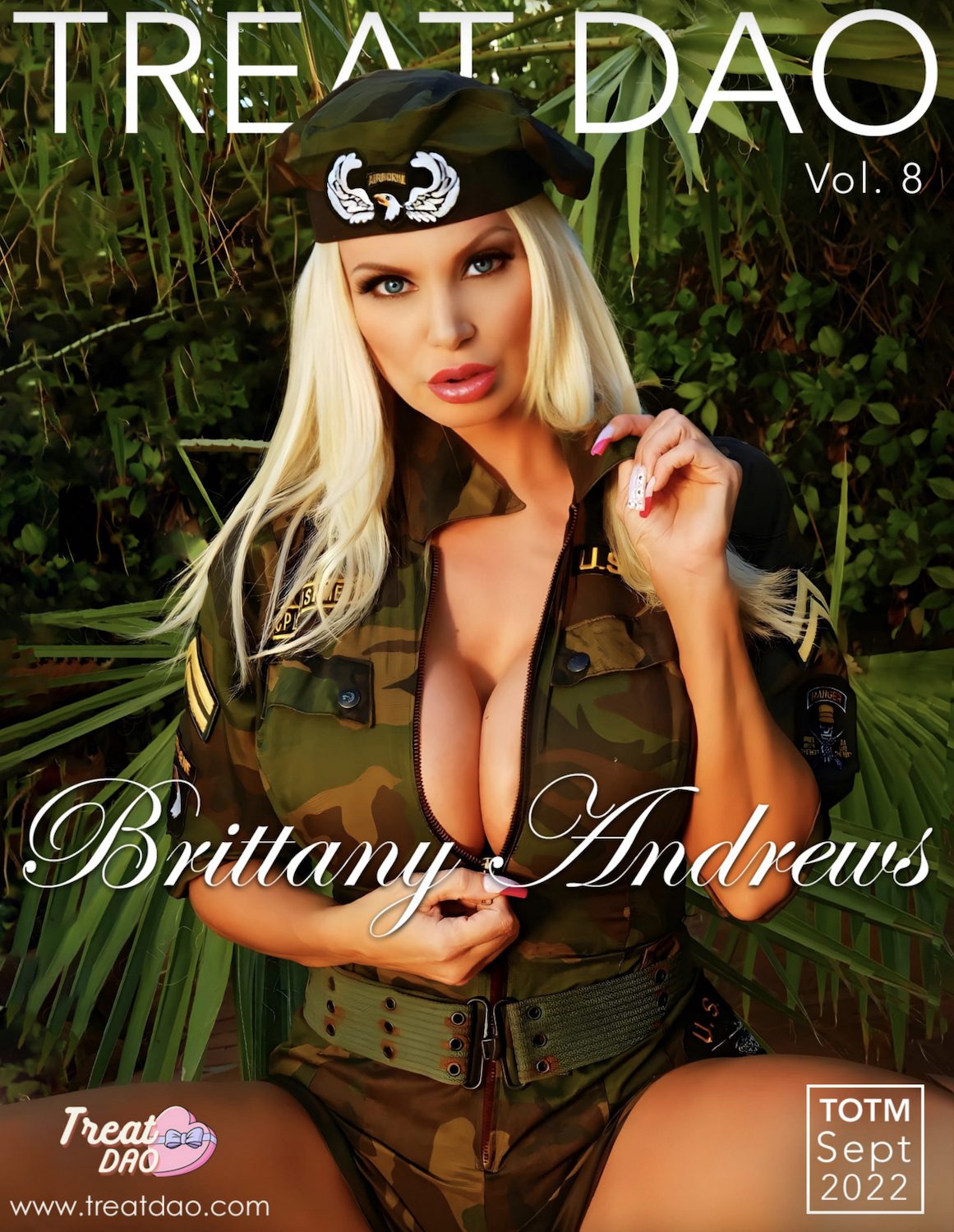 Brittany got her start in the adult realm as an exotic dancer. The big-titted, blonde-haired, blue-eyed stunner had the classic adult star look—she began her career in adult films after meeting Jenna Jameson during a photoshoot for Hustler magazine in Jamaica. With over 600 scenes during both her stints in adult, she's worked for all the top-shelf studios, won Favorite Domme from AVN in 2022, and been nominated for Best Actress, Best Supporting Actress, Best Fetish Director, Crossover Star of the Year, Hottest MILF, Fetish Performer of the Year, and nominated for her scene work. In 1997, she launched BritCo Pictures in Los Angeles. She owned and operated it for over 10 years, and released many highly sought-after series, including Brittany's Exquisite Feet line and her best-selling and controversial series, Brittany's Bitch Boyz.
Brittany has guested on The Howard Stern Show 11 times, and two of her appearances made the list of his Top 25 shows. She's appeared in countless publications worldwide, including the Wall Street Journal, New York Post, Page 6, Variety, Time Out NY, Penthouse, Cosmopolitan, Rolling Stone, Muscle & Fitness, and fetish mags Kink Queens and Darkside. Brittany has also graced over 50 adult magazine covers and appeared in over 300 layouts. Entertainment Tonight and Cosmo named her as one of the Top 10 Porn Stars, and Playboy magazine featured her in the Top 10 Adult Films Stars of All Time collector's issue.
Brittany hosted over 10 of the Playboy Channel's best productions such as Nightcalls, Nightcalls 411, Hot Rocks, Inside Adult, Adult Stars Flying Solo, Playboy's Hard Drive, and Sexcourt. She also held the coveted title of The Sexpert for over 10 years on a variety of shows.
After shutting down BritCo, she moved to NYC and started her production company in 2003. Discipline FilmWorks produced reality shows like My Real Porn Life (Winner of Best Reality Short at New York Independent Film Festival) and a slew of films that won multiple awards. Brittany also scored a Best Actress award from the New York International Film Festival.
Brittany continues to be a mover and a shaker and takes the international club scene by storm as DJ BritStar with her turntables, traveling the globe, and spinning alongside John Digweed, Rob Base, James Zabiela, AfroJack, and countless others. Link to all of Brittany Andrews' social media, premium social media, and more at 
allmylinks.com/DJBRITSTAR
.