You ever have a moment when you're in the midst of doing something you love and you wonder when it went from being this thing you did occasionally or socially into something you do every chance you get? I started smoking cigars in 2009. I don't remember what my first cigar was, I ­­­­can't tell you where I was or who I was with but I didn't hate it. From time to time, people would buy me a cigar and I'd smoke on the back deck of my parent's Connecticut home. I went out with some girlfriends in Brooklyn to a little hole in the wall spot where we had to drink outside the building because the spot didn't have a liquor license. I experienced the deep cushy seating and testosterone filled atmosphere of my first cigar lounge in New Haven, CT. But it wasn't until I moved to Atlanta that smoking cigars became an experience.
In Connecticut, cigar lounges were far and few between. In NYC, very few locations served alcohol and cigars. But in Atlanta, cigars are part of the culture. Hell, they celebrate all things cigars every year with their very own Atlanta Cigar Week held in late September. But it was at the Atlanta Eagle that I began exploring my appetite for a good stick.
My time in the Eagle included many experiences but that was where I realized my love of cigars was also connected to my love of BDSM and all things kinky. Cigar Service became a phrase I immediately incorporated into my vocabulary. Its very Casey to make an ordinary action an experience and smoking a cigar was definitely an experience for me. In this setting, smoking a cigar can be a mini production; a scene you can keep basic or take to extremes. No matter how you orchestra each element, the finale is extremely satisfying.
Fast forward a couple years, to my 2019 Holiday Fetish Ball at CoCo Studios. I had a heated cigar tent where my Brother of the Leaf, Master Seykou gave a mind-blowing cigar service demonstration. As someone he's been smoking much longer than I have, I thought who better than him to discuss cigars and cigar service.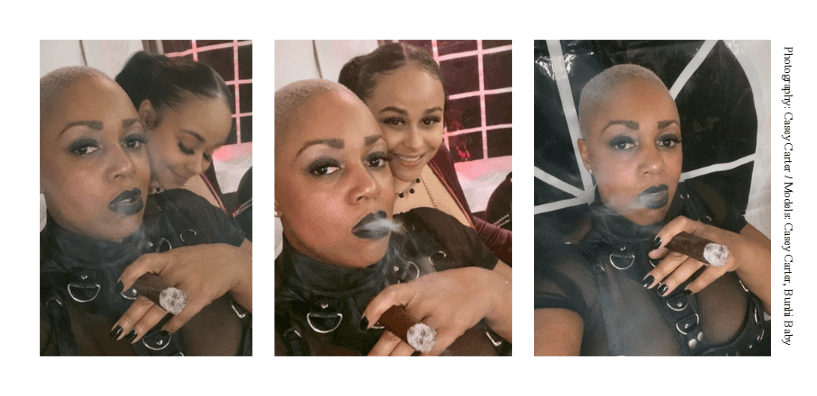 Casey: What is cigar service?
Master Seykou Nia: Cigar service is an activity in which one or more persons assists the cigar smoker or Top to enjoy the experience of smoking a cigar in various ways.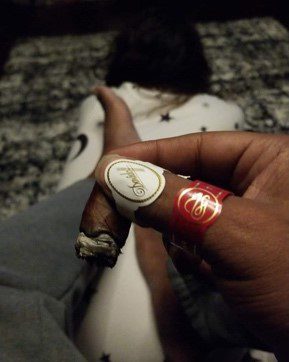 Casey: I know each experience is unique, but can you describe what cigar service could look like?
Master Seykou Nia: Cigar service can include a myriad of things not limited to: Selecting cigars, care of cigars and accessories, preparing a cigar for smoking (charring, cutting, lighting, stoking), selecting and serving a drink to pair with cigars, ash service (various), companionship.
Casey: How did you get started smoking cigars?
Master Seykou Nia: In high school I smoked a Black & Mild, or three, because it was the "cool thing" to have while posted up on the block with your fam.  My first actual cigar wasn't until around 1993 in college, which I obviously tried to smoke like a black and damn near choked myself to death coughing on it. From there, I'd have a stick when out of the country or when offered but didn't really begin seriously smoking until moving to Colorado in 2015. First finding the cigar community through a kinky friend, then finding later that there was a larger Leather and fetish cigar culture.
Casey: Do you have a smoking ritual?
Master Seykou Nia: At times yes – drink, stick, quiet location. Stick cut for me, toasted and lit, then presented cap first (that's the non-lit end of the cigar verses the foot which gets lit). Or I'll cut the stick myself and signal for it to be lit while I'm holding it within my lips.  Someone may be instructed to hold my beverage or cigar while I enjoy or even be the "table" an ashtray or beverage rests upon.  The scening possibilities or only limited by one's own imagination and what can be negotiated with consent. Other times, I'm just smoking alone for the sheer enjoyment and relaxation of smoking or with other smokers for the comradery and conversation.
Casey: What is your favorite cigar pairing?
Master Seykou Nia: Rum and Bourbon, Dominance and service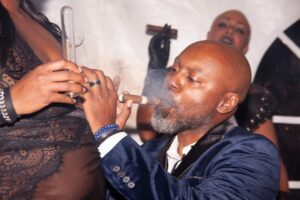 Casey: Talk to me about the dominant and the submissive experience in cigar service. What role does each play?  Master Seykou Nia: Cigar service typically includes a Cigar Top and a cigar bottom.  Dominant and submissive roles need not apply although many align their cigar service or cigar play roles to those they assume in other realms.  This type of activity can simply be described as A.A.O – Atmosphere, Attire and Outcomes. For the Cigar Top, their responsibility is to understand the atmosphere that the activity will take place in and the atmosphere they want to create through the cigar service/play. Secondly, the Top will want to consider their own and the bottoms attire to determine what parts of cigar service/play they will be able to utilize. Lastly, Outcomes, the Top will want to determine what they want to experience or elicit through cigar service. Is it devotion, service, bonding/quality time, submission, subjugation, etc. The cigar bottom will want to prepare and consider what type of activity is likely. Having access to cigar smoking accessories, again, Atmosphere, Attire, Outcome.
Casey: Atmosphere, Attire and Outcomes. I absolutely love that. It accurately sums up the experience. Another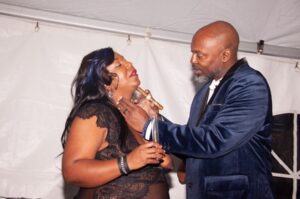 term worthy of explanation is ashing. What is ashing?
Master Seykou Nia: Ashing includes using the cigar bottom to dispose of ash. Whether the cigar bottom holds and presents an actual ashtray for use, or if the cigar bottom themselves become the ashtray (hands, mouth, body) or if the cigar bottom cleans up ash (hands, mouth, hair) that has been intentionally or unintentionally dropped from the cigar.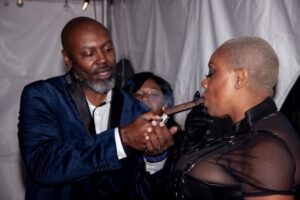 Casey: One of my first cigars was from Oliva. I enjoyed it because as a new smoker, the tobacco flavor wasn't too strong and it was easy to smoke. Since then, I've had some cheap sticks and some expensive sticks, each offering a different experience. If you asked me what is my go-to, hands down favorite is Java 58 by Drew Estates. Rocky Patel, as a brand, is a super close second. Padron was also a smooth experience. I've spent most of 2020 trying different brands but I always circle back to Drew Estates because I always find myself lost in the cigar and the flavors as they swirl in my mouth and in the air. What are some of your favorite cigar brands? Why?
Master Seykou Nia: Drew Estates, Hoya de Monterrey Habanos, Room101, Black Star Line and Ashton VSG.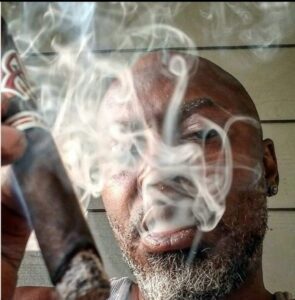 D.E. [Drew Estates] has so many options available for enjoyment. Also, it has a very New York/urban pulse at its core from the owner Jonathan Drew. Hoya De Monterrey Habanos – for their classic Cuban Smoke experience yet counterfeited far less than other popular Cuban offerings. Room101 – also for their moxy and presence that starts with their founder, Matt Booth. The cigars follow his rebellious spirit in their smoke; strong and bold offerings. Black Star Line, because they are Black owned and the owner works hard to find the right leaf and skilled blenders to embody his vision. He doesn't merely buy pre-rolled bundles and slap his branding on them as some other small boutique companies have been known to do. Lastly, the Ashton VSG – a smoke mutually agreed upon as one of the best by a now departed Leather Brother of mine and fellow Sir, Mr. Quiet Storm. It will always hold a special place in my heart.
Casey: I was doing a web show with a bunch of guys and while they were busy talking, I leaned back in my chair and zoned out on a Fat Bottom Betty. One of the guys finally said, "Casey makes me want to smoke a cigar. She makes it look sexy." Why do you think people like watching women smoke cigars?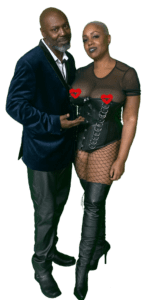 Master Seykou Nia: I think that is an individual thing, the appeal of the image of a woman smoking a cigar. On one hand, it could be the phallic symbolism. On another hand, it could be the "taboo" of a woman enjoying something that is typically associated with men. Or, it could be simply an imagery of power. All depends on the viewer.
Casey: As we wrap up this interview, what advice would you give to anyone that wants to experience cigar service, either as a Top or bottom?
Master Seykou Nia: For anyone who wants to enjoy cigar service, as either a Top or bottom, follow the A.A.O. Consider the atmosphere you will be in or want to create; the attire of both Top and bottom, as well as outcome they'd like to create.  There are some basic tips to learn that can be found on various podcasts and BDSM related educational events.
Casey: Thank you so much for sharing with the readers. The cigar community is quite large and very diverse. I love meeting new SOTLs and BOTLs because I inevitably learn something new about enjoying cigars or even better, I'm introduce to a new stick. How can readers learn more about cigar service and Seykou? Pending
***
Want to hear more from Master Seykou Nia? Check out my video interview on casey-carter.com where we talk more about cigar service, A.A.O, and his demo in the cigar tent at my Holiday Fetish Ball all while enjoying our favorite sticks.
Master Seykou Nia is the Head of the House of Nia currently located outside of Denver, Colorado. He is a covered heterosexual Leatherman, active lifestyle Dominant and Sadistic service Top.  Seykou is a co-founding member of LHOCC (Leather Houses of Color Coalition), ½ of the former Colorado Master/slave pair for 2018, Pantheon of Leather Award nominee, BDSM Educator, lover of the leaf (cigars anyone?) and overall Kinky fucker. 
Photography: Two Fingers Media

Have a cigar suggestion for Casey? Tag her in a photo you enjoying your favorite stick on any of Casey's social media accounts – Twitter, Instagram and Facebook. You can also email me at [email protected]. She'd love to hear your thoughts or suggestions for a topic you'd like to discuss.
Visit Casey's site at casey-carter.com. Follow her on socials Twitter, Instagram and Facebook. You can also see her every Wednesday cohosting Boobtube on EXXXOTICAtv at 10pm EST. Casey's short stories are available on Amazon and for all her other sites visit Casey's links.