Stuck at 10,000 followers on Twitter and can't get over the hump? Maybe you're just starting out and have 100 followers and could use some help? Or maybe you're struggling with creating more unique content and could use a boost?
There's an old saying, "two heads are better than one." Partnering with another model who you admire, working together to reach each other's followers, and changing up your normal content could be a gamechanger for building your Twitter channel.
This month, Twitter started testing a new feature called Collaborative Tweets that will help you do just that.
The platform has been teasing the concept since 2021, but finally they're giving it a go. Select accounts in the US, Canada, and Korea will be given first shake at the update.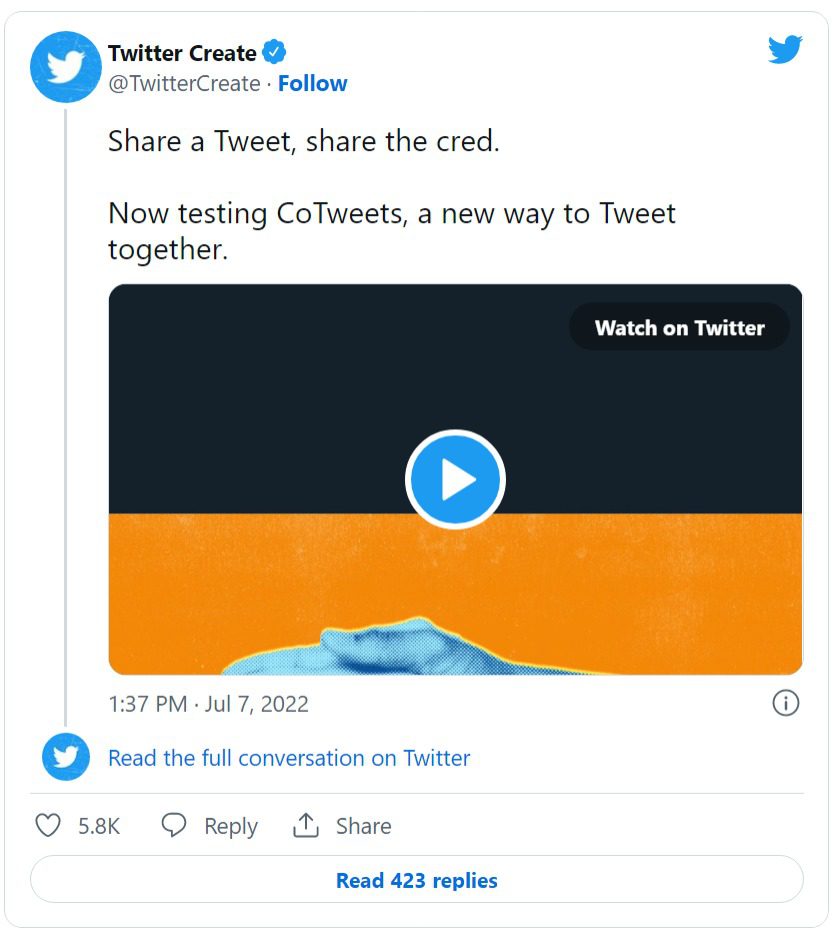 As explained by Twitter: "CoTweets help authors share the spotlight, unlock opportunities for engaging new audiences, and enhance their established partnerships."
The way it works is simple. Creators are given access to invite other accounts to contribute to a Tweet. When the invite is accepted by the other party, the CoTweet then posts to their profiles and timelines. Once the Tweet is live it works relatively similar to any other. You can still Quote Tweet and ReTweet, use polls, gifs, videos, and links to Communities, and Spaces. A few differences include the inability to promote a CoTweet, only the author who did the original invite is allowed to pin it to their profile, only the first thread in a Tweet can be a CoTweet, and you can't share it to Twitter Circle or Super Follows-only Tweets.
The granddaddy of the collab trend is of course TikTok who proved its popularity with duets. They keyed into the fact that getting people to do things together creates more engagement and more time on the app. Since then Facebook (Creator Collaborations) and Instagram (collaboration on feed posts and reels) and now Twitter have rushed to catch up.
In addition to the benefit of reaching new followers and giving content more variety, the new CoTweet feature also makes it easier to cross promote, and credit original creators as reported on by Social Media Today. They explained "Say you post an image created by an upcoming artist – you could alert them to the share, and ask them to approve it, which would then also add their profile details to the tweet."
Twitter is currently experimenting to see if the new feature will take off, so the verdict is out whether you'll get a chance to use it, but chances are if TikTok's, Facebook's, and Instagram's Collab successes are any indicator it'll stick around.
Twitter, in a statement to Social Media Today, said: "We're continuously exploring new ways for people to collaborate on Twitter. We're temporarily testing CoTweets to get more insight into how and why people and brands might use a feature like this to collaborate together and learn more about how it could help accounts grow new followers."
So, keep an eye out for the new CoTweet function so you can try it out when the time comes.
—
Alyssa Collins hails from Minnesota, where snowy days were the perfect excuse to stay warm inside and write. Over the years, she turned that joy into a career and has authored numerous articles for various publications (under pen names). Email Alyssa via [email protected].
Photo credit: iStock.com/hapabapa