Shiba Inu has enough potential to cross the $9 mark in the future.
Despite the underperformance of Shiba Inu (SHIB), cryptocurrency analytics and forecasting firms still have some favorable future predictions for the second-biggest memecoin.
According to a recent market update shared by Telegaon, a cryptocurrency research firm that uses Artificial Intelligence to forecast the prices of digital currencies, the price of a unit of SHIB could surge as high as $9.61 by 2050.
The analytics firm made different price predictions for SHIB from 2022 to 2050. Telegaon made the price prediction in three categories: minimum, average, and maximum price.
Telegaon Shiba Inu Predictions
By 2025, a year after the next Bitcoin halving, Telegaon noted that SHIB will hit a new all-time high (ATH). On average, the price target for Shiba Inu in 2025 is $0.0001152 while the maximum price target is set at $0.0001928.
Similarly, the cryptocurrency research firm noted that it is expecting SHIB to reach an average price of $0.000935 and a maximum price of $0.00112 by 2030.
Telegaon noted that it expects Shiba Inu to surge again to a new all-time high by 2040 because the second-biggest memecoin must have burnt 50% of its total supply.
"By 2040, we may expect an average price of $2.76 depending upon the market trend. Our maximum price prediction for Shiba Inu Coin is $4.15 in 2040," Telegaon said.
SHIB to Peak at $9.61 By 2050
Telegaon's highest price prediction for Shiba Inu is scheduled for 2050 when it stated that SHIB can rise to an average price of $7.89, while the minimum price target is set around $5.42 and the maximum price of $9.61.
"The maximum price is expected to be trading around $9.61. If there is any bull rally in 2050 the prices of Shiba Inu coins may skyrocket and surpass our price forecast," the cryptocurrency forecast company added.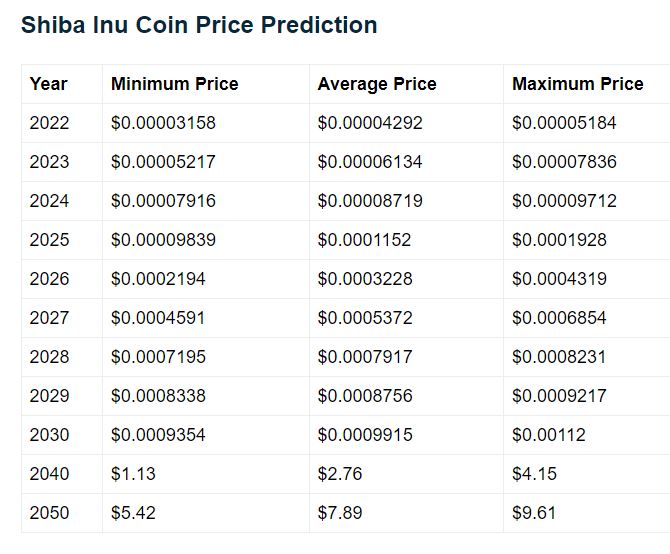 SHIB Prediction Not 100% Guaranteed
The Telegaon's price prediction for Shiba Inu cannot be completely relied upon as several events may occur along the way that could see the price of the asset class fall below or above the forecast.
For instance, while Telegaon forecasted this year's SHIB minimum price at $0.00003158, the cryptocurrency has fallen way below that due to a number of factors, including rising inflation and the crash of some cryptocurrency projects.
SHIB Down 90.6%
At the moment, SHIB is changing hands at $0.00000817, down 90.6% from its all-time high of $0.00008616.
In general, Telegaon considers Shiba Inu as a good investment vehicle given its past performance that has seen it surged 14443725.4% since its all time low (ATL).
The content is for informational purposes only and may include the author's personal opinion, and does not necessarily reflect the opinion of TheCryptoBasic. All Financial investments, including crypto, carry significant risk, so always do your complete research before investing. Never invest money you cannot afford to lose; the author or the publication does not hold any responsibility for your financial loss or gains.