(Los Angeles, CA / October 25, 2022) — Fans Utopia, a premier online marketplace catering to devotees of adult stars and their intimately-used items for sale, is quickly becoming the go-to grab for enthusiasts of more unconventional pursuits, and an added revenue boost for busy content creators.
"My friends thought I was crazy; adult entertainers already have merch stores on their fan pages, so what do they need me for?" said company owner Natasha of her specialty service, which launched earlier this year. "A regular day for talent can include being on set shooting studio content, prepping or shooting their own content, overseeing social media, promoting new content, scheduling future work and so on.
"There is a huge demand for their personal belongings, but once stars become popular they are so overwhelmed that they don't want to do it or can't accommodate fans quickly enough. I understand that time is money, so I oversee the process from start to finish while my clients simply deposit the checks."
Natasha assists in examining each item to determine pricing, takes photos if needed, assists with packaging & shipping details, handles customer service issues and accommodates fans' (often over-the-top) requests. "Not all fans just want to buy T-shirts, mugs and socks," she explains. "They want the raunchy stuff to really connect!"
The site's eye-popping array of delights, personally procured from more than 30 rising stars & top talents, include well-worn finery such as Siri Dahl's red lace undies, Brittany Kade's latex lingerie set, Cara Belle's faux fur bodysuit, Nikki Sweet's teeny bikini, Bunny Madison's workout leggings, Kenzie Anne's garter belt, Coco Lovelock's tank top, Kenzie Taylor's sparkly mini-dress, Samantha Mack's strap harness and Kenna James' white stockings… plus many more indulgences to choose from.
"My goal is to elevate a shared connection and create a safe space for talent to grow their brand and fans to buy unique products, as well as help normalize the adult industry and people's fetishes by growing Fans Utopia into the Number One memorabilia shop for adult items that inspires trust, respect and, of course, repeat business!"
Start your Fans Utopia journey at FansUtopia.com and Twitter.com/fansutopia1.
ABOUT FANS UTOPIA:
It all started with a dream: Los Angeles-based Fans Utopia is the brainchild of creative entrepreneur Natasha, who during a particularly lucid slumber was tasked with the unusual job of selling a porn star's used breast implants. Upon awakening, she knew she had a potentially lucrative career as an intimate item online seller and set to making her (literal) dream a reality.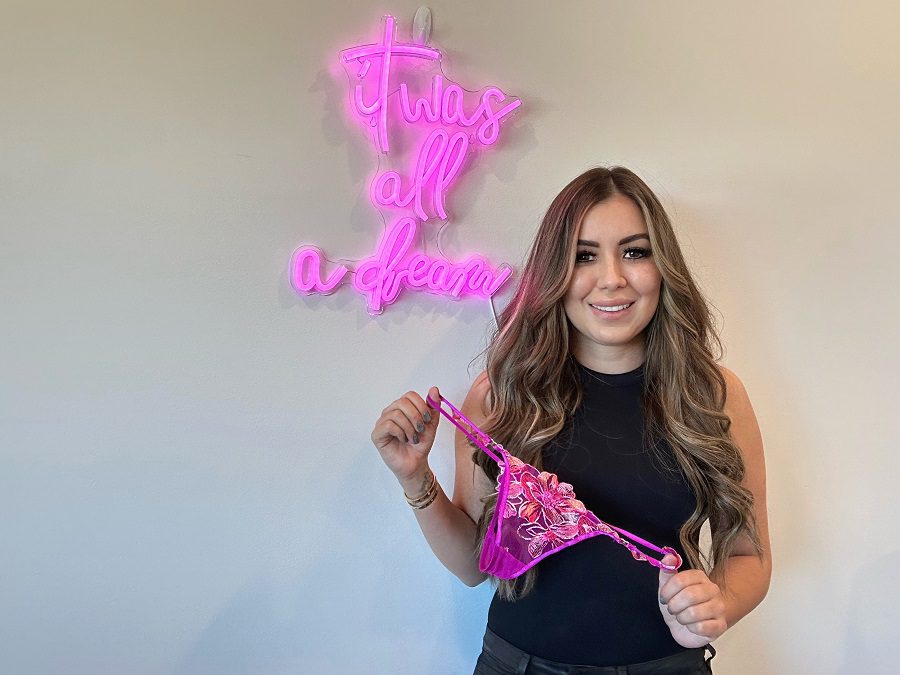 While the premise may sound precarious, Natasha's intentions were quite simple: growing up in Calabasas, California, she started working for her father at 12 years old to help him out, first running his body shop and later, his sports bar. At 15, she helped design clothing for rock band Plain White T's' first tour and spearheaded the creation of an e-commerce platform for a high-end designer repair company. Knowing that she wanted to work for herself, she set her dreamed-up plan into action, contacting adult stars, distributing brochures & flyers and building the brand – and FansUtopia.com website – from the ground up.
While the concept of selling gently-used celebrity items isn't new, Fans Utopia is currently the only full- service company that not only sells adult stars' personal items – lingerie, socks, well-worn T-shirts, toothbrushes, shoes, etc. – but anything else their loyal devotees can dream up. "No request is off-limits," Natasha says, adding that she does her best to accommodate fans in their quest to connect with their idols more intimately. With a roster of more than 30 adult stars (and growing), Fans Utopia is quickly becoming  the favored destination for quirks, kinks, fetishes and fascinations that cater to this particular market. "Our clients are treated with respect and know they will always have a great experience with us."
# # #
Press and media contact: