Talk about an interesting woman!
Corrina Karma is a true Renaissance woman who not only has a career as a cam model, but is skilled in circus performing, is a burlesque dancer, a seamstress, a carpenter, was a body builder, works on cars, is a fine artist and… well I could continue, really, there's more! – but let's just say this is a woman who's always growing as an artist.
What I most loved about this interview, is that you can't pigeonhole her, she defies anyone to put her in a box – so read on and be inspired by the multi-faceted and unique Corrina Karma!
How did you get your start in the adult industry?
I was a burlesque dancer for many years and the mention of sex work was always in the air however, it wasn't until I was a competitive body builder that I started thinking about diving into the adult industry – muscular female fetish, muscle control and flexing. Someone suggested that I go on MyFreeCams without nudity and just do muscle shows. From there someone else introduced me to HerBiceps. And then, I just continued to grow more comfortable sharing myself with others and continued moving forward in the industry.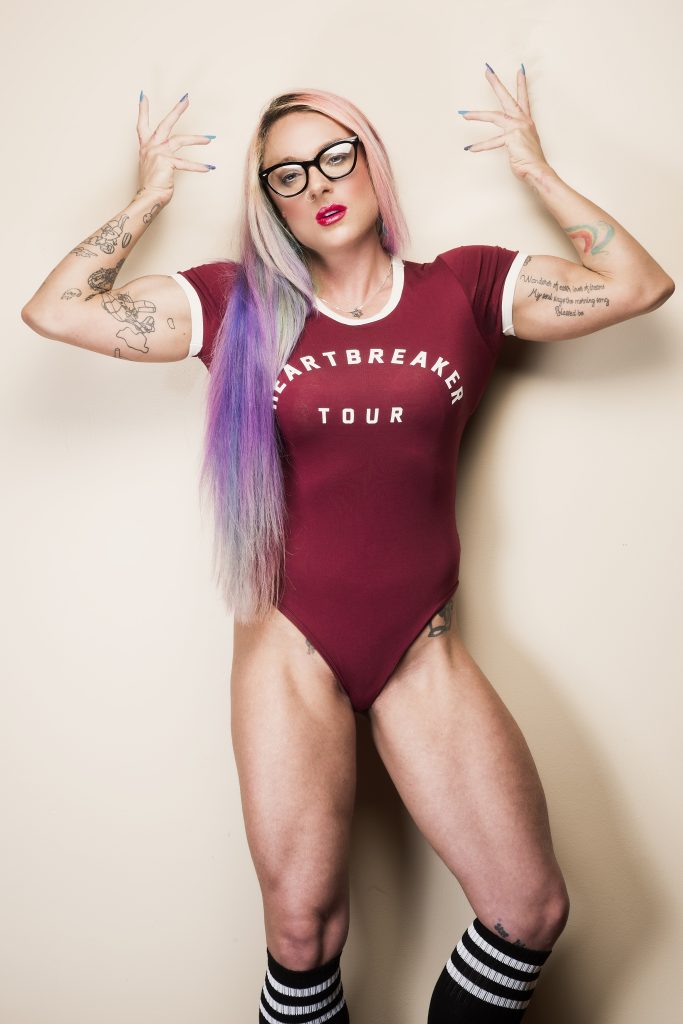 You're truly a Jill of all trades! Let's start with the story of how you learned circus performing – btw how does one ever get the courage to hammer a nail into their nose?
I've worked in the entertainment industry for many years and have had the chance to work with and befriend some super amazing and talented people. Some of which are circus and sideshow performers. I've always adored watching circus performances, particularly the sword swallowing. One year when I was in the UK watching my friends in the Circus of Horrors perform, I thought to myself "I feel like that's something I can do" so without hesitation I asked my friend, and he immediately made me a sword. I picked it up super-fast and began to branch out with blockhead (hammering a nail in my nose).
It's the reactions of the crowd that makes me love it so much!
I also love that you're a seamstress, a carpenter, and do body work on cars – how does all this fit together, and what drew you to these hobbies?

I've always loved to learn. Mostly just for self-knowledge and to be independent. I feel they're necessary skills in life but also as a mother of two, I want to pass on valuable knowledge to my children as well. It's so much more gratifying doing the job myself and saves me a fair amount of money.
You're also an artist, what and what inspires you?
I began to draw more when I was first diagnosed with Multiple Sclerosis. I wanted to keep my hands moving and my mind fresh so having a creative outlet helped with my fears.
For inspiration, I have a friend Shadow who is a sensational artist! The Eclectic Fox is their company. Any time we talk, whether it's about the D&D campaign I run, or just photoshoot concepts I have, they immediately get these wild art ideas, then sticker ideas, and well now we're apparently creating a comic together?
Shadow is constantly drawing or painting or creating… every day! And that alone inspires the heck out of me – to be insanely creative every single day.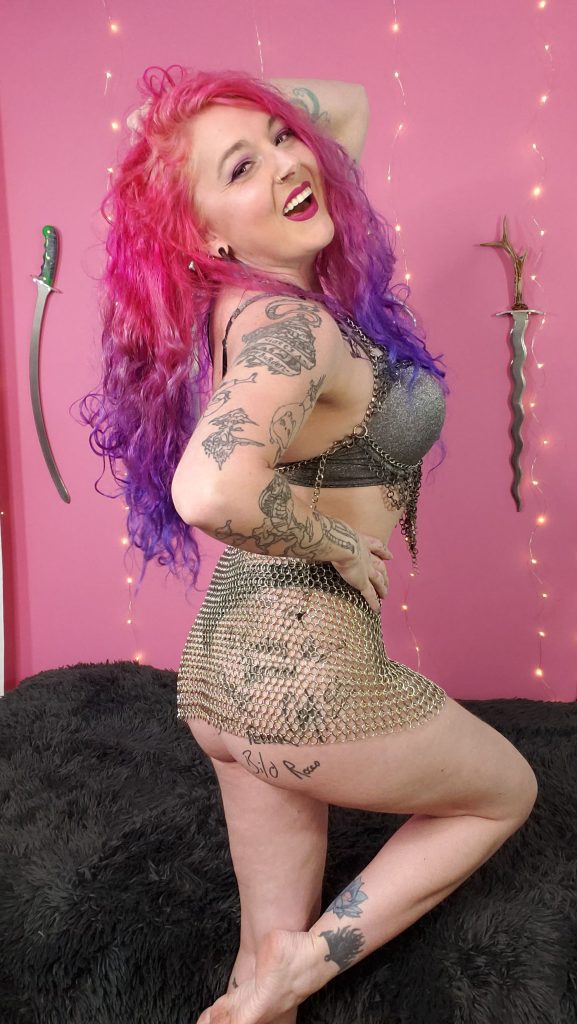 How do you decide what to draw, and where does the muse come from?
A lot of my more recent works of art are super sexualized and erotic. I often scroll through my Twitter feed and watch all these beautiful beings posting their photoshoots, or their own art… sometimes their naughty videos. And that's when erotic ideas will pop into my mind. I then go to work on making something naughty look a little classier if possible.
Be honest. How much work is it to keep up that amazing wild hair of yours?
SO much work! My hair right now if wet or straightened goes past my butt and that's with an undercut! To do all the colors on a good day and depending on the number of colors used, it takes me anywhere from 1.5 to 3 hours.
You have so much content – blogs, artwork, a shop, photos, videos, how do you get time for it all and have balance to your life?
It's insane right? I somehow always find the time! Between doctors' appointments, kids, & work, I always find a little free time daily to have some 'me' time. I could be working out, making soaps and bath bombs, having a photoshoot, drawing or digital designing, writing for D&D or filming.
It's always super important to make time for yourself and to do the things you love or enjoy!
What was a young Corrina like growing up?
Well it wasn't the best upbringing… but I did make the best of it whenever I could. I played a lot of sports, skateboarded, was that 'odd' kid most tried to avoid or ignore haha. Colorful hair, baggy pants and yes even that thick bathtub chain necklace all while listening to heavy metal and watching obscure (at the time) anime.
I loved writing stories, songs and poems and of course traveling, learning and adventures.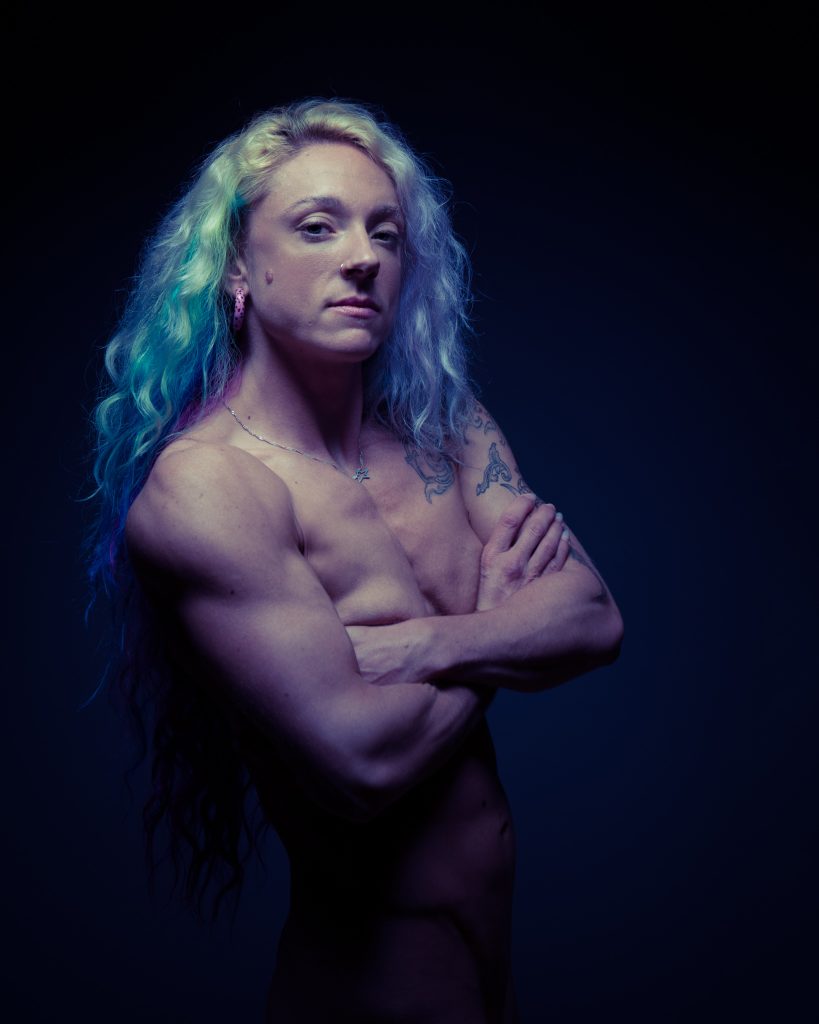 I've never asked anyone this, but you absolutely 100% seem to be the person that needs this asked. What's your spirit animal?
When I was a kid, a very influential woman in my life who helped me out quite a bit was a medicine woman and pagan priestess. I spent tons of time helping her tend to her sweat lodge and doing what I could to help. She did a ceremony for me to discover my spirit name and animal. She told me my spirit animal is a buffalo which symbolizes giving one strength to carry heavy burdens, to be free spirited and full of abundance.
What are your goals and aspirations?
My current big goal right now is to show others that my health and disabilities don't define me as a person. With having MS & Auto Immune Pancreatitis along with minor strokes now and again, people feel I should be resting, or if I'm not resting, I'm clearly 'not that sick' but honestly if I stop here and now, everyone and everything continues to move forward leaving me behind. I want to keep moving forward as well.
I want to be my most authentic self and accept my new limitations better. I am aiming high in the adult industry to be more engaged with the community. Whether it's with my content, being a performer with my circus work or just promoting!
Website: CorrinaKarma.com
Twitter @CorrinaKarma
Instagram @Corrina.Karma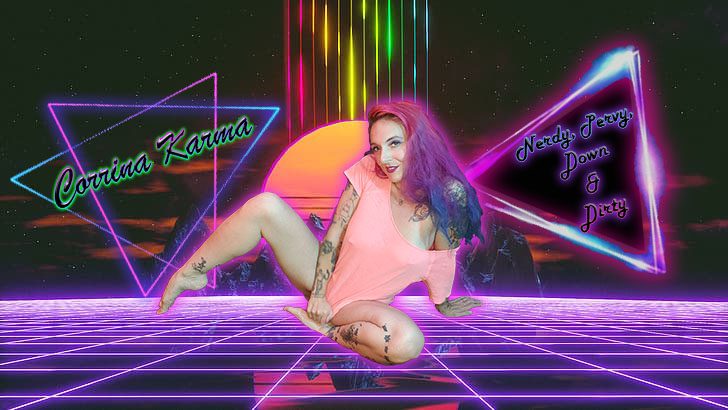 —
Alyssa Collins hails from Minnesota, where snowy days were the perfect excuse to stay warm inside and write. Over the years, she turned that joy into a career and has authored numerous articles for various publications (under pen names). Email Alyssa via [email protected].