Lexi is one of ASN Lifestyle Magazine's Most Influential Women of the Lifestyle. All women featured in this series were chosen by the swinger community and ASN readers. Meet these women: who they are, and how they are recognized as leaders, influencers, and contributors within the Lifestyle community.
About Lexi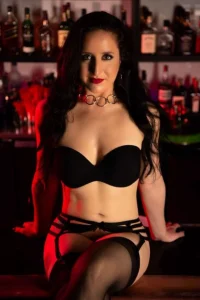 Lexi Sylver is the producer, and host of the adult sexual education podcast SDC Presents: Seek, Discover, Create with Lexi Sylver. As the Media Content Director for SDC.com, the world's largest adult sex education and swingers dating platform, Lexi collaborates with sexuality, health, and relationship experts to provide reliable resources for those who seek it. In her work as an ambassador, educator, and coach for consensual non-monogamy and the swinging lifestyle, she travels frequently to conferences, writes articles for SDC.com, ASN Lifestyle Magazine, Pornhub, and speaks publicly at events like The Montreal Taboo Sex Show (Le Salon de l'Amour et de la Séduction). Lexi wrote and creatively produced nearly 200 movies, series, and scenes in the adult entertainment industry, and was nominated for an AVN award for Best Screenplay. She is a published erotic author with her new book, a collection of erotic short stories called Mating Season, currently underway. Her mission is to promote empowerment and education by guiding you to shamelessly explore your Lexuality. Find out more at LexiSylver.com.
What do you think is the biggest challenge going from being a monogamous couple to a swinging couple?
I think that depends on the couple, but often the biggest challenge is posed when a couple starts off with poor communication skills.
When moving from a monogamous to a swinging mindset, the first step is to get on the same page as your partner when it comes to what you want out of the Lifestyle, and out of your relationship. That means being fully honest with your partner about your desires. If you each have different hopes (I always say to have no expectations) of what you individually want and how far you're comfortable going, and you aren't communicating that to your partner, then playing in the Lifestyle is bound to be explosive, and I don't mean that in a sexy way.
You've gone through your relationship thus far with just the two of you, so you don't truly know how you're going to feel when you first see your partner openly flirting with someone, dancing together erotically, making out, touching each other, etc. The only way to know is to witness it, and even then, you might not feel the same way for each experience and with each new partner.
Excitement, happiness, and jealousy are only some of the emotions that can come up when a couple first enters non-monogamy. But it's important to have the proper communication skills to let your partner know when something doesn't feel right to you, both before play, during, and after any experience. If something doesn't feel right or your partner wants to go further than the pre-negotiated boundaries for that evening, that can leave the other person feeling uneasy or angry. So, when a couple doesn't talk to each other honestly and openly, or are unwilling to have those difficult conversations, then they're risking an unnecessary buildup of resentful feelings.
That's why I ALWAYS talk about open and effective communication in relationships — because without it, going from monogamy to swinging could exacerbate any couple's pre-existing relationship issues.
What's the most common question you receive from people when they ask you about your personal practices within the Lifestyle? What is your response?
I'm most frequently asked: "What's "the Lifestyle?" Does that mean that you and your partner have sex with other people?" I reply honestly when people ask, and I take the opportunity to educate them a little bit about a style of life they might not know anything about.
Yes, it CAN be about sex with other people. It depends on the couple — everyone might practice their consensual non-monogamy differently. For us, it means that my partner and I have the freedom to play apart/separately with others if we choose to, and we also play with other people together. We are respectful of each other's privacy and don't always share the details of our separate encounters, and never pressure the other person to provide details if they choose not to.
We also like to hang out party with scantily clad peoples and just talk to other open-minded folks. And along the way, we've also made a great group of friends. The Lifestyle's not just about the sex, although that can be a sexcellent bonus — at least it is for me!
What advice do you have for women who are just dipping their toes into the Lifestyle?
This is a perfect chance for you to explore your sexuality in a community that fosters sexual liberation. Virtually any fantasy you have ever had can be fulfilled in the best cases.
But you can, as my friend Taara would say, "Own your NO" and feel free to use it however and whenever you choose. NO is powerful. You aren't obligated to explain why you say NO, and you don't have to justify your NO to anyone. And you should never feel bad about saying no, whether it's saying no thanks to a potential date or invitation, or to any or all sexual activities at any moment before, during, or after your playtime. You don't have to just go along with something that you're not really into, or because you want to be nice (I know, it's hard being a people-pleaser) or feel bad because you like the person in general, but you're not into them sexually. As in any other scenario in your life, you should never be afraid to just say NO.
When you first entered the Lifestyle, what's the best advice you were given?
Don't rush it — take your time. It's advice that I also freely give to anyone or any couple who is interested in the Lifestyle. It can be very exciting at first and tempting to plunge in headfirst, but especially if you're navigating as a couple, taking it slow is crucial, and so is communicating openly and honestly with your partner about how you feel about / in different scenarios, and what you are actually ready for versus what you want.
So, if you and your partner establish a boundary together one night (e.g., flirting and making out with other people but nothing more), keep it at that. The next time you go out, you can always up the ante (e.g., making out and fondling other people), one baby step at a time. You can always go further your next outing or date together, but you can never take back rushing to a step or a point you were not both fully ready to reach.
How has the Lifestyle has improved your life?
I feel like my relationship is stronger than ever. I've also built an incredible network of friends who fully support me in every way and foster my feelings of being free to celebrate the sexual expression of my Lexuality and my self-growth. And as an added bonus, now that I've experienced some unbelievable new things with different people, my erotic literature writings have evolved dramatically.
Since I'm living the Lifestyle I've always sought, my sense of fulfillment oozes into all the other areas in my life. In this case, through the amazing friends I've made within the Lifestyle, I've been able to grow in my professional domain, as well. My friend George is responsible for introducing me to the team at SDC, a company in which I'm now thriving. They sponsor my podcast, which has become a much-welcome outlet for me to talk about anything I want when it comes to sexuality. My company, Lexi Sylver Enterprises Inc., has grown faster than I anticipated. I feel that by being in the Lifestyle, the possibilities for my continued personal and professional growth are endless.
As an influential woman in the Lifestyle, what makes people gravitate to you or what makes you a leader?
I'm extremely passionate about my work as a sexual educator, Lifestyle coach, and ambassador for consensual non-monogamy. Others have told me that they can really hear and feel my passion whenever I speak and write. I'm very vocal about what I believe in, and I'm not afraid to ask and answer the questions that others find taboo or unconventional. I'm unabashed in my mission of helping others discover their sexuality in their own way, free of judgment and shame — no matter what they choose to do, with whom they choose to do so, and IF they choose to do so. I've been told that my openness and shamelessness have helped others feel free to be open and ask more questions about their own sexuality and relationships, inspiring them to live their lives according to their own rules.
In what ways have you been able to educate either those in the Lifestyle or those wanting to get in the Lifestyle?
I produce and host my own podcast, SDC Presents: Seek, Discover, Create, sponsored by SDC.com. Through my audience and the massive international network of SDC, I have been able to reach hundreds of thousands of people. Other than talking about sex on my show, I write articles for SDC, ASN Lifestyle Magazine, Pornhub and LexiSylver.com, share informative and inspirational posts on social media, meet new people at sex ed conferences and events, and coach individuals and couples about consensual non-monogamy.
In all these different ways, I'm reaching folks who are curious about or already immersed in the Lifestyle, shattering society's common misconceptions about what the Lifestyle means, and educating about all the different alternative relationships that exist besides monogamy. I help people navigate the Lifestyle, whether they're single or in a couple, and guide them to make each of their new experiences as satisfying and safe as possible for themselves and their partner(s).
What's the most common misperception the general public has about women in the Lifestyle?
Ha! There are a bunch. I think the most common myth held by non-Lifestylers is that all women in the Lifestyle were coerced into it by their male partners who wanted to have sex with other people because "men are more sexual than women." *Cue dramatic eye roll.*
It's been my experience that within the Lifestyle, women are the ones who lead and make the first move when it comes to erotic dating. These ladies were often the ones in their (often heterosexual) relationship to initiate the possibility of consensual non-monogamy, not the other way around. Women are often the ones who create their couples' account on erotic networking sites like SDC.com, and the ones who initially bring up the idea of going to sex clubs and erotic parties.
Another misconception about women in the Lifestyle worth mentioning: if you're a female in the Lifestyle, then you are either bisexual or would be willing to play with another woman if prompted to do so — which I will talk about in more depth here later on…
How would you describe the sexual evolution of you and other women in the Lifestyle?
My girlfriends in this community have flourished in so many ways over the years. They seem to have greater confidence in themselves and their natural bodies. They also seem to feel more agency to make choices that feel right for them in their personal and professional lives and are less afraid to assert themselves.
As for my own journey, I have always been a naturally sexual person who loves to connect with others through sex and play and communication. And I always wanted to be part of a community like the one I've discovered within the Lifestyle. I was drawn to the freedom that the Lifestyle afforded me and became immediately immersed in the culture. When I played the first time, I felt like I was finally able to FULLY express the true me — my uncompromisingly, shamelessly sexual self. Rather than being shamed for being a slut as I had in the past (and which I recently talked about in my feature in ASN's August 2019 issue), those in the Lifestyle celebrated my sexual prowess. I was FREE to be ME, unapologetically, and without judgment! I have since empowered so many more women to free the chained goddesses inside them to explore their own sexual selves and pursue their fantasies and desires.
If you've come out to your family and friends, what was that like and how do you feel now?
I've worked within the realm of sexuality throughout most of my life, from selling lingerie to writing erotic literature to writing and creatively producing porn… and the list goes on! When people (including my friends and family) connect with me on social media or listen to my podcast, they can see the things I do and what I talk about — I'm not hiding it. So, it wasn't very surprising for my friends and family members (those who know so far) when they found out about my and my partner's unconventional Lifestyle.
I know that we are both very fortunate because not everyone has such supportive friends and family. Everyone in my (and my partner's) family is very liberal thinking and supportive and curious. They ask me a lot of questions, such as: how does the Lifestyle work? Do you get jealous? Etc.
It feels good to be open with everyone and not to hide anything because everyone is so accepting and happy for my partner and I. And dinners with family and friends have never been so entertaining!
If you are not bisexual, do you feel there's a negative stigma around you and why? What could change this for others moving forward?
Ladies! Be concerned only about yourselves! There's no bisexual mold to fit. Live your lives according to your own desires. Just like not every man in the Lifestyle is bisexual, neither is every woman.
The Lifestyle is all about the freedom to pursue your own sexuality in whatever way works for you. And if that doesn't include women, then that's totally okay. Your sexuality is your business, and you shouldn't feel pressured to do anything that doesn't feel right for you. Everyone in the Lifestyle is all about consent and happiness and pleasure and encouraging each other to go for those things that make us feel good. Being in the Lifestyle is NOT about shaming others for their choices, kinks, and orientations!
The way I see it, anyone who has a problem with the way you choose to play or the way you identify sexually can go fuck themselves. They don't deserve to be around you.
I personally identify as bisexual / pansexual, and I haven't experienced any negative stigma around my sexual orientation. But my girlfriends who aren't bisexual have never reported any negative feelings from other women or couples if they told them about their heterosexuality.
Consider that if you do feel any negative stigma, some of it may actually be coming from yourself and your own misconceptions about the Lifestyle that you "should" be a certain way, or that you foster a false belief that "all the other girls are doing it." There's plenty of room to play in the Lifestyle for women who aren't bisexual, and you shouldn't feel like you don't belong because you don't fit some imaginary description of what you think being a woman in the Lifestyle is all about.
I think that if you just take on the mentality that you have the right to say NO to any scenario or person that doesn't arouse you, then to hell with anyone who doesn't agree with you and accept you for the amazing person you are.
If communication is key to success in any relationship, what advice do you have for women to bring up the topic of entering the Lifestyle without their partner feeling they just want to "sleep around" or that their partner is "not enough?"
Firstly, you can't control how your partner will feel or react when you bring up the topic of entering the Lifestyle, no matter what you say or how sensitive you are to your partner's feelings.
Being from a predominantly monogamous society, we're conditioned by the media and our loved ones to believe that there can only be one person for everyone; that your "significant other" is "your One," "your other half" because you're not a whole person on your own; that your partner belongs to you in some way (they're yours) and you don't have to share them with anyone, and that if you marry them, that means you'll fuck ONLY that one person, basically for the rest of your life.
No one partner can satisfy every single side of you — and that's also a lot of pressure on one person! You probably have friends who enjoy things that your partner doesn't. That's just one example of how one person isn't "enough" for you. But these tropes of "The One" are reinforced by the other monogamous couples around us who hold those beliefs. So, the idea of opening up your relationship is going to shatter that monogamous mindset and bring up those questions, insecurities, and fears… and can give you the chance to expand your horizons.
But before you even have that conversation, take inventory of your relationship. Do you have healthy communication between you? Are there unresolved issues or emotions you haven't discussed yet? Has your sex life been satisfactory for both of you lately? You have to make sure you're solid as a couple, and that you both feel appreciated and loved by the other. Because if your relationship is rocky, your partner is much more likely to feel more insecure about your suggestion than if you're on solid ground.
If you think your relationship is ready, try to get a sense of how your partner would feel about the idea of opening up to new possibilities. Casually let them know you just heard a great podcast about swinging (like mine, for example — SDC Presents: Seek, Discover, Create with Lexi Sylver) or you just saw an episode about consensual non-monogamy on a TV show — have they heard of it? There are lots of examples to draw from in media that you can use to get a vague idea of your partner's reactions. Give them time to process the information and their feelings — don't bombard them — and save "the conversation" for next time.
If your partner seems receptive, find some alone time to talk to them when you're both feeling relaxed. But don't make it sound like a big deal. DON'T say something like, "there's something really important I want to talk to you about," or your partner will probably be anxious about whatever comes next. Instead, you can casually reopen the previous dialogue about the CNM article you read or podcast you heard. Ask them if they ever thought about opening your relationship — hypothetically speaking.
Be ready to address your partner's insecurities and fears, and patiently listen to their feelings and potential reservations. You can reassure your partner that you love them, and you love having sex with them, but you also think it would be fun and exciting to add another person or two into the mix, too! By showing them that they and your relationship are a priority, they might be more willing to continue the conversation in a constructive way.
And provide them with education and information from swingers and Lifestylers who can speak from experience and have been through their fair share of difficult conversations. By learning from others, they — and you — can discover more about what being in the Lifestyle is really about and what the best practices are for maintaining a healthy relationship.
Typically, most couples who decide to enter the Lifestyle don't do it after one single conversation — it might take a series of discussions with time to percolate in between before any action can potentially happen. And if your partner says NO, exerting pressure on them or coercing them into trying it out is NOT the way to go and is sure to breed insecurity and potentially resentment or anger. Don't forget — just as monogamy isn't right for everyone, consensual non-monogamy isn't for everybody.
For more information about consensually non-monogamous relationships, listen to my podcast, check out lexisylver.com and SDC.com.