Take some time to breathe again, our exclusive takeover of this fabulous, world-class luxury resort is one of the best vacation ideas for couples and sexy single women.
Whether you're looking for a party, an adventure, or a relaxing afternoon on the beach, Cabo San Lucas is the perfect place for a getaway!  This trip is exactly what you need to recharge, indulge, and give in to a little fantasy.
Give in to pleasure for five sinful nights and six adventurous days as LLV tempts your fantasies with nightly sexy theme parties, sensational shows, sensual playrooms, clothing-optional pool parties, and sexy classes.
Every aspect of the immersive LLV experience is designed to plunge you into a world of erotic pleasure and ecstasy. Captivate your senses and let yourself breathe again with the best lifestyle adults-only vacations!
At the southern end of Baja, where the Pacific Ocean and Sea of Cortez meet, you'll find the party town of Cabo San Lucas with margaritas, sandy beaches, amazing sea-based activities, and Mexican glorious food.
Dive deep and mingle with marine life, go sunset sailing and snorkeling, go whale watching, drink tequila, dance all night, ride horses, ATVs, and even camels!! Add in beautiful open-minded couples looking to meet new friends, scintillating experiences, clothing-optional pool parties, live performances, nightly theme parties hosted by live DJs, from around the globe.  Finish it off with Playrooms, erotic hotspots, seminars, workshops, and the LLV Latin Flavor. It's truly a unique vacation!
Abandon yourself to the sea and the land. Party until sunrise if you'd like! Don't worry, you can blame it on Mexico's famous tequila.
*All-Inclusive:  everything is included!
Every premium beverage and cocktail, every gourmet meal, 24-hour room service, all events and entertainment
*Exciting day-nighttime entertainment, live performances, and more!
*Clothing Optional pool parties
*Sexy theme nights
*International Dj's
*Playrooms and sexy signature spots, that complement the LLV Club Experience.
*Educational workshops, that have been specifically tailored for couples seeking a passion provoking experience.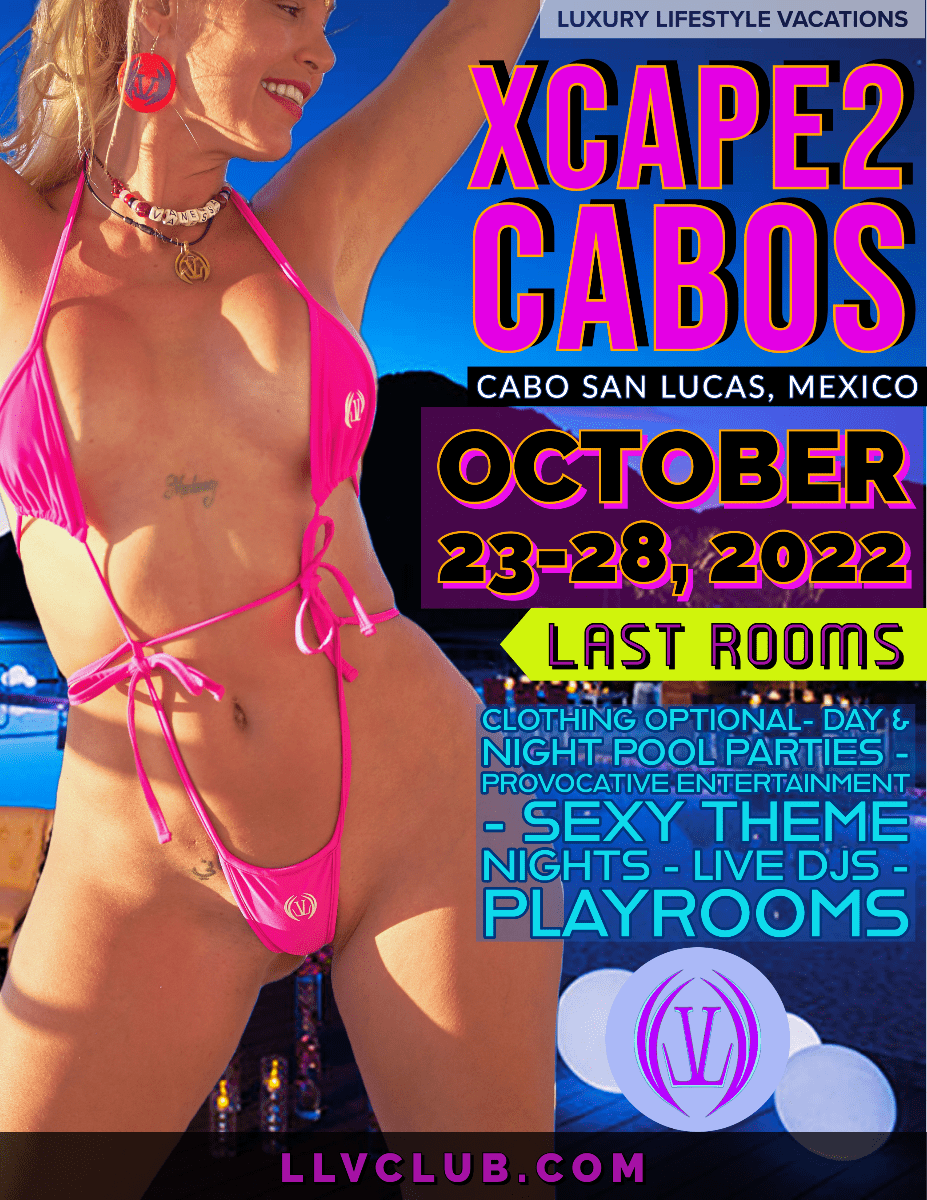 October 23-28th, 2022 (5 nights/6 days)
LAST CHANCE TO BOOK!
XCAPE TO LOS CABOS IS ALMOST SOLD OUT
With 95% of rooms sold, you're about to miss it!
Deluxe All Inclusive, High Energy, Hip & Luxurious.
Prime location on Medano Beach, one of the only swimmable beaches in Cabo
Unlimited-Luxury, all-inclusive with fab food and Premium top-shelf drinks
169 Contemporary Suites with stunning balcony views
World-class Spa by Pevonia®
7 restaurants + 4 lounges and bars
POOL / CLUB / and PLAY AREAS CLOTHING – OPTIONAL
Playrooms for sexual activities
Sexy theme nights
Theme parties hosted by live DJs
We're waiting for YOU!
Looking forward to seeing you in Los Cabos!