(Barcelona, Spain) Eastern European tatted, busty, red-haired vixen, content creator, fetish model, adult star, and entrepreneur Sabien DeMonia has a brand-new video for Kink.com's Divine Bitches with Alec Hardy that she directs and stars in.
"Endless Nightmare: Sabien Demonia and Alec Hardy" opens with a power outage at Alec's home while he's on the computer. He goes to investigate and is captured by Sabien; little does he know what his night will be like. He's stripped naked and tied to a stripper pole, gets his face slapped, endures name-calling, and get smothered by her big tits and ass—and that's just the first part of the scene. As the night progresses, he's dressed in lingerie, gets lipstick applied, has a giant dildo shoved down his throat, and fucked with a strap-on in the ass. And just when you think Alec will escape Sabien's clutches, he wears a white gimp mask, gets tortured with a spiked medical device, and receives a handjob that leads to a full milking. Sabien has got him on lockdown and is enjoying every second of it.
"My inspiration behind that scene was a horror movie called 'Lights Out.' Since the scene was released near Halloween, I wanted to give it a little spooky and creative vibe. I came up with concept of scene based on Alec's real-life story and his deepest fears and phobias. After the shooting with Alec, I must admit it was a therapeutic and mind-opening experience that also let him discover that he may have new sissification kink that he never knew about. I love that my work with Kink allows me to be not only creative, but also allows me to reconnect with my industry friends on totally different levels," says Sabien DeMonia.
Watch the trailer and exclusive scene "Endless Nightmare: Sabien Demonia and Alec Hardy" at 
kink.com/shoot/103895
.
To interview Sabien DeMonia for your site, publication, or show, contact Erika Icon of The Rub PR at 
[email protected]
.
ABOUT SABIEN DEMONIA
Eastern European tatted, busty, red-haired vixen Sabien DeMonia is a content creator, fetish model, adult star, and entrepreneur. Known for her wild scenes, GG breasts, and her even bigger attitude, she's definitely one to watch. She got her start doing live studio and cam shows for Babestation in the UK. Once Sabien took it to the next level, she worked for some of the most extreme Euro and US studios, including Evil Angel, Fake Hub, Canal +, Alt Erotic, Fake Taxi, Marc Dorcel, Reality Lovers, Czech VR, VR Taboo, Perverse Family, Bikini Fanatics, Legal Porno, Lust Reality, Gonzo.com, AltPorn4U, and more. In 2022, she scored a contract with Kink.com as director and contract star.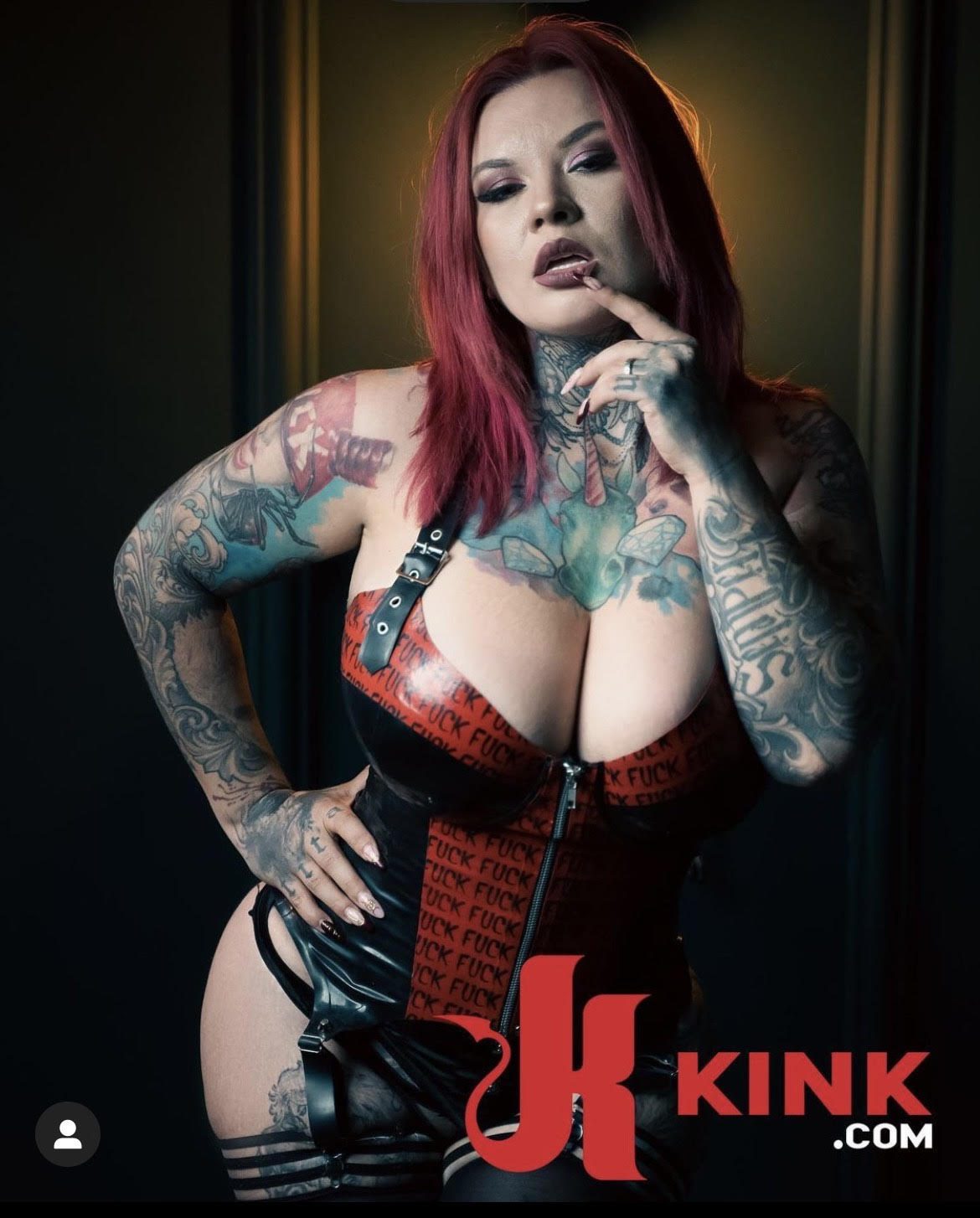 In the past three years, Sabien's become very well known in and out of the adult industry and scored countless magazine covers and features for worldwide publications like XBIZ, B.A.D.D., Bubble Shake, Inked Barbie, Kink Queens, Femme Rebelle, Tattoo Planet, Tattoo Kultur, Kinkd, and more. She's won awards for Best Overall Model and Best Porn-Cam Model from Spain's Ero Awards, Fetish Model of the Year from UK Glamour Awards, Clip Artist of the Year from the Bucharest Summit Awards, Best Live Cam Celebrity of Year from the Live Cam Awards, Best Gothic Shoot and Best Inked Clip from the AltPorn Awards, and MV Munkbung Vid of the Year from the ManyVids Community Awards. Sabien has received numerous nominations from XBIZ Europa, XBIZ Cam, AVN, AltPorn, YNOT Awards, Bucharest Summit, Live Cam, BCAM, YNOT Cam, and Inked Awards. She's a Brand Ambassador for Hotline, Pineapple Support, and Gaming Adult's Hentai Heroes, and previously was the first official Cherry.tv Ambassador, as well as representing xxxNifty and SugarBounce.
When she's not producing content for her platforms or filming for top studios, you'll find the globetrotting foodie/master chef in her kitchen whipping up culinary delights. Before adult, she was an ALT model and went to art school. She's also appeared in a Harry Styles music video, appeared on UK's Channel 5 on "Hotter Than," and has appeared in The Sun.