There are tons of things we can recall doing for the very first time. Everyone remembers their first car, their first date, their days at college, or even their first-time taking swim lessons. Everyone remembers going somewhere special for their first time-whether it was to Disney World, Hawaii, the Caribbean, or the Mediterranean coast. It's all good. The first time doing anything is always a valuable experience. In a previous article, the nude beach goers' wish list was revealed. All five including Miami's Haulover Beach and New Jersey's Gunnison Beach at Sandy Hook are must-do's. What if anyone was going to a nude beach for the very first time? What's to be expected? What's are the best things to do? What aren't the smartest things to do? Nude beach first timers don't have much to worry about. As long as baby steps are taken, the first time will be the best time ever had.
Must do's…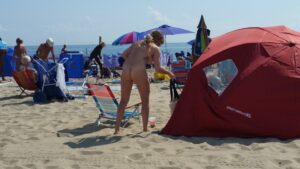 5) Find the perfect set-up spot: When visiting a nude beach for the first time, it's best to take baby steps and find a safe place to set up shop. First timers don't need to bring a mountain of beach gear. First timers normally bring a beach blanket, a beach chair, two towels, and some- thing to anchor the beach blanket down. For brownie points, beach umbrellas, sun shelters, and wind barriers are perfect.
4) Getting undressed: At a nude beach, for a first time, things may feel a bit awkward. For any first-time experience, it's best to not rush into things. It's all about comfort. It's typical for any nude beach first timer to spend at least the first hour on the beach with clothes on, or even with a cover up. While undressing, it's best to be observant of everyone at the beach and gain the feeling of "it's gonna be alright." No one's gonna care what anyone looks like naked, no matter what their age. Nude beaches like Blacks Beach, Haulover Beach, and Gunnison Beach are known for having a mix of beach goers of all ages. By observing this, the nervousness wears away quickly. It's all about comfort and doing things at a desired pace.
3) Socialize: Once at a desired spot on the beach, half-undressed, or even fully disrobed, and suntan lotion is slathered on, it's best to break the ice with beach goers nearby. They could be the ones sitting in close proximity, people who are looking to form a beach volleyball team, or even those who are looking for sand sculpture building buddies. The group of young adults who need help carrying their coolers onto the beach would make great beach pals. Better, those who have a flag sporting the name of a nude resort or sports team would make a perfect socializing opportunity.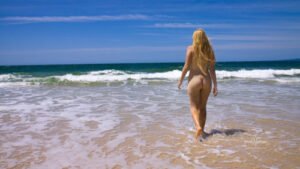 2) Taking a walk: There is nothing wrong with taking a walk up and down the beach. It's the best way to get acclimated with the hundreds of people of all ages. It's fun to see everyone having the time of their lives. A group of young adults are seen jumping the waves. Soon afterward, a young gentleman is burying his girlfriend in the sand-turning her into a living sandcastle. The fun can be seen everywhere. Having seen everything, becoming comfortable with the beach surroundings is second nature.
1) Swimming in the ocean: There's no easier activity to jump right into, than swimming in the ocean. Swimming in the ocean naked is the utmost liberating. It feels like flying. While in the ocean, it's fun watching people run in and out of the ocean. Whether it's a young couple making a run for the ocean on their second date, collecting seashells, or playing a game of ring toss in the sand, the fun can be seen everywhere and at any time. It feels like walking through a dream.
The no-no's…
3) Hitting on men/women: Note to self, a nude beach is not a dating site. Everyone is there for the right reasons. If anyone wants to make a first move at a nude beach, it's best to stick with must-do #2. Keeping things civil, wholesome, and being pleasant will surely make any social situation worthwhile.
2) Photography: There's nothing wrong with taking pictures at a nude beach. However, it's best to take pictures from a distance, and not barging in on anyone's privacy. At a nude beach, proper etiquette and privacy are golden. Taking pictures is not illegal, however, pushing the envelope is not allowed at any time.
1) Indecent behavior: This is self-explanatory. While at a nude beach, maintaining proper respect for everyone of all ages in the vicinity goes a long way. There will be some good-looking people present at the beach. That's certain! But there is no howling at anyone, no whistling, or any inappropriate language allowed. Furthermore, no explicit sexual behavior is allowed. This includes masturbation and self-pleasure. Anyone who wishes to engage in doing so, should save it for the ocean, so it's unnoticeable. More so, for the gentlemen-if an erection is in progress, they can sit on the sand, or best-walk into the ocean and let it pass. No one will inquire what's going on downstairs.
Summertime is just 3 months away. Summer is the season of firsts. Everyone is putting their list of places they hope to visit for the first time. Summer is the perfect time to go to different places, but also the right time to experience life differently. Visiting a nude beach for the very first time is one of the boldest experiences anyone can have. Honestly, it is one of the places anyone is the most curious about. This is 100% normal, and by far, natural. When visiting a nude beach for the first time, feeling anxious is truly normal. Once the perfect spot on the beach is found, the moment a person gets undressed, and gets acclimated with people around him/her, it's no big deal. On the other hand, exhibiting the proper etiquette and behavior is the best foot forward. The golden rule is to be himself/herself. As long as a first-timer goer is himself/herself, is pleasant, and socializes in the desired manner, it's going to be a great day. Not only will it be a great day, but above all-a perfect day.
The March 2022 issue can be found HERE