Perego "arrived on the planet" on the 24th day of October in the year 1967. A quadruple Scorpio, the stars lending their unanimous opinion to a being; determined and forceful, emotional and intuitive, powerful and passionate, exciting and magnetic. Also, gifted with a then unknown artistic family legacy, he immediately showed talent in art, theater and music and seemed destined for creativity at an early age.
His earliest memories of his "art hustle" was to draw King Kong for lunch money to buy a blow pop or an apple pie. He was 8 years old. Read that again. So, as we can see, soon the life lesson that your art & talent get you the sweets & pie you want is instilled in the young boys mind.
Another moment that stands out for him is "I think it was 9th or 10th grade, everyone had to go up in front of class & teach the class something. I was going to teach them how to ride a motorcycle. So, I quickly drew a motor cross bike on the chalk board (I was really into dirt biking then), turned around & started to speak. The whole class was sitting there with their jaws dropped, stunned. I was like- what? They were like we can't believe you just did that."
Aside from those, the only one worth mentioning was the fact that he failed art in high school. There was an incident with the art teacher. "I had already finished my assignment. I'm pretty fast, so I knocked it out & was drawing something else. She came over & ripped it up, crumpled it & threw it in the trash. I got my stuff & walked out. She asked, "where are you going?" "Not here anymore", I said. She replied, "well, you can keep going to the vice principal's office." That is an interesting conversation for another day."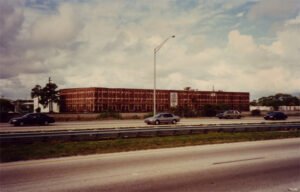 After graduating high school, he enrolled in the only comic book school in the world, the Joe Kubert School, which he studied under many legendary greats in the comic world. Milt Neil, the original artist that partnered with Walt Disney, was the one that made the biggest impact. The man was a literal legend, standing there, giving his art a critique, first saying what he liked, then can I put a piece of tracing paper over it. Of course, Perego was "YEAA!" & in seconds he re-rendered my little assignment that took 2 whole days to do & gave it so much life & energy & power." To study under this man, his humble self, to hear stories & see how he was as a person was mega impactful to Perego as a young mind & hungry talent.
Although art school was amazing, it was also a bit disillusioning to him, as he saw how much money the comic book artists were making, as opposed to the money he had read artists like Andy Warhol was making in the 80's. With Perego's attitude of "let's start at the top & work our way down", looking at a future doing comic books was out.
But 2 other things also happened at art school. First, he had the realization, among all the other really talented artists, that he learned as much from them as he did from the instructors. So, in his crazy head he figured, if he quit art school & just hung with other artists, then he would be saving half year of tuition a year. Also, at that moment the seed was planted in his mind which later became what is now a global art movement, the Art Army.
Secondly, he witnessed seeing an artist at the reunion the school had. Boris Valello, a masterful fantasy/sci fi painter walked in, his like maybe 5′ tall self, his hands on the hips of 2 tall blonde knockouts about 6'+ & young Perego's mind was blown. Here was this guy, talented as hell, getting paid & living like a rock star, & forever that image would stick in his mind, & would resurface decades later when Perego would reinvent himself & his art career.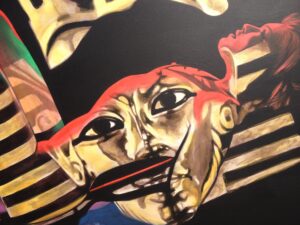 And only for this article he also added that "negative influences" may have been a partial cause for him to not finish his first year of art school. When asked what they were he replied "cocaine & nymphomaniacs" & that that was all he was going to say, & that he no longer does cocaine.
Artistically, Perego was inspired by & deeply studied several artists who would forever color his future creations. Andy Warhol- he studied his life, his POP art, his multiple media sources & business working as a collective. Another inspiring trigger which would create the "everyone is an artist, that we are the art" of the Art Army. Andy also would put on "Happenings" which have now been seen in the Art Parties Perego would produce in years to come. Salvador Dali- he studied every inch of his masterful painting & totally surreal concepts. "To transcribe thoughts spontaneously, without any aesthetic constraint" "To liberate man from the tyranny of the rational world" would also help sculpt his ideas of eroticism & art that is played out in Perego's erotic art & art parties. Of course, the master's such as Michelangelo, Da Vinci, Picasso, Rauschenberg, & Maxfield Parrish were highly influential in creating Perego's art.
Another huge factor to play out in Perego's " Dressed in Light" series which uses the old school psychedelic lightshow projected on models, is the Lightshow of Joshua Light, the creator of that artform, the secrets of which were taught to him by Michel Polizzi in Philadelphia.
Now enrolled in "the school of life," young Perego embarked on a career as a freelance commercial artist designing T-shirts, Sign painting & murals. Growing up in what he calls "The golden triangle of rocking" the area between New York, Philadelphia, & Atlantic City, NJ., Perego explains "we are used to nonstop rocking".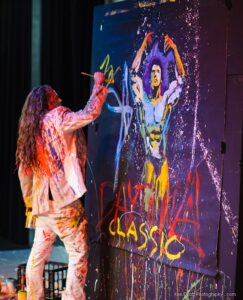 Moving to the heart of the art & creativity in Philadelphia in 1990, Perego saturated the hip and funky South Street area with his unique blend of pop art, urban expression style and inspirational energy. The now legendary Mako's Retired Surfers Bar & Grill, the Hare Krishna restaurant Govinda's, Tijuana Yacht Club, Haagen Daas, jazz club Borgia Cafe, Jon's Cafe, & many more, all had art by Perego. One of his local (New Jersey) clients, Rent-A-Vet, offered him a job marketing their business during spring break in Daytona Beach, which he took & where he subsequently met Miltos Exarhou. The meeting began a friendship that led to Perego eventually moving to Daytona Beach. Together they designed over the years many night clubs, coffeehouses, cafe's & restaurants, such as The now famous Coliseum Nightclub, The Spot Sports bar, Bravo, Love Bar, the Groove, Jambalaya, & Java Lava.
After bouncing up & down the east coast doing freelance work from New York to Miami Perego finally settled into the Daytona Beach area in 1992. There, aside from projects with Miltos, Perego soon began applying his talents, and expanding into interior design in the beachside locale. As a designer, artist and activist throughout central Florida, Perego was sought by Scenic City (Deland), a group he led in painting of the massive AT&T world globe (Times Square). Other projects included the 25th & 50th Anniversary of Walt Disney World (Orlando), and the 13,000 sq ft trompe l'oeil out-door mural adorning the ABC Carpet and Home (Boca Raton). The signature piece of the Volusia County Courthouse and "Pioneer Park," the nationally acclaimed, award-winning historic mural in DeLand, Florida and the "largest" Harley Motorcycle dealer in the world- Bruce Rossmeyer's Harley Davidson of Daytona, Fort Lauderdale, & Destination Daytona also carry Perego's signature. The T.D. Waterhouse (Orlando) and the Office Depot Center (Sunrise, Fl.) also exhibit his work. As Art Director for Walt Disney World Entertainment. Perego's vision helped launch the 1998 Disney Cruise Line Inaugural Event (Cape Canaveral), the Animal Kingdom Press Event and the Premier Party for Cirque du Soleil (Downtown Disney, Orlando). In television, his work can be seen on Univision, BET, as well as on the local PBS.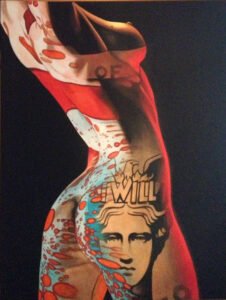 Things were "all peachy" until 2008. Perego had built his business & his highly trained, skilled & talented team of artists were an "art machine". One of the last jobs they did was a mural on a parking garage 60 'x 120'. The client was thrilled, wanted to paint the rest of it, & plans were set. A $400k gig was on the table. Then, whatever that was, hit. Immediately all buying of art had stopped. All projects put on hold, for "2 weeks" to 2 months to 2 years to surviving as an artist turned bleak, & may longtime established artists were forced to other jobs to get by.
At this crossroad, Perego took a moment to reinvent himself & his art. He explains "people stopped buying art but- they still want to be entertained. Entertainers make mad money & I could make a portion of that & get by". The murals' commissions were replaced by creating a live paint show, which would not just entertain, but to rock. With this in mind he created his LIVE persona, a lion on stage fiercely slashing the canvas, spinning the brushes like the wild wild west. Creating an amazing painting in minutes & then signing it with his hair. YES, his hair. "People like crazy… I give it to them." Corporate events of large companies happen all the time, & they always want something "new". It's usually the same old typical entertainment & they were ready for taking it to the next level. And that's evidently what Perego did. We will focus more on his performance art of many styles & themes, but for now, lets say, he is a true "Art Revolutionary"
Also, at this moment in time, Perego began throwing art parties, not only featuring his various performance art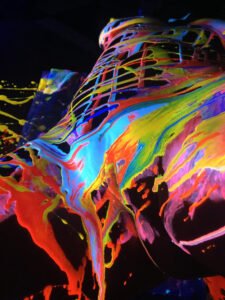 pieces, making the event a sort of laboratory to practice his experiments of performance art & inter-active art, but also inviting all of his fellow "Art Army Warriors" along with him. A fan of the Vagabond parties in Philadelphia, Perego named his events The Vagabond Art Party. They brought a wide range of artists & creators together, developing into a network of amazingly talented people. Parties were produced not just in Daytona, but also Philadelphia, Orlando, Miami & now all over the world. The parties all had themes & some featured a sexier side art, the Erotic Art Party, which leads us to why we are here.
Perego's live performance art has been featured in huge art events such as NudeNite, ArtUndressed, Bodypalooza & many more amazing exhibitions. He not only does live paintings on canvas within minutes which he signs with his hair, yes his hair! he does live body art that features the bodies. "I'm not trying to impress you with what I can paint on your boob" He explains, " it's not about me as an artist & my "talent", its about you. The body is the art, so I make art that comes from the shape & form of the body" Perego goes further & makes it a point to say that " We are the art, & that everyone is an artist". That being said, Perego puts his money where his mouth is includes an inter-active aspect to his all-art parties. Most include body paint of some kind. "Painting a body is sexy, it is erotic. You CAN be really corporate about it & pretend that that sensual aspect isn't there, but it is. Even if its just the fact that the model, who may never be nude before, can be looked at as a work of art is beyond emancipating & freeing. To feel that beautiful will forevermore warm her soul".
After getting to know Perego seeing how kinky & sexy his shows are, it's interesting how deeply spiritual he gets in explaining it. " I am a Scorpio, to us, sexuality, creativity, spirituality, they are all the same energy & power" " I aim to be a master of them all. To me, everything is art, my entire life & existence is art. & yes Sex is art. My favorite, its creativity, & spirituality all in one. Oneness. It's what I am about."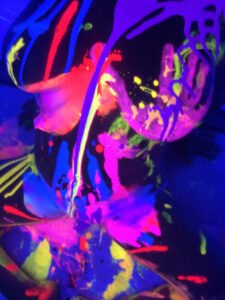 If his art was just body paint, we probably wouldn't be featuring this new artist to our scene, but it isn't. Not only are his UV Blacklight "Eye Candy" shows explosive & stunning, & all his erotic art amazing but he also does things that are not quite normal. " I like to freak the freaks" He laughs & then explains- "Its plain to see in the world, there is a revolution going on. Some places it's with tanks & bombs, but in others it's about concepts & ideas. Change is happening on all levels including a sexual one."
For over a decade he has been teaching workshops to couples on how to make art with impressions of paint off their body onto canvas, as he just did for valentine weekend. "I am trying turn people on to the idea of art & creativity as part of their sensual/sexual play. What else are you going to do between orgasms? Make some art!"
Perego also makes "Amrita Art". For those saying "what??" exactly… evidently the ancient name for a girl's squirt (female ejaculate) is Amrita & it's known to be the "nectar of immortality". Look it up, I did… Perego elaborated " it's a mysterious thing & is a key to unlocking untapped power & potential. Its crazy how we can go to Mars & yet there just so little research done on what's inside a woman's body." He feels so strongly about changing the perception & understanding on this topic he has an "Amrita Art & Science" group on social media. Perego also teaches workshops to couples on how to & how to make art with it, Yes, Squirt art! "it's like water, so it becomes like an abstract watercolor" Mixed media indeed. Although freaky as fuck, Perego calmly explains "I know this is far out, by also let me remind you, it should be. Art is magic, & that THIS art is of the most powerful of magic." In his Amrita workshop he instructs on not only how to make art with this sacred Elixir but to ceremonially drink it.
OK Perego, mind blown.
When asked if he was in the lifestyle- Perego replied "although I have had a few menages, I don't consider myself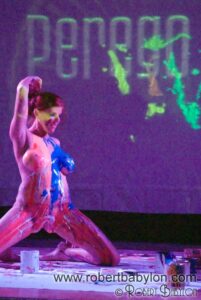 a swinger. I'm more the Voyeur/ exhibitionist type. I like turning people on & getting turned on. I think there a wide range of what is hot that's considered "adult" that my art parties attract that aren't full swing. There's people who like to be naked & be beautiful in an environment that is safe & respectful. Perego described himself as straight & polyamorous & "very open minded". He added "It's important to create a space where people can freely & safely express themselves sensually/sexually."
Some years ago, Perego had an epiphany that would forever change his attitude about the "adult" scene. He had just performed a show at ArtUndressed In Miami & a very sexy couple came up to him, both dressed amazingly to the nines in leather fetish outfits & said " great show! Loved the art, I am an artist too. I could even do portraits in high school". Impressed, Perego asked "awesome! have you ever drawn your wife?" at which she got excited as hell "I think her nipples popped thru her top!", In reply her guy says "no" & Perego asks "why?" & he responded, "I never thought of it".
At that moment Perego realized the "adult" entertainment scene had plateaued out. They had run out of ideas, & that bigger, harder, faster was not doing it anymore. They wanted more. Something new & unique. "You have to realize, everyone wants the next level, they just don't know what it is. Well, Art is the next level. Art raises the frequency of everything is touches. Turning people on to that they are the art, & to the Creator within themselves is the ultimate turn on."
Well, we sure are turned on & given how much art & ideas Perego has in store for us, we plan on featuring this new cutting-edge artist & activist in coming issues of ASNMAG.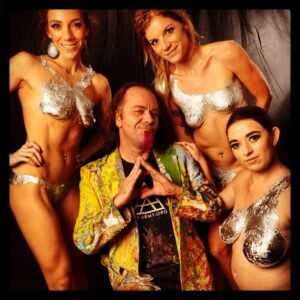 Last question- what does the future hold for Perego & his Erotic Art Party? "Most of the big erotic art shows are not happening, so most of my booking have been private parties.
Just recently I been contracted for 6 monthly erotic art parties at a lifestyle club in pompano- Club Defy. The place is really dope, we just did my valentine art workshops there & plan to do a Wednesday in the middle of the month, every month. Hump day on hump month ha". Every month a different concept & the next one on March 16 is a "Titanic" themed party where you can get a nude figure drawing from one of our house artists, or even play & draw yourself. A sexy erotic poet will also perform to add to the suspense & romance. "As you see, we are always going to be different & give people what they don't expect. We not only intend to blow minds, but we are also going to capture these amazing moments in art, that you will love & cherish forever".
To see Perego's work- G rated ArtofPerego.com, PG rated- Perego on FB, R rated- PeregoLIVE on IG
To keep in touch & know about future shows & events- search "Erotic art party" or "Amrita Art & Science" in Groups on Facebook.
The March 2022 issue can be found HERE