That beautiful creature you see in the photos is named Lily Craven.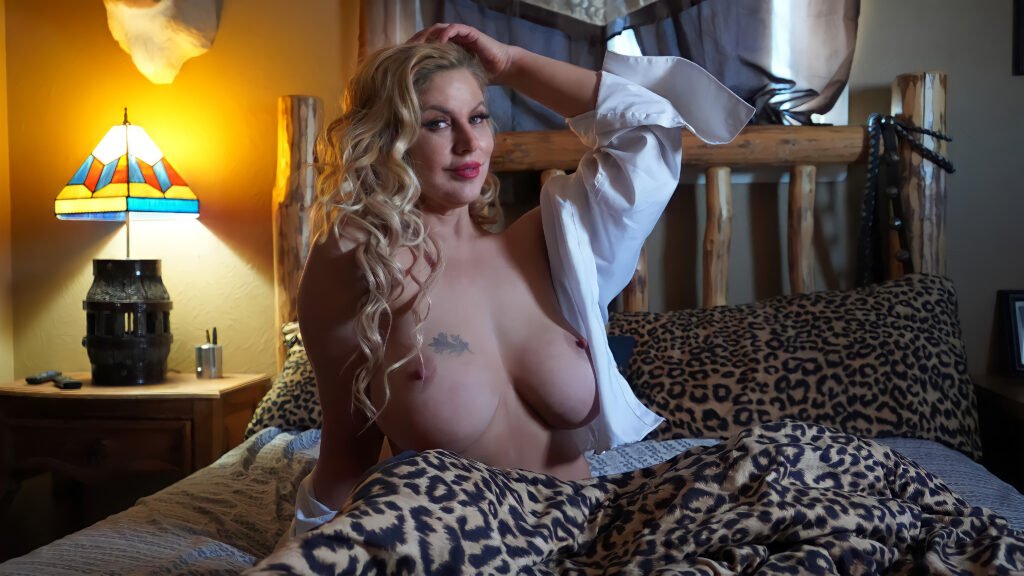 Based in my home state of Colorado, Lily and I instantly became friends after we were introduced to each other over email by a mutual colleague of ours.
A long, boring story about email tag and texting short, Lily and I agreed to chat on the phone. We made a date to set up an in-person meeting where she and I would discuss our professional goals when we did. This conversation turned when the little-known secret of my photography talents popped up, and she said that she needed a new photographer.
I agreed, and this is where the story begins.
After several days of working with Lily Craven in a creative setting, this is a reflection and how I got to know yet another vibrant, dedicated, and accomplished performer.
I quickly found out that the Lily behind the scenes is a free spirit, down to earth, and the single mothered matriarch of her family. Lily's is an inspiring story, to say the least.
That meeting we scheduled, set for January 2, became the first of two marathon session photoshoots at a ranch in the middle of nowhere in a rural community in Colorado.
That's cow country, and trust me, it smells like it.
The morning of the shoot, I woke up after a short stint of sleep. I had to suck it up.
I packed my gear, warmed up my Ford F-150, wiped off the snow from the night before, and made the long drive to finally meet up with Lily in a farm community just north of Denver.
The roads were half frozen. Post-holiday traffic jammed the main highways.
It was roughly 11 degrees Fahrenheit. The Colorado sun was high in the sky.
It was a typical winter day, and it was peaceful. After navigating through dirt roads and an endless tract of slaughterhouses, I arrive at the quaint little ranch and pull up.
I texted Lily that I was outside.
Seconds later, a bright and bubbly, short, shapely woman stepped out of the house and walked right up to me and took me into an embrace — the kind of hug friends would share after being apart for years.
Lily looked gorgeous, with her blonde hair illuminating with the sunlight and afterglow shimmering above the virgin snowfall of the plains of Eastern Colorado.
I knew that I was about to work with someone made for the camera.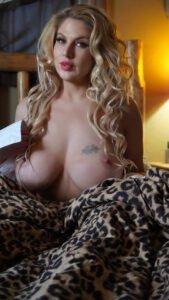 To truncate this portion of the story, the ranch shoot was a true success. Some of the shots from the ranch shoot were included in this spread, and they turned out beautifully.
One of the unique components of this shoot was the use of natural lighting from the sun throughout the ranch house, providing an aura of early morning and homely laziness.
While much of the main shoot at the ranch remains in post-production now, our pre-final product depicts an editorial POV experience of the beautiful, MILF-y seductress (Lily) you, as the viewer, met the night before at the local dive bar waking up in your bed.
Between the stills and the actual video content we produced to coincide with the setting, the experience features Lily wearing your white button-up shirt, looking sexy for you as she eggs you on to have another romp or two before reality sets back in.
It's truly an example of artistic-minded porn that anyone can appreciate, in my opinion.
I can go on for days about the success of the ranch shoot. The second day of shooting we had later that week prompted this column and the photos laid out in this pictorial.
On January 7, Lily and I agreed to a boudoir-style shoot at the Denver-based studio of another performer, Naughty JoJo (FYI, she's another bombshell Colorado MILF).
JoJo was gracious enough to allow us time in her studio, where we shot much of the set you see here with the actual presence of professional lighting.
We began shooting, and I immediately started to speak more personally with Lily and the real-life human being behind the steely-eyed persona.
I'll spare you details of this shoot. The shots were a success, and again, I was blessed to work with a natural talent on camera. Lily killed it both days. The real highlight of January 7th was when I could sit down, fully clothed, at a pleasant Irish gastropub in the middle of Denver. She was an open book, dear reader. She held absolutely no punches in our chat.
Naturally, I asked her: "Why the adult entertainment industry? Tell me who is the character Lily Craven and the real person behind her." She chuckled and unloaded (in a good way).
"Lily Craven is a kind-hearted, empathetic, independent mature woman," she said. "I get a sense of gratification knowing that I and I alone created what Lily Craven is today. I have my own brand, and I am proud of what I created. The best part is no one can take it away.
Lily elaborated that people's preconceived notions towards adult entertainment are wildly exaggerated and misinformed. "Some may roll their eyes and say, 'yeah, your good at fucking people?'  But filming is a very small part of what talent actually does."
Many performers are single-person shops that deal with every aspect of running a business and competing in a cutthroat environment. It's not just fucking, as Lily puts it.
"I work very hard and long hours, and no, I'm not referring to having sex all day and night," Lily said bluntly. "Creating a successful brand requires marketing, promoting, networking, social media on multiple platforms, running multiple content platforms, editing, producing, and communicating with the fans. I average 15 hours a day, seven days a week. I don't take days off. If I did, everything would fall behind. At a minimum, you want to maintain the progress you have made. Slipping backward is not an option. And let's not forget there is no education to prepare you for becoming a pornstar: no college courses to teach you the ropes. It is self-taught; hit and miss. A lot of time and energy goes into trial and error."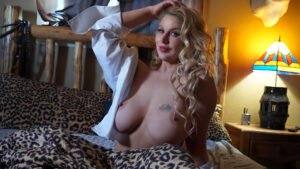 "My niche focuses on an older mature MILF who is experienced, yet nurturing," Lily added. "She has gained her dominance from entering the stage of life where she has raised her family, and now it's time for her. She knows what she wants, what she likes, and how to get it. Young men dream of having a woman this experienced and loving at the same time."
"She knows how to take care of the ones she loves. She exudes confidence."
A server broke up the conversation and brought me a Guinness and Lily her drink. We soon decided on food, and we sent the attentive server off to place our orders with the kitchen.
I navigated the conversation towards Lily and her content creation and its scope.
"What my fans want, my fans get," she said. "My scope of erotic content mainly consists of taboo step mommy fetish—a lot of solo work. On occasion, I bring in a POV male talent to play the role of my son. I can connect with my viewers when talking to them directly on the camera. My scope of content extends to oversized toys, fisting, stretching, big boob play, and lots of dirty talk. I am extremely flexible and kinky."
Lily also runs a podcast that is syndicated across platforms on the internet and radio.
She brought this up as our food finally came to the table, and the aspect of sex shifted towards her other ventures in adult entertainment.
This includes her podcast: the Phone Sex with Lily Show. I am an audiophile, and I love podcasts. So, naturally, I asked.
"I interview adult industry talent in front and behind the camera," Lily explained, describing the structure of her show and what is discussed. "At the beginning of each episode, I subject my guests, unknowingly, to phone sex. I never know what I'm going to hear next. After phone sex, I interview my guest, asking about their life, how they got into the industry, their job title, upcoming projects, and wherever else the conversation takes us."
Lily and I continued our conversation and finished our lovely meal. I asked a final question before we parted on January 7.
It was simple: "What are your plans, and what are the goals to advance in the industry?"
Walking with Lily to her truck in the snowy night, she opened up.
"I am constantly presented with new ideas and things to explore," she said. "We are artists. We are coming up with new concepts and collaborating to make them come to life."
"Rarely can I set a goal and achieve it, as planned," she said. "
That's the exciting part of this industry. You never know where you'll end up, but I can guarantee it will be in a place you never expected."
"For the short-term, I want to continue to build on my podcast reaching larger an audience," Lily added. "I want to progress to video interviews that are conducted on the road, in person."
Well said. Lily and I hugged each other goodbye, and we went our separate ways. Since, she and I have been working diligently to edit the content we shot. More to come, lovelies.
Michael McGrady is a contributing editor to ASN Lifestyle Magazine, and writes the monthly Death, Taxes, and Sex column where he covers adult entertainment, culture, and politics.
Follow Lily Craven on Twitter @LilyCravenxxx.
To listen to the Phone Sex with Lily Show, search for it on Spotify or wherever you get your podcasts. You can also find her show at SkyHawkAfterDarkTV.com.
The March 2022 issue can be found HERE