(Miami, FL / March 16, 2023) — There's a pot of gold waiting for you over on TeamSkeet with 13 all new scenes featuring Violet Gems, Sweet Sophia, Mira Monroe, and many more of the hottest names in porn today! Sign up as a TeamSkeet member today and get 5 months free when you join!
Binky Baez plays a sexy round of Twister with her step dad, Bobby Beefcakes, on Dad Crush's "Hot Hot Summer". It's finally summer vacation, but Binky's stuck at home and bored. So she finds entertainment in seducing her step dad into playing with her. The two sneak around Binky's mom, Ashley Styles, until things get steamy in the laundry room.
Curvy and flirty babe, Julz Gotti, shows off all her assets on Teen Curves, "She's So Yummy". Lucky stud, Peter Green, joins in and gets a taste of Julz's voluptuous figure and her erotic bedroom skills.
TeamSkeet is proud to welcome Khloe Kingsley on She's New, "A Not So Innocent Newcomer". Khloe is a newbie to the porn industry. So we sat her down and asked about all her dirty little secrets and fantasies before officially getting into her very first boy/girl scene with Max Fills as the lucky first dibs man.
Bad Milfs features a naughty Violet Gems, who tricks her festive stepmom, Armani Black, in "St. Patty's Pussy Pounding Party". It's St. Patrick's Day and Armani is ready to celebrate with Violet and her husband, Sergeant Miles. Violet wants to party with her friends instead, so she entices her stepdad with some sexual favors in return for him keeping her secret from her mom. But when Armani catches them in the act, she demands to be part of the fun.
Sweet Sophia portrays a hot leprechaun on a special St. Patrick's Day Exxxtra Small update, "Worth Her Weight in Gold". When Dan Damage finds pieces of gold coming out from inside his house walls, Sophia appears and tries to get her gold back. After some back and forth between the two, Sophia knows that the only way to get her gold back is by lifting her dress up and revealing to Dan her lucky charms.
St. Patrick's Day is all about wearing green– or else you'll get pinched! Mira Monroe has been getting pinched by her stepdad, Rusty Nails, all day for not wearing green on Family Strokes special update, "Pinch me, I'm Irish!". After getting constantly pinched, Mira goes behind her mom, Ryan Keely's, back and gives Rusty a blowjob as her way of payback for the pinching. Now Rusty is hooked on his step daughter and wants more!
Amy Quinn will do whatever it takes to impress her college crush in new Sis Loves Me update, "Amy's Anal Training". Amy's college crush is super into anal sex, but Amy has never done it before. She seeks help from her stepbrother, Conor Coxxx, to teach her everything about anal. Conor has no problem helping his little sister, as long as he gets to show her hands-on what anal is really all about.
It's St. Patty's Day on FreeUse Fantasy's "Pinched by a Leprechaun!". Emma Bugg and Octavia Red discuss all about the Irish holiday superstitions, including getting "pinched" by a leprechaun for not wearing green or shamrocks. Octavia doesn't believe in any of it, but is surprised when she finds herself getting "pinched" from behind by the mischievous invisible leprechaun, Donnie Rock. Eventually the girls grow to appreciate the leprechaun's presence and allow him to do what he wants with their bodies!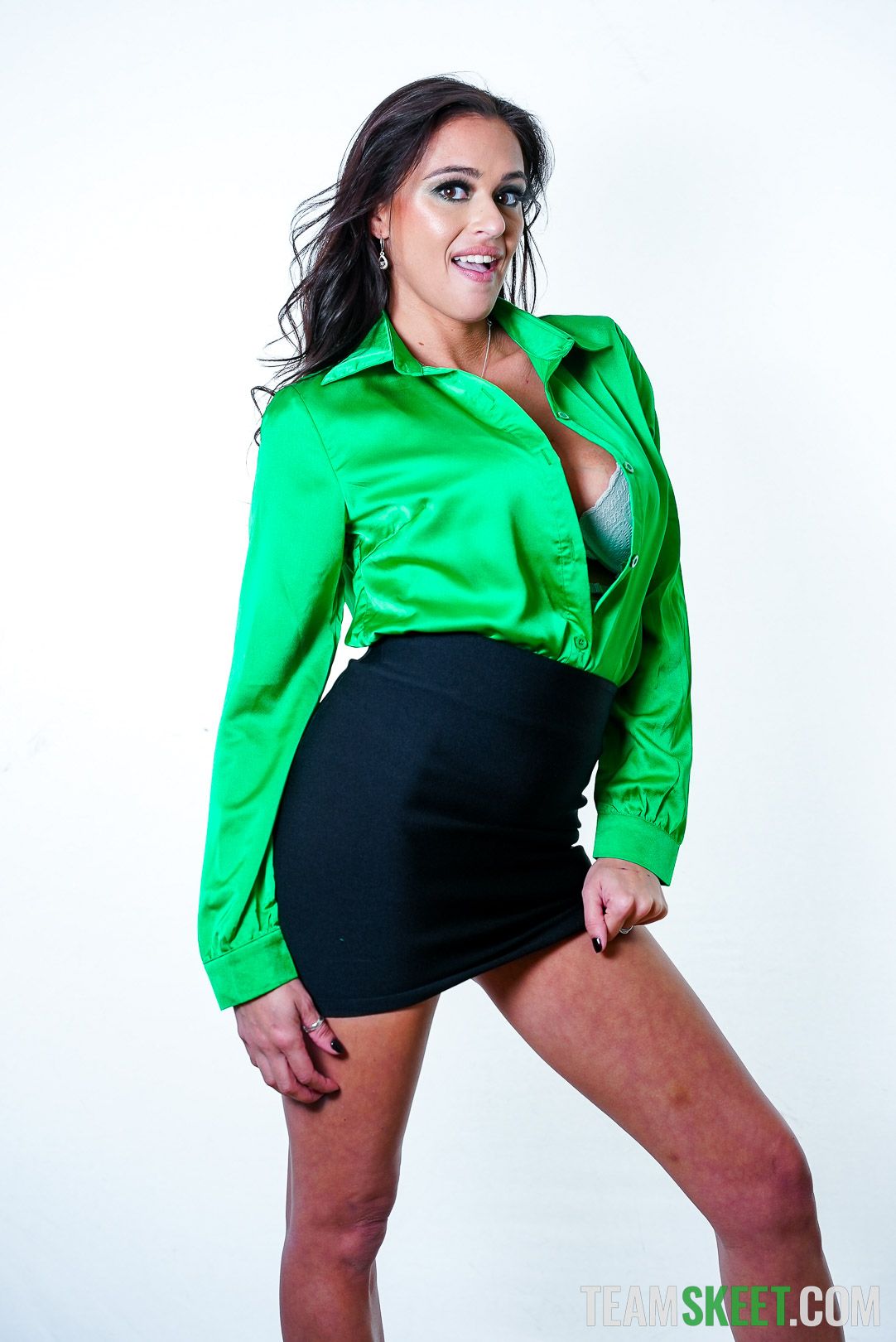 Shoplyfter reveals security footage of troublemaker Sia Wood in "Case No. 7906237 – The Feisty Thief". Sia is refusing to comply with loss prevention officer Dorian del Isla. So he has no choice but to strip search her and bend her cute little butt over on the table for a cavity search. Dorian can't help but get a hard-on throughout the process and let's Sia know that he'll let her go on one condition– she has to help him with his boner!
Amber Stark and Scarlet Skies are very excited for their Spring Break beach party, even their step brother Rion King is joining them in Step Siblings latest scene, "Spring Break Ready". Once the step-sibling trio is ready to go, Rion begins to have insecurities about himself and isn't sure if he should tag along anymore. The girls now have to work together to build his confidence up, which means showing him how to seduce a girl in bed!
Daughter Swap showcases some "Lucky Swappers" with Clara Trinity and Jade Kimiko. St. Patrick's Day is a holiday mostly for drinking and partying. Clara and Jade are having a blast flashing their tits to everyone at their St. Patty's pool party. However, once their stepdads, Peter Fitzwell and Ryan Mclane, see a video of their daughters acting slutty at this party, they threaten to ground the girls for a year. Clara and Jade know just how to get them to change their minds, by seducing each other's stepdads and having a foursome!
Busty blonde milf Julia Robbie is sick of seeing her stepson Alex Jett just lay around and do nothing all day on PervMom's "Points for Pleasure". She strikes up a deal with Alex, if he can do some chores around the house, then he'll get points from her. With each point, Julia will reward him with a sexual favor.
Mickey Violet is looking to become a sugar baby on Teen Pies newest update, "I Wanna Be Your Side Chick". After overhearing her stepdad, Brad Sterling, on the phone talking about how much money he's making, Mickey starts tempting her dad by wearing thongs and bending over in front of him. When Brad asks her what's going on, Mickey confesses that she heard him on the phone talking about his million dollar company and that she wants in as his side piece. Which means he can do anything he wants with her.
TeamSkeet, 2022's Pornhub Award winner for 'Most Popular Network' and 2023's XBIZ
Award winner for 'Paysite Network/Company of the Year', boasts an extensive erotic
collection of more than 120 network series and 65 premium series, featuring 9,200+ scenes
that highlight the talents of more than 3,300 performers ranging from amateurs to
superstars.
Visit TeamSkeet.com and follow on Twitter @teamskeet and Instagram @teamskeetsociety
###