Compliment your visit to the Great Lake State by diving into our list of Michigan's top cannabis shops.
When people think of Michigan, visions of vast lakes and stories from the golden age of the assembly line are sure to come to mind. In 2018, however, these longtime staples of the state were joined by a budding new industry: cannabis.
The journey started back in 2008, when voters approved the Michigan Compassionate Care Initiative. Intended to legalize the medical use of cannabis, the legislation was subject to a legal battle that eventually led the Supreme Court of Michigan to rule in 2013 that the initiative did not, in fact, allow for the operation of medical cannabis dispensaries.
That was bad news for the estimated 75 to 100 dispensaries that had opened in the wake of the Michigan Compassionate Care Initiative's initial success.
Fortunately, things were rectified under Gov. Rick Snyder, who signed a bill package to allow for medical dispensaries in 2016. The following year, a ballot measure to legalize adult-use gathered the requisite signatures, and, in 2018, Michigan's voters approved the Michigan Regulation and Taxation of Marihuana Act.
Highest rated recreational dispensaries in Michigan
As the first state in the Midwest to approve cannabis for recreational use, Michigan has quickly become a regional destination for adults looking to experience and enjoy legal cannabis. From Lapeer to Detroit, from the state's first tribally owned dispensary to spots with amazing deals, there's a wealth of choice when it comes to where to shop.
To find the top of the crop in an ever-crowding field, we turned to reviews from Leafly users to amass of list of your favorite recreational dispensaries in Michigan.
2401 W. Genesee St., Lapeer — Recreational
⭐ ⭐ ⭐ ⭐ 4.8 star rating out of 30 dispensary reviews
In operation since the fall of 2021, the Lapeer installment of Consume is but one of eleven dispensaries the company operates across three states. Despite overseeing so much real estate — the chain also has stores in Arizona and Illinois — the level of quality at their Lapeer dispensary was impressive enough for Leafly users' to crown it as the top recreational dispensary in all of Michigan.
"I really liked the friendliness of the entire staff," noted one user in a five-star review. "They helped me to find the best deals and it was top quality flower too!"
With a stated emphasis on education and empathy that starts with a well-trained staff and ends with happy customers, Leafly users offered high praise for the budtenders at Consume Lapeer.
"Extremely knowledgeable and friendly staff. Awesome experience," shared another user, while a third echoed the value of the staff's positive demeanor as well.
"Everyone there was really nice and informative," they wrote. "Good prices on products and very conveniently located."
2736 W. M-28, Dafter — Recreational
⭐ ⭐ ⭐ ⭐ 4.8 star rating out of 11 dispensary reviews
You won't need to consult the stars to find Dafter's Northern Light Cannabis Co — but you may want to gaze up at them for a while after you've paid them a visit. Recognized as Michigan's first tribally owned dispensary, Northern Light Cannabis Co was founded with a stated mission of making cannabis "an affordable, authentic, and high-quality experience."
A quick scroll through the reviews of Leafly users proves this people-powered pot outpost is living up to their promises. One five-star review noted that the budtenders at Northern Light Cannabis Co are "always wonderful," while another praised the staff as being "very friendly… super cool people."
"Had a great experience," begins a third rave review. "The staff was very knowledgeable and helpful. Product selection was excellent. Tried the Dots gummies and was blown away. Keep up the good work guys!!"
26324 US-12, Edwardsburg — Recreational
⭐ ⭐ ⭐ ⭐ 4.7 star rating out of 8 dispensary reviews
To lay eyes on one of the finer cannabis showrooms in all of Michigan, you'll need to head to Edwardsburg. There you'll find Dr. A's Re-Leaf Center, a popular dispensary that's licensed for both medical and recreational sales.
At Dr. A's, it's easy to get personal attention thanks to the shop's robust staff of budtenders. In addition, their menu features the latest bud from Alvarez Cultivation as well as a wonderland of other products and remedies.
"Great staff and best selection in the area," one Leafly user wrote in a five-star review of the shop. "Highly recommend ordering online instead of waiting in-person."
114515 Laplaisance Rd., Monroe — Recreational
⭐⭐ ⭐ ⭐ ⭐ 4.9 star rating out of 379 dispensary reviews
Deals are the word of the day at URB Cannabis. Headquartered in Monroe, this dual medical-recreational dispensary is all about saving their customers money wherever possible. To that end, they've instituted a rewards system where shoppers can earn loyalty points on every purchase made.
Sweetening the pot, URB Cannabis is also currently covering Michigan's 10% excise tax on all medical purchases. And did we mention the $89 ounces? There are $89 ounces! Leafly users shared our enthusiasm, with one complimenting the "awesome staff [and] great deals."
"I absolutely love this store," reads another enthusiastic Leafly user review of URB Cannabis. "Everyone is so nice and helpful. They have amazing deals too! Definitely going to be a regular here."
44184 Pier North Blvd, Flint — Recreational
⭐ ⭐ ⭐ ⭐ 4.8 star rating out of 121 dispensary reviews
When Light'N Up Provisioning and Microbuddery says they deliver, it's not just a figure of speech. This Flint dispensary, licensed for both medical and recreational sales, is now delivering products straight to customers' doors. It's but the latest perk that comes from being a customer at this uniquely named and highly beloved medical marijuana provisioning center.
Another benefit is Light'N Up's VIP Best Buds loyalty rewards program, while the dispensary's in-house line of product categories (Unplug, Refresh, Elevate, Relax) make finding products that fit your needs a breeze.
"I love this place," reads one five-star Leafly user review. "Everyone is so nice, and knowledgeable about the products."
"They remember you and are always very helpful," shared another user. "Definitely recommend."
3557 Wilder Rd., Bay City — Recreational
⭐ ⭐ ⭐ ⭐ 4.9 star rating out of 199 dispensary reviews
No visit to Bay City is complete without a detour to Remedii. Offering secure parking, special discounts for first-time customers, and a generous selection of flowers and concentrates, Remedii is a recreational dispensary that loves to connect consumers with the people who make the products they love.
They accomplish this through weekly vendor days: a rare opportunity for customers to engage directly with the folks behind their favorite brands. Couple that with ongoing discounts for veterans and senior citizens, plus a loyalty program, and you can see why Leafly users have lots of kind things to stay about Remedii.
"Thanks for the excellent service," one grateful Leafly user wrote. "Not only was I able to get some sleep, so was my dog. The CBD definitely helped calm him down."
"Awesome workers!" another user enthused. "Makes your shopping experience great and comfortable."
11702 S. Main St, Ann Arbor — Recreational
⭐ ⭐ ⭐ ⭐ 4.9 star rating out of 52 dispensary reviews
Ann Arbor's Herbana is a recreational dispensary with an instantly recognizable bright blue awning. Step inside and you'll find a curated menu that's constantly being updated to feature the latest and greatest product selection. That includes flower in various potencies, bulk pricing, and a wide array of edibles, concentrates, and more.
Simply put: Leafly users love this place.
"The staff was absolutely amazing," reads a five-star review from one satisfied Leafly user. "Super chill, extremely knowledgeable, and incredibly polite. I went out of my way to come here for the deals, but after sampling their product mixed with the amazing atmosphere and staff, I will absolutely be a return customer!"
"This place is awesome, point blank," another user stated. "They never pressure you into buying more or spending more, or make you feel bad for spending less like some places do."
Highest rated medical dispensaries in Michigan
As noted above, Michigan's path to allowing recreational cannabis in 2018 first began with the approval of medical sales in 2008. Today, there are some dispensaries which continue as medical-only operations. Other dispensaries are licensed for both medical and recreational sales, meaning it's incumbent on consumers to be look into the licensing status of any dispensary they plan to visit.
11400 E. 8 Mile Rd., Detroit — Medical
⭐ ⭐ ⭐ ⭐ 4.9 star rating out of 1899 dispensary reviews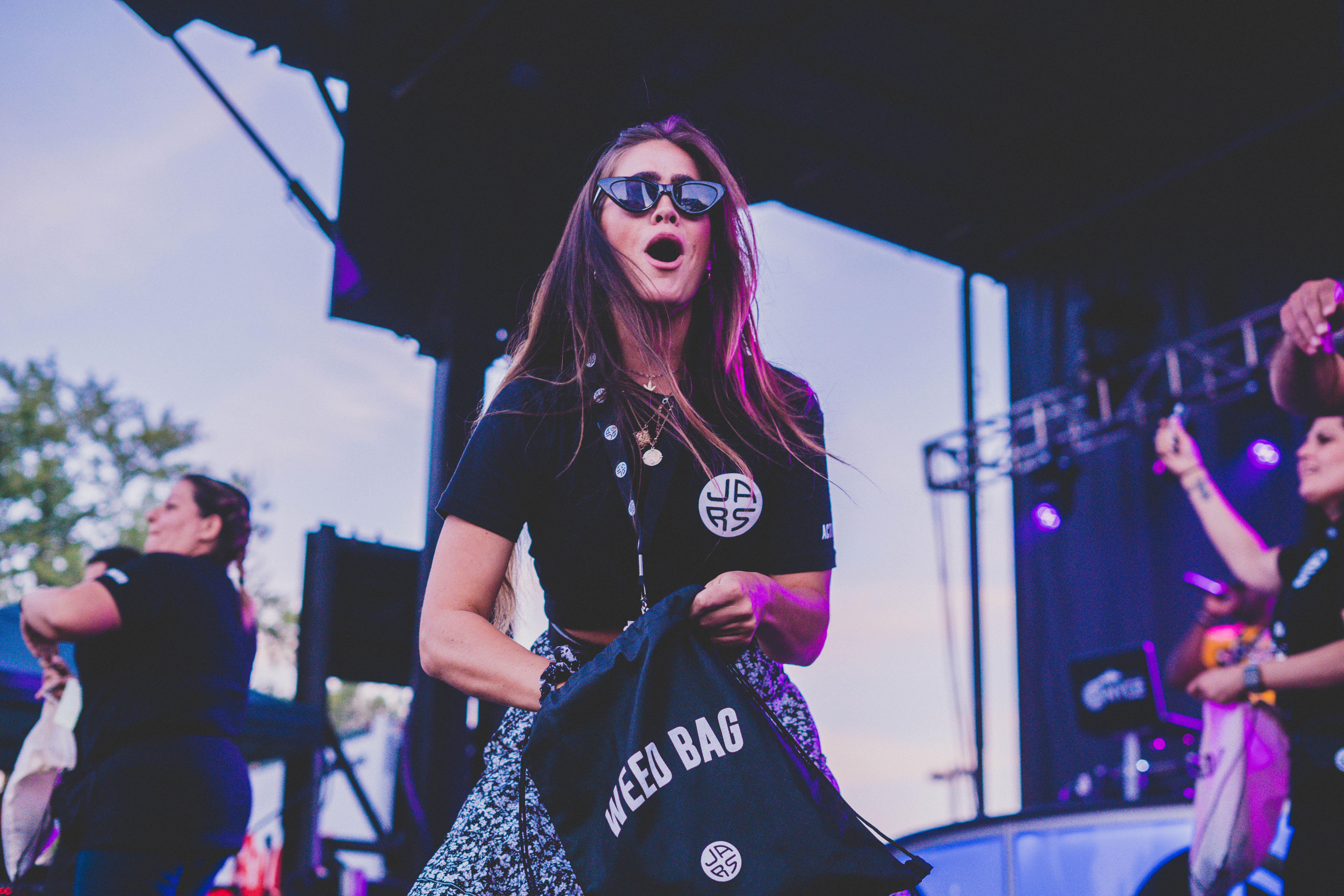 Medical patients seeking great deals on high-grade flower know that East Detroit's JARS is a staple stop. Swing by their storefront to get tailored advice from progressive, patient budtenders and to take advantage of deals like $99 prepackaged ounces.
In total, JARS has nearly twenty locations open or soon-to-open in Michigan alone. They also have a footprint in Arizona, but despite their impressive, multi-state presence, visitors to JARS East Detroit can expect genuine care and a personal touch from their thoroughly trained, always happy to help staff.
That's why one Leafly user proclaimed JARS to be their "go-to dispensary for any and all cannabis needs," adding that the store has "a great variety of quality items and the staff is awesome too."
38110 Michigan Ave., Wayne — Medical
⭐ ⭐ ⭐ ⭐ 4.8 star rating out of 1533 dispensary reviews
Want to take a gander at the full breadth of legal cannabis products available in Michigan? Set your GPS for Wayne's Joyology, where the menu runs over 1500 products deep.
Conveniently located on Michigan Ave (just across from the "Ford Plant"), Joyology is a medical-only dispensary with sensible prices and a caring staff that can fluently speak to the myriad of items they have for sale. Out-of-state visitors with valid medical marijuana cards from over 20 states are also invited to shop at Joyology, making it a popular pick among Leafly users from beyond Michigan too.
"I love the 'vibe' of this place," one reviewer wrote. "It's popular for a reason. Their Friday deals are bomb. The staff is very nice and personable as well."
5108314 Portage Rd., Portage — Medical
⭐ ⭐ ⭐ ⭐ 4.8 star rating out of 871 dispensary reviews
Lake Effect first made a splash in Southwest Michigan back in 2015. Since then, they've become a favorite of patients as one of the state's premiere medical-only dispensaries. Daily deals, online ordering, the largest delivery radius in Michigan, and a generous bonus program all speak to Lake Effect's commitment to the patients they serve.
Within that community, the locally owned and operated dispensary is especially focused on the needs of veterans. Prominently displayed on one wall of Lake Effect is an American flag, signed by the owner's platoon. Emphasizing care and compassion, the Portage pot shop has earned tons of kudos from Leafly users.
"Love it here," one user wrote. "They are so helpful and knowledgeable. You will never go anywhere else. It's a must try for anyone." Shareed another: "They feel like family to me."
15308 E. 8 Mile Rd., Detroit — Medical/Recreational
⭐ ⭐ ⭐ ⭐ 4.9 star rating out of 1612 dispensary reviews
3Fifteen is a Detroit dispensary offering medical and recreational sales plus the incredible perk of free delivery. Enticed? The perks get even better for those who join the shop's Club315 rewards program, where offers like $25 in credit for your first $100 spent are as potent as the flower on their shelves.
"Great service every time," raved one Leafly user. "Fast and friendly delivery, great deals, great prices, safe and clean. Best dispensary in the area by far! Keep up the good work."
There was also lofty praise for the store's selection of vape carts, with another Leafly user calling 3Fifteen "my go-to place for carts, hands down!"
"I purchased several vape cartridges at this location today," a third Leafly user wrote. "[The] staff were exceptionally friendly and helpful. This will be the location I visit from now on."
11990 Pulaski Rd., Hanover — Medical/Recreational
⭐ ⭐ ⭐ ⭐ 4.9 star rating out of 13 dispensary reviews
Comco Wellness is Jackson County's one-stop-shop for medical and adult use cannabis sales. Now offering home delivery, the operation is staffed with Missouri locals and places great emphasis on being a welcoming space for everyone in their local community.
Comco Wellness is also stocked with products from top brands like STIIIZY and Kiva and proudly offers discounts to senior citizens, cancer patients, and both active members of the military as well as veterans.
One Leafly user — a self-professed longtime customer — praised the shop in a five-star review for its "excellent service" and "knowledgeable and friendly staff."
"If you want to be treated as a friend, with respect, and have a really enjoyable time chatting and buying cannabis," the review concludes, "then look no further!
8600 E. 8 Mile Rd., Detroit — Medical
⭐ ⭐ ⭐ ⭐ 4.6 star rating out of 396 dispensary reviews
Buying in bulk should never mean breaking the bank and especially not when you're a licensed patient. That's what House of Dank believes — and they have the deals to prove it. How does an ounce of Critical Hog or Lilac Diesel for $50 sound? We thought so.
With nine locations total, House of Dank has a claim as Michigan's leading cannabis company. Their Bel-Air location is medical only but is nonetheless a great example of why House of Dank has found so much success in the Great Lakes State: experienced budtenders, a menu packed with heat, and prices that won't cause heart palpitations.
"I love going there," one Leafly user shared. "One of my favorite spots."
"I've been coming to this location for around a year now," begins another five-star review. "The flower and wax are always fire, not to mention the budtenders, [who] are always throwing off good vibes and [are] real knowledgeable. If you want some good quality medicine, make a trip here."
Selection Criteria for Leafly List
To calculate the highest-rated dispensaries in Michigan, our Leafly List team uses a methodology based on quantitative and qualitative review data of dispensaries listed on Leafly, as well as other quality indicators, like reorder rates and deals availability (in markets where discounts are legal). Our teams are dedicated to showcasing a wide variety of highly-rated medical and recreational dispensaries.
If you don't see your favorite dispensary on the list, make sure you follow, rate, and review your favorite cannabis locations to let the world know where you find your favorite cannabis.