(Las Vegas, NV / October 6, 2022) — Valentina Bellucci is making moves to Tampa Bay this weekend for the 30th annual NightMoves Awards weekend, where she is set to appear at 4 Play Gentlemen's Lounge for NightMoves' 'Night of XXX Stars', Friday October 7 at 10pm.
The seductive brunette beauty will be among the many adult film stars on hand for the fan and industry meet & greet at the St. Petersburg club, part of NightMoves' five-day festivities taking place across the Tampa Bay area.
"NightMoves Magazine is legendary, and so is the awards show, and –  so I've heard – the awards show's parties and after-parties," enthused Bellucci. "I am definitely looking forward to joining in on the fun for the 'Night of XXX Stars' at 4 Play this Friday night… see you there!"
To learn more about NightMoves Awards' 'Night of XXX Stars', visit 4 Play Lounge's Instagram page.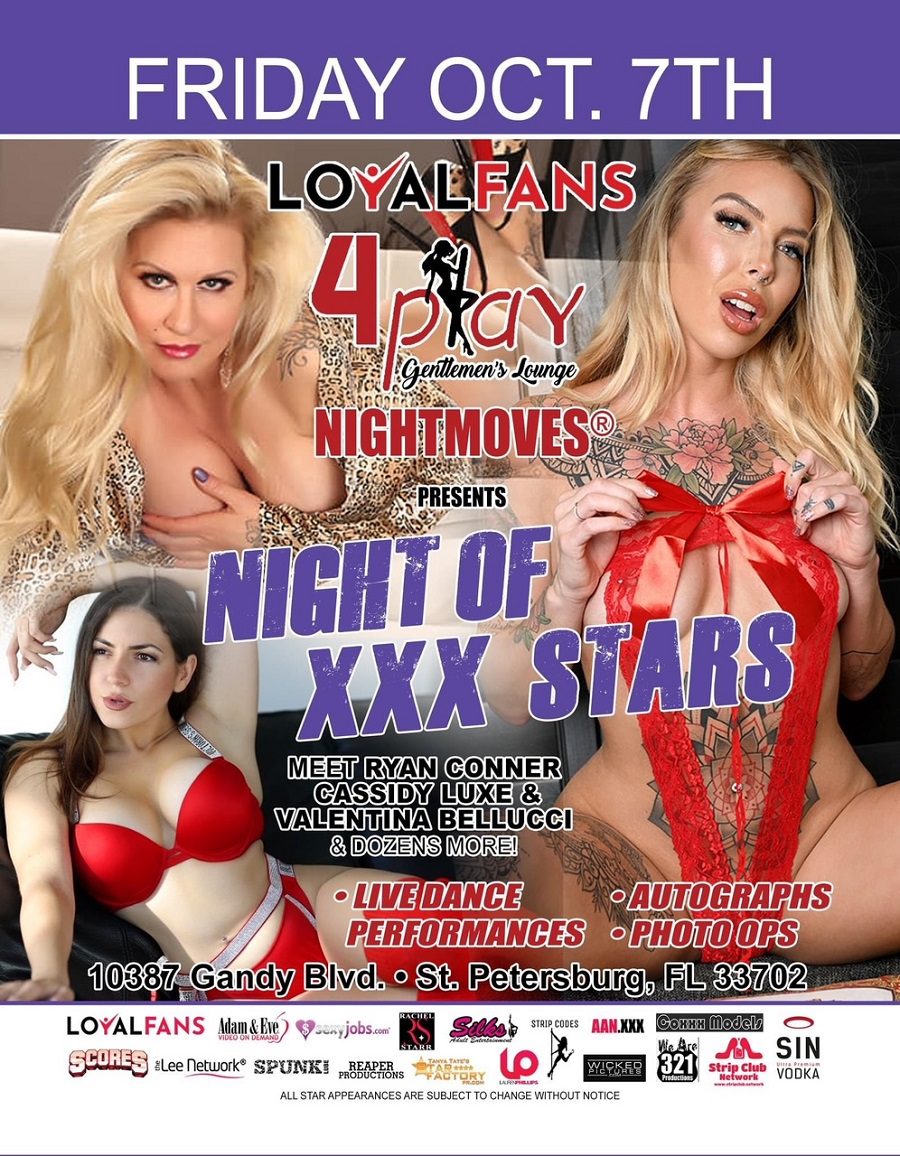 Valentina Bellucci is available for booking through Coxxx Models at [email protected].
Find and follow her and Step House at:
ABOUT VALENTINA BELLUCCI:
Italian beauty Valentina Bellucci is a bright new talent with an eye on making a name for herself as a respected performer, producer, content creator and studio head for Step House (
stephousexxx.com
), a brand new erotica imprint and website that highlights the works of adult's newest amateurs alongside its biggest stars.
Growing up, Bellucci lived in the southern Italian region of Sicily and regularly moved around the U.S. and Europe; she has always considered herself a sexual person who dreamed of one day performing, producing and directing erotica, and gained some early experience as a music video producer while still in Europe before settling permanently in the U.S. – she currently resides in Las Vegas – more than 10 years ago.
In 2020, Bellucci began shooting solo content for adult clip sites as a means of making extra money, and found that she could express herself creatively on her own terms. In early 2021 she started shooting for the industry's top studios before launching Step House in November.
In her free time Bellucci, an avid fan of the outdoors, can be found in the mountains and deserts of Nevada and California hiking, skiing or off-roading along the winding trails seeking adventure with her two favorite companions, a French bulldog and Cane Corso mastiff.
# # #
Press and media contact: