Lilly and I have been having a series of fun conversations on our podcast, Speak Seductively, with a good friend of ours, Annabel Allan. Annabel is a talented author and expert on the BDSM lifestyle. She should be, as she lives the life and writes about it in her books. Annabel is a Dom, although admits to having switch tendencies and has been a wealth of information. If you are looking for a good BDSM series try her "Goode Pain" series of books on Amazon.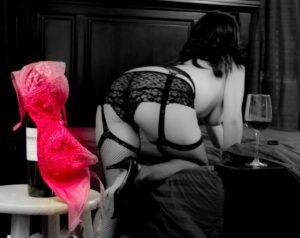 In our last Speak Seductively episode (February 13, 2022), we began talking about what we are calling the 'Kinky Ladder'. It's a fun little analogy, created by Annabel, for the different steps people might take as they explore their sexual wants and desires. Of course, everyone's ladder is different. We all have our individual ladders as well as ladders we share when in a committed relationship. In our first episode, Annabel does an amazing job describing how she, as a single woman, made her first steps into the BDSM community. I won't give away her story. You will have to tune in and listen to it. 😊
For our part, we talk about the difficulties and learning that took place for a relatively vanilla couple, us, to find our way into the lifestyle. If you read our December 2021 article you know that we took a long path that started with, and still continues with, photography. Then on to naturism and from there our first experience swapping with some naturist friends of ours.
Over the last few years, Lilly and I have explored our 'kinks' and climbed several rungs. We've learned a great deal about those 'kinks,' about ourselves as individuals and about us as a couple. As we shared our history with Annabel, she told us she was fascinated how we negotiated our way as a committed couple. Which brings us to our single most important and underlying theme for that first step or rung, if you will, Communication and Trust.
The three of us agreed that Communication and Trust formed the foundation of that first step on the ladder. For Annabel, as a single woman, it meant getting to know people in the BDSM community, building relationships with them and moving at a pace with which she was comfortable.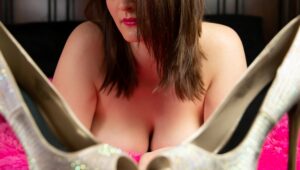 For Lilly and me, that first step was one that we jumped on right away. We had decided, after some earlier bad relationships, that we couldn't commit to another person unless we were completely open with one another. Perhaps it was easier for us because we'd been friends for years prior to our dating. Regardless, we made sure we communicated our wants and needs in the bedroom as well as out. In fact, our honesty in the bedroom led to much easier communication about life outside of the bedroom.
For us, the trust portion came with trying new things. I'll focus on photography here (see what I did?) One of the first kinks Lilly and I explored did involve photography. We began with lingerie, then artistic nudes then erotic couples' shoots. With each advance, we talked about what it meant for us as individuals and as a couple. For instance, after doing some very nice lingerie shoots, we decided to post them on various sites. Before we did, we asked each other questions such as:
"How do you feel being nearly nude and seen by thousands?" "How do you feel about thousands of people seeing me nearly nude?" These simple questions led to more complex discussions about our relationship and how we would feel about doing more. Even then we were flirting with the idea of swinging.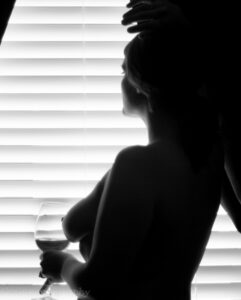 Really, that part was more was an issue for me. Lilly had already shown me the nudes she'd done in college. It was difficult for me, at first. Something I chalked up to my conservative upbringing and old school male values. Lilly and I discussed those things up front, acknowledged my feelings and talked about next steps. Over the next few months, as I photographed Lilly in nude sets, I faced up to one of my kinks. I am a voyeur. More than that, I enjoy people looking at Lilly when she is nude or having sex.
Lilly also realized something about herself. In her college modeling she said she was never aroused; she treated the shoots as a 'job.' There was also an element of concern that friends or family might discover her. When we began doing sets together, she told me it was much different. She treated the shoots as foreplay… OK, so did I. It was after we started receiving comments about her photos that she truly realized she was an exhibitionist.
Lilly was embarrassed, at first, when she told me she liked hearing how 'fuckable' she looked. I shared in that embarrassment when I confessed that I loved hearing the comments too. Again, the sharing, the open communication enabled us to work together as a couple and understand our true feelings. We began using our photo shoots as ways to explore further fantasies. Everything from toys to swapping and bondage would become the subjects of our shoots and would help us climb the rungs on our 'Kinky Ladder.'
Where are Lilly and I on the Kinky Ladder? Right now, we are pausing on step 3 of a 6-step ladder. We've occasionally stepped beyond that level. Then, if one or both of us weren't comfortable we'd take a step or two down. More on that, in future articles.
Again, the key is Communication and Trust.
To be continued.
Kyle Canon is an author of intelligent, erotic/romance novels. His writing has been described as '…slow foreplay; building until the reader is breathless with need.' His books and stories often take place in locations in which he and his wife are intimately familiar. From Chicago to Hawaii and nudist resorts in Florida he paints a picture with his words that is easy to imagine. His author page on Amazon is: https://www.amazon.com/by-Kyle-Canon/e/B07481T3S5?ref_=dbs_p_ebk_r00_abau_000000
Lilly Canon, in addition to her day job, is a model, voice over artist and book narrator. She is the voice behind all of Kyle's audible books as well as those of many other authors. She is also the cover model for several of his novels and short stories. For samples of her work please visit: https://www.kylecanonfiction.com/voiceoverartist