Two years ago, ASN Extreme Lifestyle Magazine interviewed Jupiter Jetson when she was going by Nova. Back then she was working at Sheri's Ranch and still is one of the top companions and prominently featured on their site. One big change is that she made the leap into adult, has worked with some of the top studios, and accrued a loyal following of fans. 2022 has already brought change, including a new name (formerly Nova Sky) and signing with a new adult talent agency for representation. For Jupiter, the only way is up.
It's great to interview you again. What has changed over the last two years besides making the leap into adult and the new stage name?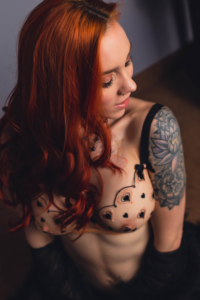 I don't know if much has changed, per se. I feel like I'm on the same road, but I've traveled so far that the forest has turned to desert sagebrush; just a little farther, and I'll be at the ocean. It's been an excellent trip so far.
2022 seems to be a year of great change for you. You've signed with Nexxxt Level for talent representation, rebranded, and brought on a PR team. What are some of your goals this year?
I wouldn't mind singlehandedly bringing about world peace with my big honking mommy milkers, but I decided I'd settle for 100k followers and being a centerfold.
You've worked for some top-shelf studios like Cherry Pimps, Team Skeet, Gamma, and WankzVR. Who was your first scene for, and what was it like? What has been your favorite scene so far, and why?
I've been so blessed with the scenes I've gotten to be a part of, so it's really tough to choose a favorite! My very first scene was a solo live show for Cherry Pimps "Wild on Cam" on Streamate. I recently got to work with them again on the same show, but this time it was B/G with Oliver Davis. It could be in part because of the special place your first has in your heart, but I would say that they're my favorite set so far to work on.
What adult performers would you like to work with that you haven't already?
This is always the hardest question! I'm such a hornball online, but my mind goes totally blank when I asked. Honestly, the list is so long, but it's got a lot of veterans and newbies on it. If you follow me on social media and see me geeking out over a scene with a specific performer, they're probably on my to-do list.
You released some new content with East Bay Brats available exclusively on your ManyVids JupiterJetson.ManyVids.com. Can you tell us more about it? What did it feel like to receive a 2020 AVN Awards nomination for your work with them? And can we expect more East Bay Brats scenes?
East Bay Brats is one of my favorite things that I've ever done; it was my gateway drug and made me want to work on bigger sets with more people. The chemistry with the group is also off the charts. Plus, it's such a safe space that I can actually point out moments in the film where I'm actively learning something new about my own sexuality on camera. It's intense.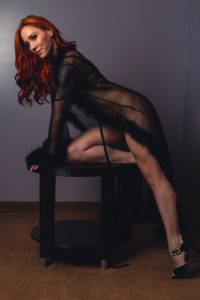 Getting the AVN nomination while the world was on fire was absolutely surreal. I'll never forget Courtney FaceTiming me with the news. Sheri's had been closed for something like eight months, I was living like Matt Damon in "Contagion" and now literally the only project (besides a few content trades/customs) I'd ever shot was up for the biggest award in porn. I lived it, and I still don't feel like it was real.
You're now verified on Pornhub pornhub.com/model/jupiter-jetson. You've posted some boy/girl content and a video for one of your songs. What can we look forward to on your page, and will you achieve world domination on there?
I'm working on setting up content trades, so fans can expect to see a lot more of my work coming up on The Hub soon. Of course, fans can always shoot me a DM with content suggestions. I'm here to give the people what they want.
Your social media (Twitter and IG @ JupiterJetson) has really picked up. Your follower count is up, and you've been posting more photos, videos, and stories. So, why should be we follow you and what can we look forward to?
I'm so glad you've noticed! I've never been an incredibly online person, and getting into the swing of things with social media has been challenging for me. My Twitter followers get the fastest updates about everything I'm up to, and I sometimes offer special rewards for folks who are already following me. So, if you don't want to miss out, you have to be part of the jet set.
You're still at Sheri's Ranch, and we notice you have a perfect score of 5 out of 5 and 84 client reviews. That's impressive. What sets you apart from the other girls? And what do you like best about working at Sheri's?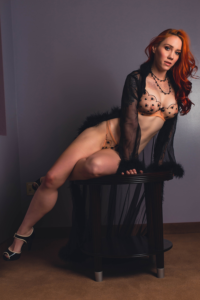 My favorite thing about being at Sheri's is that every woman who makes it here has something that sets her apart from the other ladies. It's like a sexy assassin school from a comic book origin story. Concert violinist, competitive archer, opera singer, lawyer: these are just a few of the "day jobs" some of the ladies at the ranch have held. Me? I rely on looks and charm.
You're a woman of many talents. You play guitar, sing, and just released a 5-song EP on Spotify. How did you get into music? How would you describe your voice/style? What's the difference between being creative in Germany vs. the US? And will more music be released soon and available on more platforms?
I got into music really young. I grew up watching my uncle's band practice, and he gave me my first guitar. It was a no-name acoustic with action that would make a journeyman's fingers bleed, but I was obsessed. It wasn't long after that my mom overheard me singing to myself while I was doing my homework. She was so shocked that I thought I was in trouble, but she went to my school the next day and had them get me into the choir.
As for music, there's always more coming as long as I'm alive. I love working in adult mainly because it pays all of my bills doing something I love and gives me the freedom to make and release music without the pressure of whether or not it will be profitable.
In Germany (where I first started making music as my sole source of income), I was never wealthy, but I was comfortable. If I played two or three shows a week and did a little busking, I could easily handle my bills and even splurge from time to time.
As soon as I came back to the States, I had to get a "real" job. I could play two or three shows a week, but that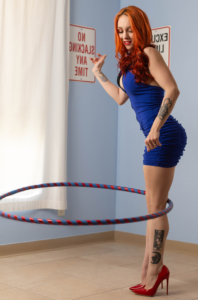 would require me to convince my landlord to accept "exposure" as payment for rent. When you're starting out in music, there's an expectation that you'll be happy to work for free because people getting to hear you should be payment enough; to me, that's really disrespectful. Could you even imagine a porn studio operating that way?
Jupiter, you have some nice ink. Can you tell us about your pieces and any backstories behind them?
Thank you! Most of my tattoos don't have a deep meaning; I think of them as snapshots. I like the physical reminder of the places I've been, and so for me, the illustration may not mean much, but the memory does.
You have a lot going on with your work at the ranch, creating content for your multiple platforms and making music. So how do you keep going?
Coffee. Lots and lots of coffee.
What would you like to tell the readers at ASN Magazine?
Just that they're amazing! Really, I've had so many lovely people reach out since my first interview with y'all, and you have the best readers! Thank you again! Stay awesome🖤
Make sure to keep up with all of Jupiter Jetson's adventures and follow her on Twitter and IG at @JupiterJetson.
Find out more about her escapades at Sheri's by checking out her profile sherisranch.com/lady.aspx?id=814.
And check out her music on Spotify and soon iTunes, Apple Music, YouTube Music, SunCloud, and other music platforms.
The March 2022 issue can be found HERE