Casey Carter is an award-winning erotic author, on-air personality, and fetish lifestyle expert. Her knowledge and expertise have made her an industry force whose influence has both educated and motivated publishing professionals, entertainment leaders, and the general mainstream.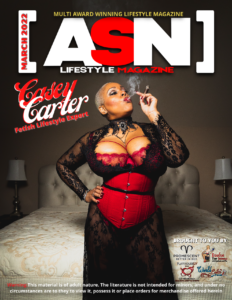 Casey has also made quite the name for herself with groundbreaking literature. The 2021 ASN Lifestyle Magazine Award winner for Best Lifestyle & Adult Industry Erotic Writer, draws from real life experiences to push a readers' perceived boundaries with dynamic, brave, and adventurous protagonists like Kendra in Open House and The Encounter, Beverly in Murder and Tie Me Up, or Pamela in Tribeca.
As host and internet sensation for her web series, "Casey@Night" (Twitter/YouTube), Casey's viewers and social media followers tune in weekly for unprecedented access via the sex and lifestyle show. "Casey@Night" bridges sexual taboos with everyday living. By connecting industry leaders to followers of the erotic lifestyle— "Casey@Night" both educates and celebrates fetish-driven ways of life through LIVE interactive discussion. The success of "Casey@Night" and Casey's Pervertibles Workshop series lead to her 2021 ASN Lifestyle Magazine Award for Best Lifestyle Adult Educator.
Casey is also one of three co-hosts of EXXXOTICAtv's "Boobtube", a weekly series produced by EXXXOTICA, the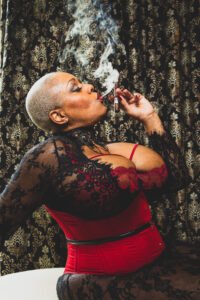 largest Adult Entertainment convention in the country dedicated to love and sex. Each week, Casey and her co-hosts discuss what's good and bad on the big screen, streaming and television. The show airs on YouTube and entertains a wide variety of viewers.
Whether in the classroom, out in the field at various nation-wide events, in the boardroom (or the bedroom), Casey Carter focuses her professional endeavors on the benefits of effective communication, intimacy and sexual awareness.
Her expertise (respectively) includes, but is not limited to: Fetish Modeling, Dominant, Relationship Coach, Literary Contributor and genre-crossing Co-author, and Brand Ambassador for "The Thruster" (Velvet Company).
To Book Casey Carter: 
Follow Casey:
On Twitter: @ReadCaseyCarter & @CaseyAtNight
On Instagram: @TheCaseyCarterExperience & @CaseyAtNight
On YouTube: @CaseyAtNight
On Facebook: Casey Carter
On Tumblr: @TheCaseyCarterExperience
On the web: www.Casey-Carter.com
On Amazon: http://bit.ly/CaseyCarterbio