(Interview By Alyssa originally appeared on YNOTcams.com)
This week, I spoke with P. Rosso, Owner of Gaming Adult, a company that won YNOT's Best Gaming Company two years in a row (2018 & 2019). Rosso, who is French and lives in Bulgaria, gave me a lot of insight into why the company is so successful. First and foremost, passion! Rosso loves what he does, loves working with models, and so does his team. Combined with mad skills, creativity and hard work it's a winning recipe. So, sit back, imagine Rosso's delightful French accent, enjoy a croissant, and read on as he talks about the business and how cam models can get involved!
What are you most passionate about at your job?
Art.
I'm passionate that entertainment is art, and we are providing emotions and a deep connection with people. I love the idea of pushing the limits of artistry through illustrations that we have in our games and through the experience which is also a form of art. I'm a real maniac about that!
How do you come up with the concepts for new games?
It's easy. Alcohol. A lot of alcohol. No, jokes aside, the concepts come from something very simple. I started out very young being into anime, video games, hentai, manga – these types of things. So, our concepts come from this passion. We ask ourselves what games would we like to play? What do we dream of? We are fans in service of fans, so we are going to do something fans love because this is what we fucking love.
Tell us a little bit about your newest game launch – PornStar Harem – that combines the mechanics of Hentai Heroes with the content from adult movies.
It's been exhausting. Number one it's been exhausting!
But it was also super exciting because we were testing new ideas, seeing if the concept worked, trying it with the players, then realizing it did work. But now, I think we a deserve at least a Sunday of sleep, maybe a full weekend.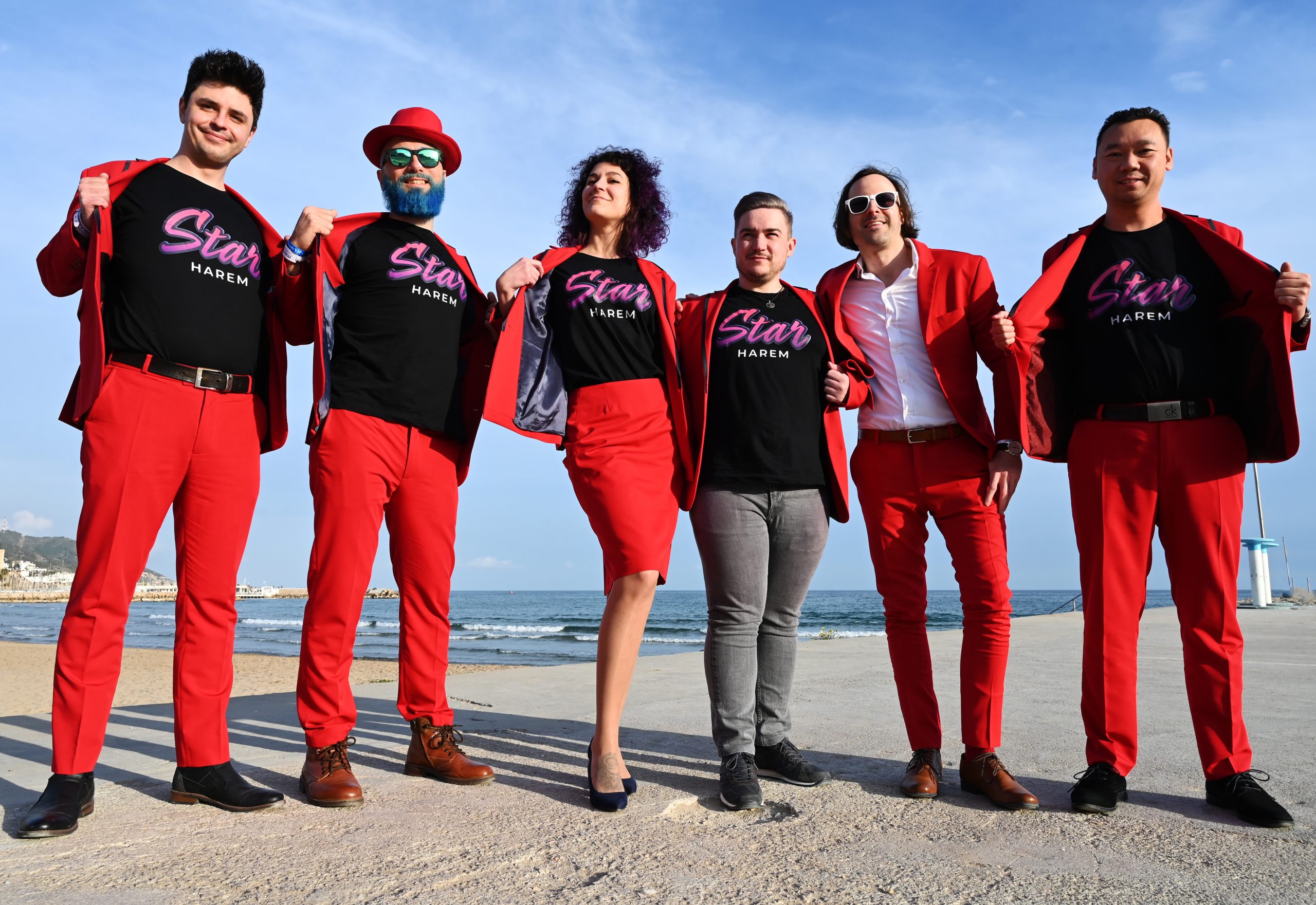 What has your experience been like working with porn stars and cam models?
It's super fun. I think people think that porn stars and cam models are different. To me they are just artists and human beings who are into creating, performing, and connecting. We're on the same vibe because we 're all creators.
Tell us about your affiliate and brand ambassador opportunities.
The porn star harem concept allows us to put any model in the middle of the game and give them a special link – porn star slash your name. The first thing a fan will see when clicking on this link is you as model. You become the center of the attraction. It's a fun experience, it really is. We're interested in working with models directly to give a fresh new experience to players and get them crazy about it.
How do interested models get an opportunity to collaborate with you?
Contact us! But first observe what we do. Check out how we work with stars like Nikki Benz and Sabien DeMonia. Once you understand, just reach out. We are very accessible – Facebook, Twitter, Instagram, email. Or meet us at the shows. From June on we are going to be at Bucharest, Barcelona, Berlin, Prague, and more.
To check out Gaming Adult head over to their website at www.gamingadult.com. To follow Gaming Adult go to Twitter @GamingAdult, Facebook @GamingAdult. PornStar Harem is their most recent game and can be followed at Twitter @PornStarHarem, Hentai Heroes is their most popular game and can be followed at Twitter @hentai_heroes.