CHAMPAGNEFUN…
Kendra is a wife, mother of 4, nudist, swinger, and web cam model.   She was in her 30's when she first gained interest in the lifestyle.  At that time, she would attend events at a local lifestyle club.  This is where she learned that the lifestyle is so much more than sex; to her, it is about the feeling of openly being yourself, feeling confident and sexy regardless of your age, fetish, gender, race, size or sexual preference. She never dreamed that attending lifestyle events would lead her to meeting her husband Tom, making numerous friends and creating a successful business.
Kendra has the same bubbly, sweet personality in her family life, within her friend groups and in her business life. She is almost always wearing a smile and has a warm and caring demeanor that makes others feel comfortable and welcome.
She genuinely cares about others!
She is like so many other mothers, taking her job as a mother very seriously, being strict when necessary.  She also loves to plan fun family outings to engage and bond with her teenage children.  For one particularly rememberable outing she purchased Christmas onsies for the entire family and took everyone, dressed in their onsie to an ice-skating rink for the day!
A recent weekend involved "cook with mom" where each child got to pick a meal that they would like and then they spent one on one time making that meal for the family with her.  As it is with children, one of the requested meals was
cookies for brunch!  Kendra loves to bake, and it is common to find fresh cookies or cakes in her kitchen.
Kendra wants those that she loves to feel special and loves planning surprises.  She is the girl that has on various occasions conspired with her friends and friends' spouses to sneak to someone's place with a birthday cake, banners, streamers and balloons and surprise them for their birthday.
She also has a huge heart for her fans.  She often finds herself chatting with fans about their lives.  Her biggest fan, "JJ", has been there for her from the beginning. He is battling cancer and lost his father within the last year.  Kendra has done a lot of sweet things for him, sending him a teddy bear when he was in the hospital, flowers when his father died and a blanket with a huge picture of herself on it for Christmas.  He has become a true friend to Kendra and her husband!
Kendra loves being on the dance floor, shaking her booty.  It does not matter if she is nude, dressed in a themed costume or at a vanilla event or the comfort of her own home.  She recalls meeting Tom on the dance floor, at a lifestyle club.  She was happy to meet someone who enjoyed dancing as much as she does.  She began to really look forward to lifestyle events where she would see him and dance the night away.
Kendra attracts so much attention on the dance floor that she was called to a mock court at the clothing optional resort where she and her husband are members.  She was prosecuted and found guilty of "shaking that fine ass!"   Kendra did not have a defense and therefore pled guilty to the charges.  The "judge" sentenced her to shake it in front of the court and all the spectators.  She followed this sentence by voluntarily spending no less than an hour in a foam bubble pit full of other convicts!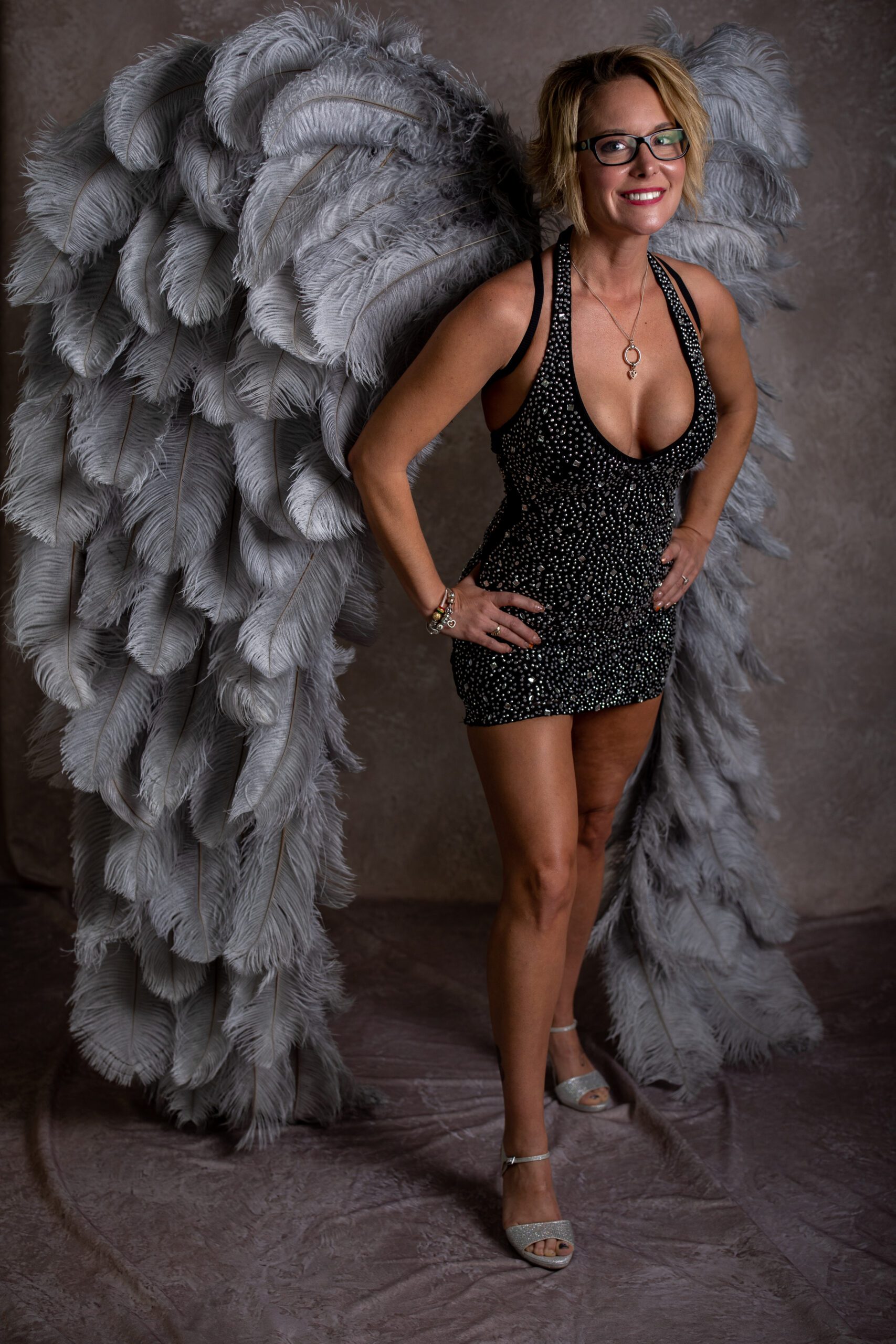 Kendra previously worked for several years in pediatrics.  Being that she was born two and a half months premature, weighing only three pounds and 6 ounces, she had always dreamed of working with babies. To her, it was a way of giving another baby who was struggling a fighting chance like someone had once given her.  While it was rewarding work, the years passed, and she realized that the emotions of an empath and the stress of the medical industry were not working for her.  Additionally, she was earning very little money.  She simply wanted more than this job could offer her.
In the lifestyle she had acquaintances that introduced her to the idea of cam modeling.  She decided to take the plunge and began her business in her home, setting up as the children left for school and tearing everything down before they returned home.  She recalls the early days of being on cam for 6 to 8 hours straight with very few followers, feeling awkward and not making very much.  Kendra kept going and her efforts have paid off!  She currently has a beautifully decorated "she shed" turned into a studio in the comfort and privacy of her back yard.  Her main platform, Chaturbate, has a following of approximately 135,000 fans.  She is in the top 15 on Sextpanther, and in the top 15% on Onlyfans!
In 2019, Kendra was nominated by "JJ" for xbiz awards' "milf cam model" and "rising cam model" categories.  In 2020, she was nominated for "cam model of the year".  She was able to attend the awards show virtually from her studio.  While these nominations did not yield a prize, she is excited and flattered that her hard work is getting attention within the industry.
Kendra's plans for the next year include: building her name and following on all of the platforms that she currently works on, adding a second backdrop to her studio to allow for new and exciting themes, purchasing a shed to convert into a weekend cabin at the clothing optional resort where she and Tom have made many friends and spend numerous weekends each year, making a personal appearance to meet her fans at the Exotica event in Chicago, IL (April, 2021), becoming more organized in both her personal and professional life, continuing on her mission to be debt free, putting her brand on a line of merchandise for her fans, and to begin writing a book about the lifestyle and cam modeling.
If you would like to know more about Kendra (aka Champangefun) or view her work, you can follow the links below:
Http://www.Chaturbate.com/champangefun/
https://onlyfans.com/champagnefun2
https://www.sextpanther.com/Champagnefun
https://www.snapchat.com/add/champagnefun69
https://twitter.com/Champagnefun2?s=09