This week I sat down to speak with Reagan Foxx, the highly nominated MILF star who got her start in camming.
Reagan has shot for all the major adult studios including Naughty America, Missa X, Adult Time, Wicked Pictures, Girlfriends Films, Evil Angel, and more. With so much success one would think it came easy to the brunette beauty, but Reagan faced many fears when starting her career and overcame a strict Christian background.
Raised in the deep south of Kentucky and Alabama she didn't even lose her virginity until she was 18, didn't have her first orgasm until she was 25, and now, with over 500 titles to her name since she started, she's one of the most popular and hardworking stars on the circuit.
Read on to learn more about Regan and her journey from a caged bird to a free spirit!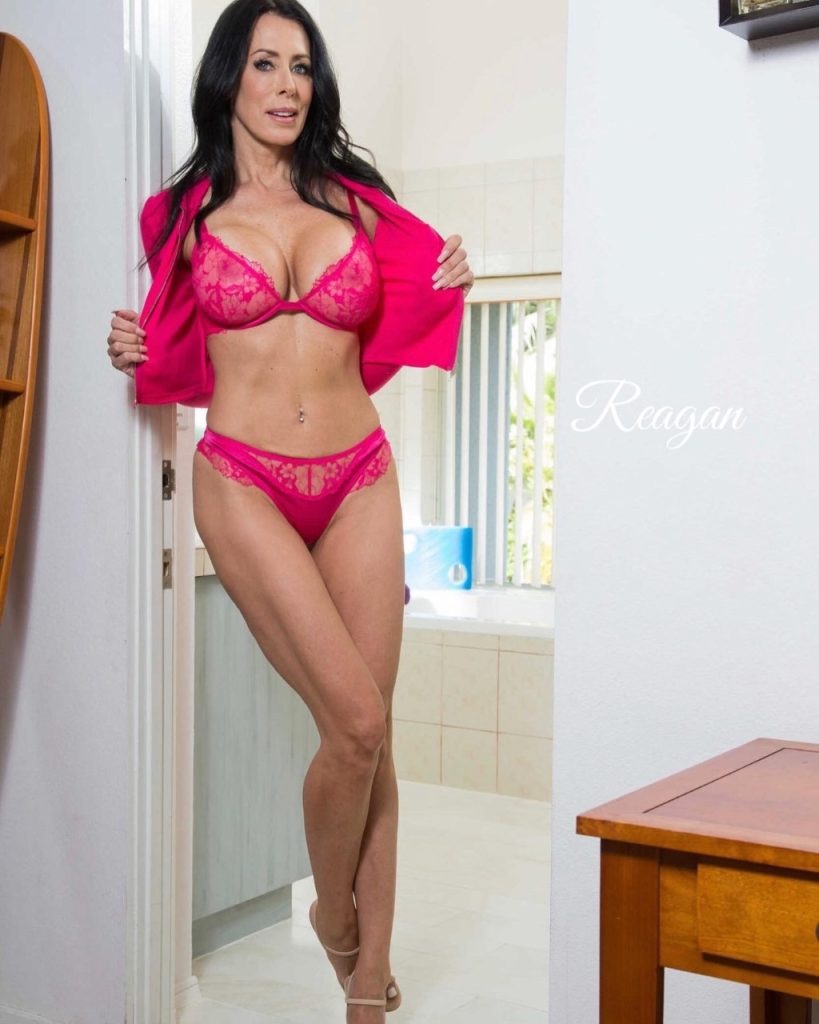 How did you get your start? 
My background prior to webcamming and adult films was accounting/finance, recruiting, and real estate. When real estate fell during 2008, I found myself working 14-to-16-hour days doing Broker Price Opinions (BPOs) which are basically appraisals for banks. The market became flooded with more and more real estate agents doing BPOs and I was killing myself by having to lower my fees for the same amount of work.
When a friend of mine who was webcamming with My Free Cams explained what she did and the potential for some really good money I knew I could do it.
Why do you think you've been so successful in such a short time? 
I believe I was successful fairly quickly in adult films due to my time webcamming with My Free Cams. I had a loyal following there and they basically follow and support me wherever I go. Everyone that was with me at My Free Cams are also on my Twitter and OnlyFans account.
What do you love most about performing? 
Love? I do enjoy my work, but I also treat it like a business. I didn't love the adult work in the beginning as I felt awkward and not sure of what I was doing. I'd watch the other MILF's and I would question myself if I even belonged in this industry and whether I would make an impact or be as popular as the other beautiful women.
Directors and other performers would tell me I was an excellent performer and though I heard their words it still didn't register with me as I'm my worst critic. After some coaching from a good friend director, everything started to click. He told me to get out of my head and just bring it. It was then that I could honestly say the work became easier, and my performances started to rock. I began to love my work at that point.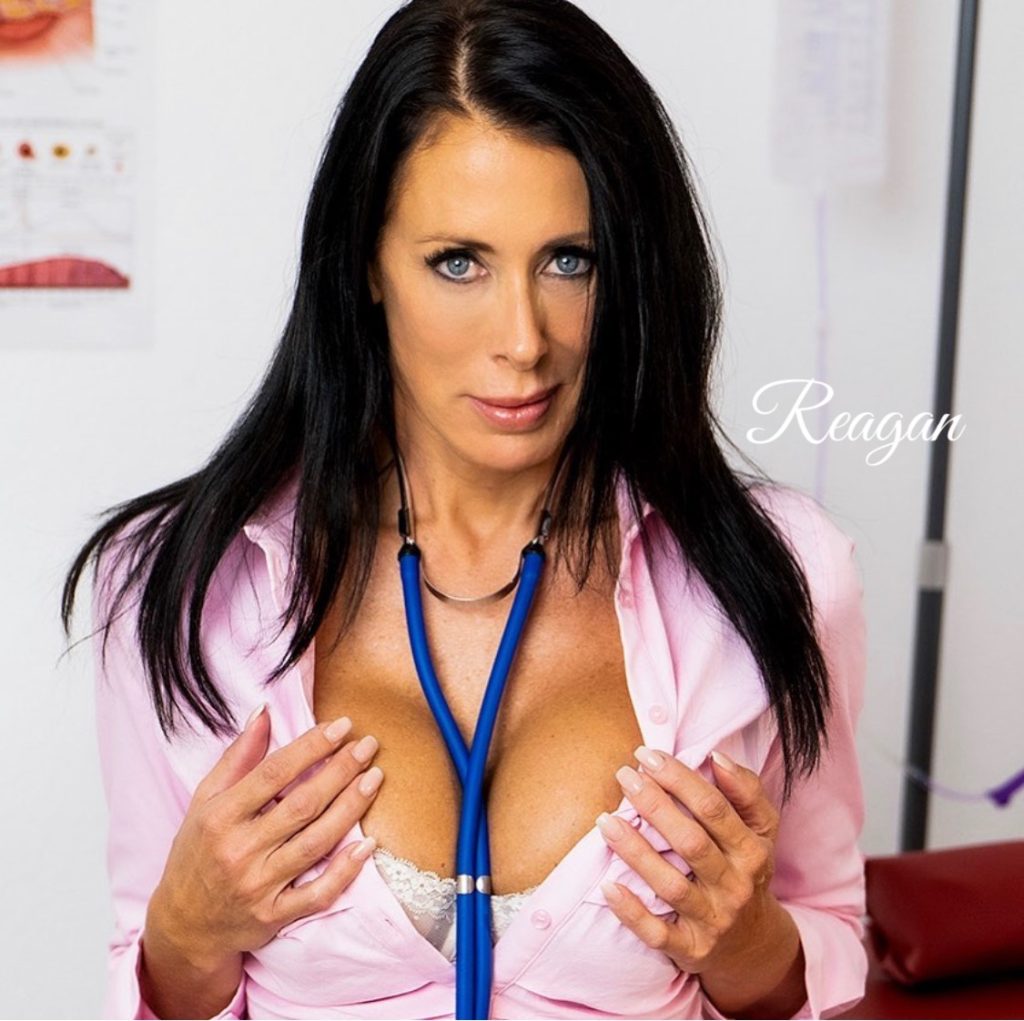 What was Reagan like when she was a kid – did you always want to be a performer? 
As a kid I was like a caged bird. I grew up in a strict home and would use kitchen knives to unscramble the old cable boxes to watch the Playboy channel. Did I know I wanted to be an adult performer? No, I didn't but I guess you could say I started down that path at a young age because my ex-boyfriend would go to the local strip joints. I warned him many times if he kept going that one day, he would see me up on stage and he did. That relationship didn't last long.
You've got a terrific following on Twitter – 375.1K what is your secret to building that up?
Thank you but I feel it could be a lot higher if I wasn't shadow banned basically the whole time, I've been shooting adult films.
As far as my growth on Twitter, I can only attribute it to staying in touch with the fans. I do my best to respond to fans comments and stay grounded.
What advice do you have for newbies about dealing with fans? 
We all know who our core fans are, and my advice would be to listen to them and treat them special. If you do, you will find that your fans become your own little army. They look out for you, and they will protect you. They will silence any rude people and all of us get rude fans. It's not worth it to battle these people and sometimes you just have to block them. I don't do well with toxic people and will just avoid them.
Why do you love camming and how did you make the move into scene work? 
I didn't like camming in the beginning. At first, you're doing the best you can and many days you just don't make any money and you begin to doubt yourself. With some time and determination things just clicked and I started to take off. I was gaining the support of the other gorgeous models and doing collaborations with them. I remember working with another model where her and I did shows together, and we would absolutely kill it.
After about four to five years of camming, I was approached about doing adult film by a couple. At first, I had zero interest, but it was also around this time when camming was becoming a huge drag. I had fans that were moving to Arizona (where I live) to meet and date me, and I wanted no part of that. So, with my experience in the lifestyle community and the support of my guy, I literally woke up one morning and told him that I thought I could do it and off I went.
How do you prep yourself for scenes? 
Hmmm, in the beginning I was always nervous, but those feelings went away once I got more confident in my work. Today, I don't stress. I get up early. I get myself a tea…I have a routine that works for me. If there is a script for the scene, then I want my lines as far in advance as I can get them. When I can know my lines in advance then the work and my day is so much more enjoyable.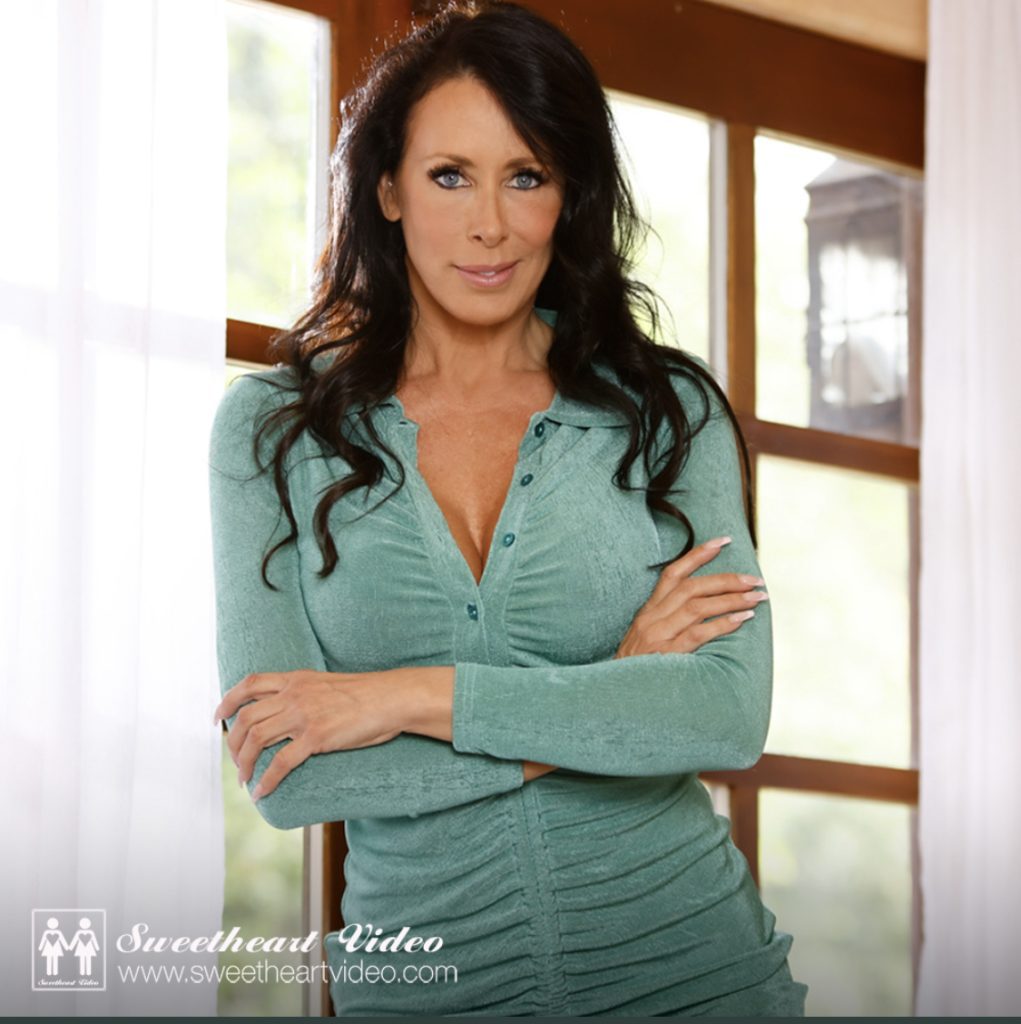 What is the best piece of advice you can give to those thinking about getting into the business? 
Good question as I never had anyone give me advice before getting into adult films. Once you get in the business you will find yourself relying on your agent for advice so be sure to get a good reputable one. Also be yourself. Don't sacrifice yourself for the benefit of others, studios or even fans. I have always stood my ground on my beliefs and will continue to do so.
Here's an example: I had an awesome experience with a huge studio about a shoot I committed to, and I received the script basically one day prior to the scene. Well, I had a problem with the script, and it was something I wasn't comfortable doing so I reached out to the director and studio head and instead of cancelling me, they worked with me, took my suggestions, and changed the script to make it more comfortable while not losing the gist of the theme.
What are your goals for the future? 
I'm not exactly sure. It will probably be adult business related but I know I'm not going to be shooting mainstream adult for the next five years, maybe two more… who knows?
SOCIAL MEDIA & CONTENT LINKS
Find and follow Regan below:

Twitter: @thereaganfoxx
Instagram: @ReaganFoxx
ManyVids: Reagan-Foxx
OnlyFans: onlyfans.com/thereaganfoxx
Camsoda: ReaganFoxx
MyFreeCams: ReaganFoxx
Pornhub: Reagan-Foxx
Snapchat: ReaganFoxx
Cameo: ReaganFoxx
Website: ReaganFoxx.com
IMDb
Adult DVD Empire: reagan-foxx-pornstars
—
Alyssa Collins hails from Minnesota, where snowy days were the perfect excuse to stay warm inside and write. Over the years, she turned that joy into a career and has authored numerous articles for various publications (under pen names). Email Alyssa via [email protected].